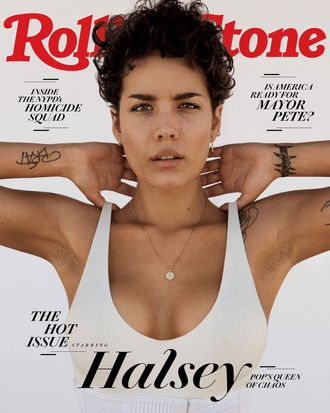 That's hot.
Photo: Rolling Stone
Rolling Stone has something called the Hot Issue, which historically features someone looking hot on the cover. This year, singer Halsey is the hot person on the cover of the Hot Issue, and the photo is a good one that's logically sound in every way. In the shot, Halsey exhibits three classic characteristics of someone who looks hot in both senses of the word: (1) very good heartthrob hair (that's hot), (2) a sleeveless top (best option when you're hot temperature-wise), and (3) arms raised for maximum pit exposure (a best practice for when you're physically hot).
The photo also happens to put her armpit hair front and center, which makes the cover even more logically sound, considering that women have armpit hair. Halsey posted a sneak peek of the cover on her Instagram, and her armpit hair is getting a lot of love, especially from the musically inclined famous-people set.
Demi Lovato's is currently the top comment on the post; she says, "There so much yes about this picture idk where to start." Singer Maggie Rogers chimed in with "here for this armpit hair," Steve Aoki simply commented, "Power," and YouTuber Jessie Paege commented, "no photoshopped armpits!! hell yes!," sending me into a spiral thinking about the disturbing number of Photoshopped armpits I've probably been exposed to in my lifetime.
Naturally, there are dissenters, who have said things like, "The hairy armpits are a bit much" and "Why are girls not shaving their pits? I'm confused," but they are all non-famous normals and so far down at this point, due to lack of likes, that they're hard to find and see.
Congrats, Halsey, and welcome to the Famous, Glorious Women With Armpit Hair Club. It's been waiting for you.