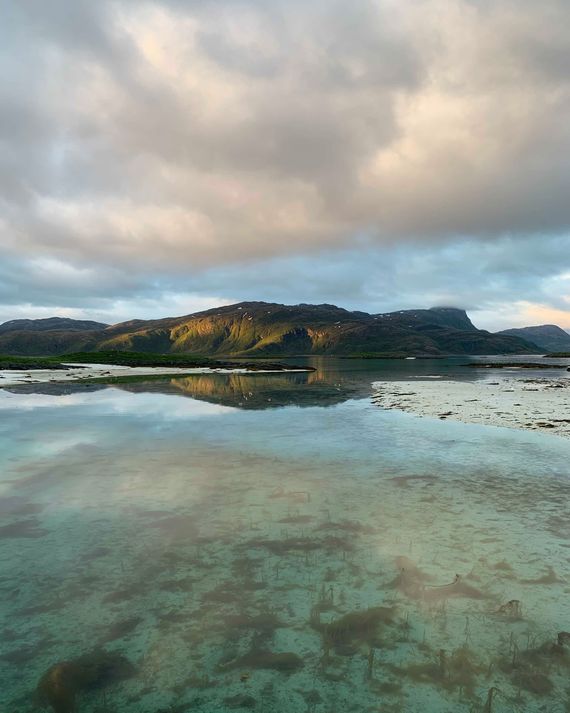 Musvaer, Norway
Photo: Stella Bugbee
Over the years, I've had some really fabulous experiences in the name of fashion. None of them have been necessary, per se. I've eaten dinner in the vaulted cellar where Marie Antoinette was held during the French Revolution. I've taken a private art tour in the passageway above the Ponte Vecchio in Florence. I've visited the monastery where Galileo hid during the Inquisition. The fashion world loves to top itself when it comes to creating elaborate fantasies in far-flung locales, so "necessary" hardly seems the point.
So how does a brand pull ahead in the arms race of product launches and destination runway shows to shake us out of our luxury stupor? It's a question well addressed by Hermès, which for the past 32 years has been conducting annual "theme trips," for a select group of press, employees, and creative collaborators like filmmakers and photographers.
The location was chosen, as it always is, to best communicate Hermès's annual "theme," a creative brief chosen by artistic director Pierre Alexis Dumas. "Hermès Dreams" happens to be the theme for 2019, informing everything that happens creatively for Hermès this year. Hermès sets up the theme trips as a surprise for attendees, providing few details beforehand. "Be prepared not to sleep much!" Dumas had warned me playfully earlier in the spring when I pressed him about what to expect. But with little more information, last week 150 people found themselves in an airport in Paris, willingly boarding a chartered flight for which the monitor above the check-in counter simply said, "Mystery city."
The next 24 hours were unlike anything I'd encountered before or likely will again.
2:30 p.m.: Waiting for us on our seats on the plane were paperbacks of Scandinavian literature. A clue? Would the trip include a quiz at some point? I read my Ibsen on the four-hour flight, praying this journey would be more fun than Hedda Gabler's honeymoon.
6:30 p.m.: On landing, armed with roaming data, Google Maps, and an incurable need to know everything, I discovered we'd been transported to Tromsø, Norway, in the Arctic Circle. The freshness of the air lent a sparkly quality to our arrival. We took a bus to our hotel, a modest Radisson by a marina we'd be stopping in for a few minutes to drop bags and change clothes. We'd been told to pack for cold temps and some hiking, and let me tell you, the fashion press loves a dress code. As our global crew emerged from our rooms and made our way to a nearby ferry, there were Patagonia fanny packs worn with insouciance, designer parkas, cashmere caps, limited-edition North Face puffers, and a near-encyclopedic variety of technical boots.
8:45 p.m.: At the dock, a cloaked singer named Saulius Petreikis, who looked straight out of Lord of the Rings but was actually from Lithuania, played unrecognizable instruments and made ethereal psychedelic bird screeches. Things were getting wild and we still didn't even know where we were going.
9:45 p.m.: The sun had not set over the turquoise water gently lapping the white-sand beach where we disembarked on the lush, mossy island of Musvær, inhabited by a single family who had farmed the land for six generations. A short walk over a pasture revealed a stage where a band played bagpipes while we drank aquavit and Champagne. No one seemed the least bit sleepy — there was too much beauty to take in. Even the Lithuanian birdcall musician sat on a hill and shot the scene on his iPhone.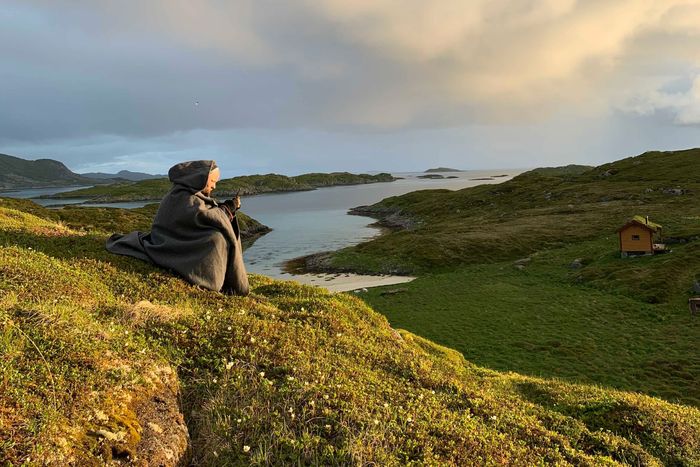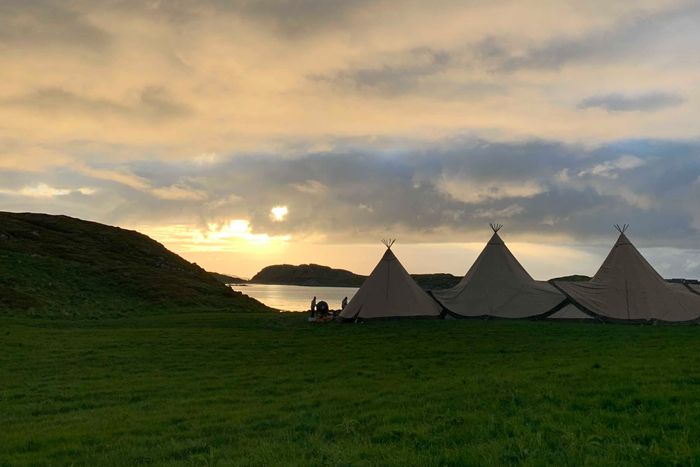 10:45 p.m.: Dinner commenced in a tented structure bathed in a yellow-white light filtered through spotty clouds. A double rainbow appeared, as if the whole scene were a Disney movie. Even in my thermal long underwear I felt like a princess. Sitting at picnic tables, we feasted on a meal by Michelin-starred chef Heidi Bjerkan made only with local ingredients, including pickled seaweed, seagull eggs, paper-thin flatbread, salty butter, and freshly caught shellfish served by strawberry-cheeked Norwegians in thick sweaters.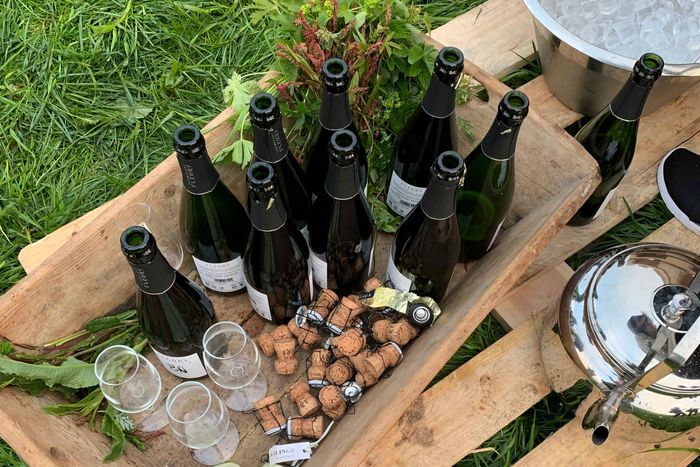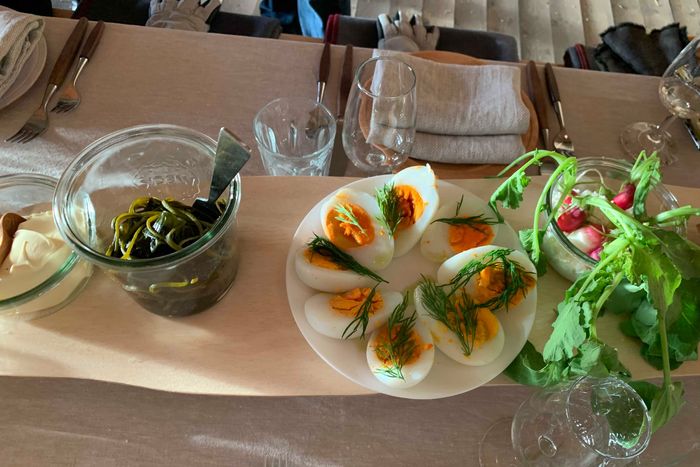 12 a.m.: In a typical story, this is where we go home, but Hermès didn't bring us to the Arctic to be typical. The night had only just begun. After a brief toast by Pierre Alexis, we learned there were more festivities and performances to see, including one by Sigrún, a Björk collaborator who somehow conjured music from glacial rocks piled on a simple stage. She so resembled Khaleesi that the man next to me joked he expected a dragon to come flying up from the hills behind her. When she completed her dancing we learned we would be leaving by boat, for an even less inhabited island named Sandøya.
1:30 a.m.–ish: It was quite cold on the second boat, but Hermès gave guests simple maroon blankets (sans logo), and many people wore them draped as capes, like proper disciples of our chic new religion.
3:15 a.m.: After a mile hike through a narrow grassy path, the group emerged to find Loup Barrow, a musician who played an eerie version of Erik Satie on an instrument called the cristal baschet, which sounded as crisp and clear as the water around us. We dispersed along the hillside, unsure if we were hallucinating.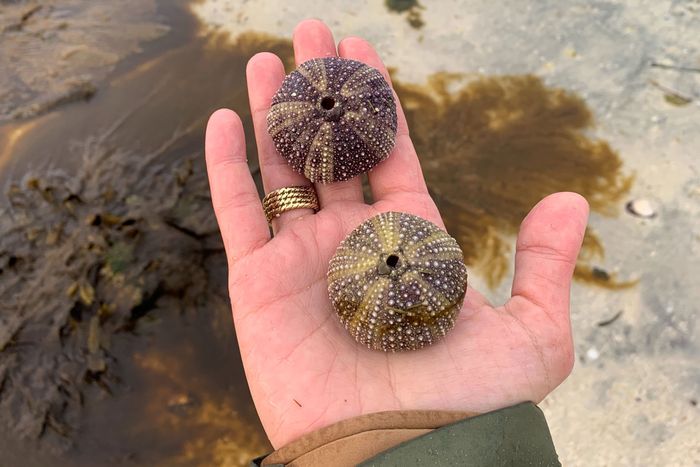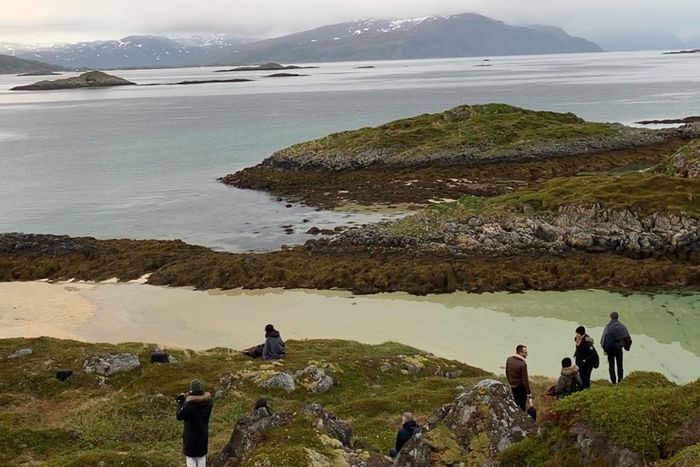 4 a.m.: Eventually we made our way back along the same path, to find a bonfire on yet another beach, where we were greeted by Rafael Sotomayor and Kate Stone, a duo from Chile and Germany, playing the handpan, an instrument resembling a convex steel drum. It had been only 14 hours since we left Paris, but it was a lifetime away from reality.
7:30 a.m.: By the time we returned to the Radisson, the ever-present sun was making its way once again to the top of the sky. Closing the blackout curtains, I collapsed into a dreamless rest — but not for long. Before our buses left for the airport at noon, I knew I had to buy one of those cozy sweaters I'd seen on all the young Norwegians. I hope to pass that sweater on to my grandchildren someday — though I am not sure they will believe the story of how I came to own it. I'm not sure I do either.