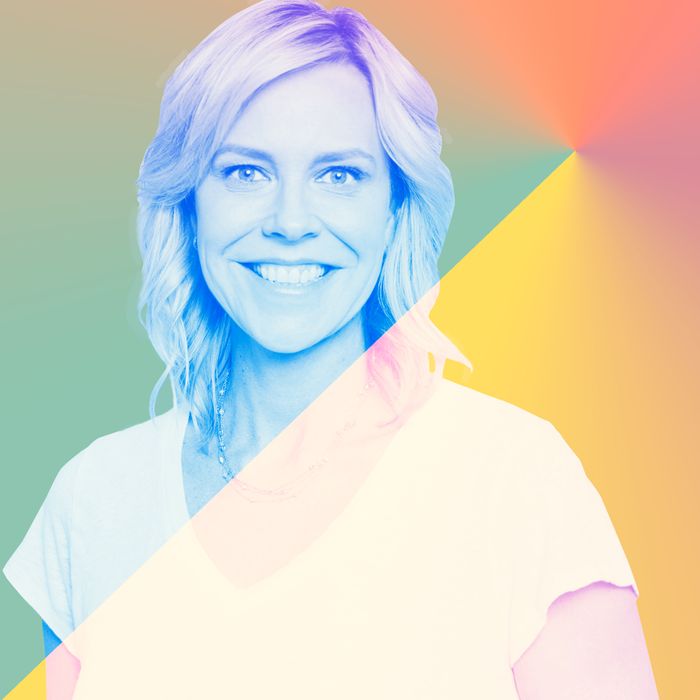 Photo: Courtesy of Supergoop
Holly Thaggard loved her new job as a third-grade teacher at the Episcopal School in Baton Rouge. She even won the Most Creative Classroom award, which meant CNN visited her and her students. But she soon learned that rookie teachers were, to borrow an outdated child-rearing axiom, meant to be seen but not heard. The first year of her job was provisional, and at the end, she was not asked to return.
"It didn't even occur to me to find another teaching job," she remembers. " I wasn't a good fit for the politics of the school system."
She moved to Dallas and made her living playing the harp for ten years, but when a close friend was diagnosed with skin cancer in 2005, she reassessed. She found the figurative white space in sunscreens, because the literal white space was thick, pasty, and not very appealing.
"Sunscreens at the time were either full of chemical ingredients or these icky mineral ones," remembers Thaggard. "I thought, someone needs to disrupt this sleepy category." So she found a chemist and challenged him to create a chemical sunscreen without oxybenzone, which he did, with an SPF of 50.
"We'd always called the formulas 'goop,' and when we'd reached the final one, I thought it was super, and I said, 'Oh my gosh. It's super goop.'"
Supergoop! debuted in 2007, with its Everyday SPF 50, and almost immediately won the American Academy of Dermatology's Gold Triangle Award for Sun Safety Education. Since then, the company has expanded into a range of sunscreens for children and adults, and even recently launched eye shadows containing SPF. Thaggard also won CEW's Indie Beauty Award along the way.
But there was the matter of that other goop — sorry, Goop. Back when it was just a lifestyle newsletter, Holly sent Gwyneth and her children Supergoop! samples. Since Goop has evolved and gotten into skin care, they agreed there wouldn't be any product overlap to avoid confusion among consumers.
Thaggard, meanwhile, continues to spread the protection word by sending sunscreens to any classroom that requests it, via the brand's Ounce by Ounce program. "Of all the cancers, this one is preventable with a magic lotion," says Thaggard. "Ten years from now, I want SPF to be like wearing a helmet when you're skiing or wearing a seatbelt in the car."
She spoke with the Cut about the body mask that influenced her teenage dreams, the bottle she's struggling to give up, and the importance of an educating facial.
What's your definition of beauty?
The exact opposite of one-size-fits-all.
What do you think when you hear the term "clean beauty"?
Being mindful of ingredient choices, and formulating with raw ones that deliver a real purpose.
Where, if anywhere, are you not quite that "clean," "green" or "sustainable"?
I drink bottled Smart Water more than I should.
What is your morning beauty routine?
A full wardrobe of Supergoop! SPF with a few other favorites, like Fresh's Black Tea Kombucha Essence and Vintner's Daughter's Active Serum mixed in.
What's the last beauty product you use every night?
Caudalie Detox Oil.
Facialist?
I don't regularly see one, but when I'm going to be in L.A., Shani Darden is the first person I text! In NY, I fully trust the experts at Heyday Skincare. They are incredibly knowledgeable about skin.
What constitutes a good facial?
I love what Dr. Barbara Sturm says about education. A good facialist should always teach you about what they're doing, and leave you with nuggets on how to take care of your skin when you leave.
What ruins a facial?
Bad product choices!
Favorite spa:
The Mandarin Oriental in Singapore.
What aspect of your beauty routine tends to be neglected? 
Beauty sleep — I rarely get eight hours.
Foundation, Tinted Moisturizer or BB/CC Cream? And whose? Supergoop! CC Cream SPF 35 in Light, of course!
What, if anything, is usually on your lips?
NARS Dolce Vita Velvet Matte Lip Pencil and Supergoop! MintFusion Lip Balm SPF 30 on top. (Lips need SPF, too!)
What shade, if any, is usually on your toes and/or hands?
Essie makes a soft blue shade exclusive to Shutters on the Beach in Santa Monica called My Heart Shutters.
Facial cleanser of choice:
Skinceuticals Cleansing Cream.
Fragrance of choice:
Heretic parfums Melrose Place.
Deodorant of choice:
Biossance.
Bath or shower?
Shower in the morning, bath in the evening, with Nest Grapefruit candle and Fresh Sake Bath Oil.
Shampoo/Conditioner of choice:
Olaplex No 4 Shampoo and No 5 conditioner.
Most relied on hairstyling product and/or tool:
Dyson hair dryer.
Scented candle of choice:
Maria Sharapova sent me an Astier de Villatte Streets of Paris candle several years ago, and I've been hooked ever since.
What was your first beauty product obsession?
In sixth grade my best friend Elizabeth and I saved up and bought a big jar of Borghese Mud Body Mask. It came with lots of other deluxe samples, and thus began my obsession with product.
Daily carry-all of choice:
MZ Wallace Medium Metro Tote in navy color blocking.
Work shoe of choice:
Jimmy Choo's Pointed-Toe Romy Flat, in every color!
Weekend shoe of choice:
Vince Pasha 2 Leather Sneakers or Havianas flip flops
What is your classic uniform?
Mother of Frame denim and a Velvet white V-neck tee.
How do you like your bed?
Crisp white cotton sheets tucked in tightly with light-and-fluffy down.
What do you splurge on? 
Massages and private Pilates sessions.
If you could have one ridiculous indulgence, what would it be?
A private jet. Or, at least, no layovers in Atlanta.
What makes your skin crawl?
Seeing a sunburn.
What tiny thing can make your day? 
Watching my kiddos take a squirt from our pump of Everyday Lotion before they head outside without me saying a word.
Last great book you read?
Rocket Fuel by Gino Wickman and Mark Winters.
What would the name of your autobiography be?
The Sunscreen Queen.
Who would star as you in the film adaptation? 
Reese Witherspoon.
Favorite smell? 
Grapefruit.
Least favorite smell? 
Chemical fragrances.
What do you think Pantone's color of 2020 should be, and why? 
Yellow PMS 102 because, sunshine.
What beauty product still needs to be invented? 
It's coming in 2020…
What was the biggest "No" you heard in your career? What did you learn from it? 
In 2004 I heard from every chemist in the country that it was impossible to formulate a chemical sunscreen without oxybenzone. Two years later, we launched the first chemical sunscreen in the U.S. with broad spectrum SPF claims and without oxybenzone. From this, I learned how important it is to trust your gut.
What is the biggest tip you can give that will change people's lives? 
Don't be scared to follow your passion, no matter how crazy it might sound to others.
Favorite meal and where: 
The escargot at Balthazar in NYC.
What is always in your fridge? 
Extra sharp cheddar cheese.
Comfort food:
A gourmet grilled-cheese sandwich with a pickle and a glass of red wine.
Vice snack (or just vice):
Potato chips.
Most impressive dish you make: 
A New Orleans Crawfish Etouffee recipe from Brennans Restaurant.
What food would you never eat?
Anchovies.
What do you foresee as the top beauty trends for the remainder of 2019?
Trends seem to be pointing more and more towards proactive prevention and all things related to self-care, versus thinking about things from a "How do I repair damage?" perspective.
What product in your domain is misunderstood and should be a best seller?
Supergoop! Body Butter SPF 40. It's one of my favorite ways to moisturize my arms and legs, but I think very few people even know about it.
What product is currently your favorite (understanding that this could change all the time) and why? 
Supergoop! Superscreen Daily Moisturizer SPF 40. The formula is incredibly hydrating and, in one way, a very basic moisturizer, but in another way a very big overachiever, as it also protects from UVA, UVB, blue light and pollution!
If you won the Power Ball tomorrow, what are the first five things you would do? (after, of course, donating the majority of it to your top charities…). 
Fly our family to Aspen. Personally triple the marketing budget so that we could reach more of the world with our SPF message and reason for being. Big splurges for my parents and inlaws. Add everything from my Net-a-Porter wish list to my shopping cart and check out. Hire my pilates instructor full-time so that I don't have to work around his schedule.
Rather broad, but … what do you want most? 
For everyone in the world to wear sunscreen, Every. Single. Day.