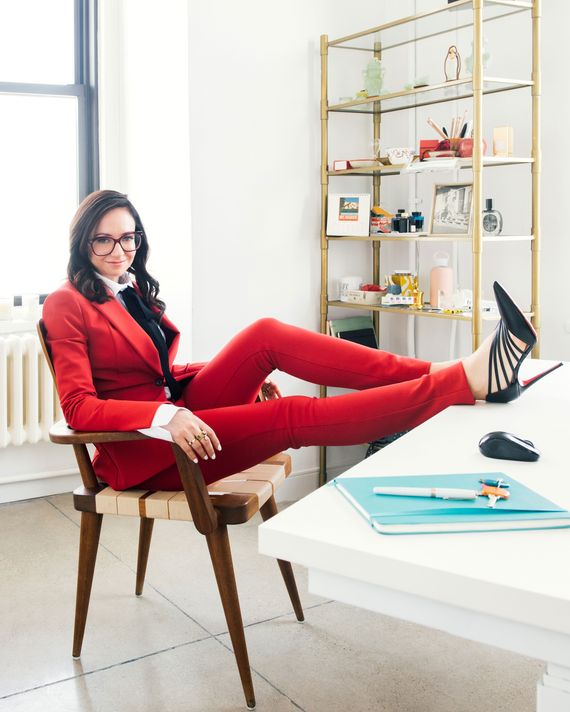 In 2013, when Carrie Goldberg was 35, an ex-boyfriend began viciously stalking and harassing her over the internet, threatening to send intimate photos of her to her colleagues. At the time, she was working as a director of legal services at a criminal-justice nonprofit; there weren't really any attorneys who specialized in cases like hers. So she decided to start her own practice — becoming, as she puts it, "the lawyer I needed." Today she's a preeminent victims' rights attorney, overseeing her own firm, which has over a dozen employees and specializes in cases of sexual assault, stalking, blackmail, and revenge porn. Or, in her brazen, chatty parlance: victims of "pervs, assholes, psychos and trolls." (She has a book, which references all these archetypes in its title, coming out in August, and Anonymous Content and Paramount TV are developing a show about her life.)
Goldberg is a formidable presence. She'll appear in court in 6-inch stilettos, bright manicures, and glamorous outfits, and proceed to "sue the fuck out of" perpetrators, as well as the powerful systems that enable them — multi-billion dollar school districts that looked the other way in rape cases, for instance, or tech companies that allegedly allowed harassment to proliferate on their platforms. Her office, which spans an entire floor, is pristine and filled with pastel velvet furniture, including a particularly nice decorative crimson velvet punching bag in the corner; she says she likes when opposing counsel comes in and feels thrown off. The Cut caught up with her at work, where she talked about getting dressed to dominate, the joys of being one's own boss, and her love of seeing castrated statues at the Met.
On why she started her own firm: My case was in 2013. My ex was stalking me through a lot of different social media, sending emails containing videos and pictures of me and then telling me that people were blind-copied. He contacted so many of my friends and family, and made up crude, brutal lies. False police reports. Even though I was already a lawyer, I was working with elderly people at the time. I didn't know how to help myself, so I became the lawyer that I needed.
My clients are me. There's not some sort of line of demarcation; several of my staff are former clients. I think there's not a traditional attorney-client relationship between us and our clients, and partly that's because we're dealing with such an intimate area of law. There's so much trust. There needs to be mutual trust. We need to trust our clients — we need to trust that they're telling us the truth and they're being complete in the information. The trust that goes both ways is really bonding.
On "dressing like a victim": I represent victims of non-consensual porn and also sexual assault. In both cases, there is so much victim-blaming. With sexual assault: Why did you wear that? Why did you go to that party? With non-consensual porn: Why did you take that picture? Why didn't you wear anything? The power to make autonomous choices over how we look and how we dress and when we undress and what we do when we're naked — that's all a fundamental right. It's a privacy right. I think it extends to so many aspects of our lives.
I remember when I was going through my hell, which caused me to completely shift gears and start this practice, my lawyer was like, "You need to dress like a victim." At the time, I was like, "Oh my God, what does a victim dress like?" He said, "You can't wear those high heels. You need to wear baggy clothes in court." I ended up having to go shopping for clothes. My mom sent a bunch of my grandmother's flats to me to wear in court, because I didn't own flats.
On being underestimated: It's armor, the nails and the heels and the eyelashes. I think being underestimated is a super power, because then you can catch people by surprise. If being interested in fashion and my appearance is going to cause people to underestimate me, then let them. I'm not going to tone stuff down or try to fit in just to appear like a more serious threat. I know I'm a threat. I know that if somebody gets a cease and desist letter or a demand letter from my office, it's going to be a really bad day for them. My letterhead's pretty, and it's got gold foil on it — but it's still going to be a really bad day for them.
When I get dressed, it's like: Okay, what am I doing today? Look at the calendar: Is there anybody that I need to dominate? I wear a lot of my grandma's shirts. She just died; she was 101. She was a professor before women really were professors. She was a professor of dental hygiene. I have dozens of her shirts, so I wear a lot of those. That always gives me power.
Shop Stilettos
Photo: 18-12-27 Accessories AM1 B1 toddmaughan W
On the importance of her best friend: I have a best friend, Susan Crumiller. Our law firms are also sisters. She's a really big part of my day-to-day life; we are constantly on Signal, talking to each other. We were baby lawyers together, and then she started her law firm two years after mine. She does pregnancy discrimination. Our experiences are really the same: We started law firms that are growing rapidly in cutting-edge areas where we don't have a lot of peers who are doing this kind of law. The amount of risk that we have to tolerate — not just with the cases, but also with being small-business owners with businesses that are rapidly growing — she and I can understand each other, and have a language that I don't have with very many other people. We have codes: Code Yellow means "I've got to talk to you, but it can wait a few minutes." Code Red is like, "Now, now, now! Stop what you're doing, be available."
We have a thing called B.I.T.C.H. Day. It stands for "beauty in transit 'ccountability hang." Susan and I, we will schedule a day where we'll do nails and lashes and go to the dermatologist, and we'll schedule them in a stack on a day, and during the wait time, we'll talk about our businesses and bring our profit and loss reports and talk about hiring and firing decisions. It's like half spa day, half corporate in-service.
On the joys of owning her own business: I set the thermostat. I don't have to be cold in the summer. I get to make those decisions. I get to choose the paint on the walls and the ridiculously beautiful furniture and who I want to have working here. I don't have to answer to anybody except the case laws. That gives me a freedom to fight against the system, because I don't have that conflict.
I get to say "fuck" on Twitter, no one's gonna fire me. I can wear hot pants to work. I never worked in a law firm before, and I think that helped, because I don't have any idea of how it's supposed to be.
On (not) having hobbies: I am an avid runner. I do that, at night mostly. If it's a regular work day, I'll just run five miles or something like that. Sometimes it'll be 18. On weekends, there's always a long run — usually like 10 or 12 miles. There isn't a line of demarcation between work and non-work, because most of my hobbies relate to work. Even with running, or I spend a lot of time in museums — that also feeds back into work, because you're thinking about cases, or you're inspired. I'm really interested right now in all the statues at the Met that have their dicks cut off. When one empire conquers another, they destroy all the statues and artwork, but it's always the dick … I look at the castrated statues, and I think about the offenders that deserve the same kind of treatment.
If you buy something through our links, New York may earn an affiliate commission.