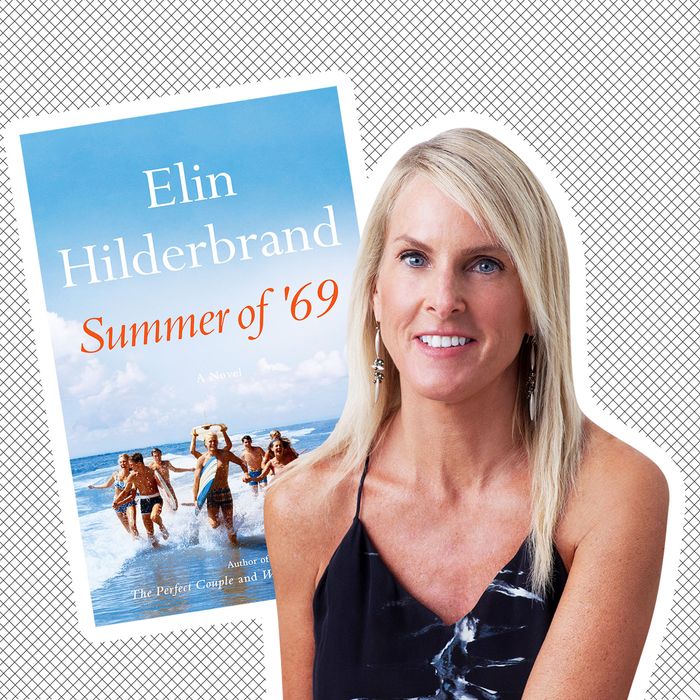 Photo: Courtesy of Elin Hilderbrand
You know Elin Hilderbrand, whether you know that you know her or not. You have seen her at the airport and on Target's bookshelves. That Airbnb you rented for a long weekend in the Florida Keys or Myrtle Beach? She was there, too. Her covers predominantly feature people's feet on or near sand, plus an ambiguous title in gentle, summer-toned script — The Rumor, The Perfect Couple, Barefoot, A Summer Affair. She has written 22 best-selling novels, which have sold close to 6 million copies between them.
To borrow a phrase from #resistance Twitter, of which Hilderbrand is a vocal part: This is not normal. Over the past five years, overall book sales have been stagnant, and fiction sales have dropped 20 percent. Elin Hilderbrand is an exception. Michael Pietsch, the CEO of Hachette Book Group, which publishes Hilderbrand, tells me, "Her sales have grown with every book we've published, and I've never seen that. She has driven herself beyond the gravitational pull of the industry."
Until now, Hilderbrand's fictional world has been largely apolitical, in so far as it's possible for stories about young, upper-middle-class white women who sleep with rich white men to be apolitical. Her books are real-world fantasies, starring scrappy 20- or 30-somethings with names like Blair and Claire and Melanie, who wear dresses described as "slinky" and blouses described as "diaphanous." Hilderbrand's protagonists are imperfect, but they are always savvy, always good at what they do. They're saving businesses, and their boyfriends, and themselves. President Trump doesn't exist, save for one tiny, neutral mention in Winter Solstice, in which Margaret, a just-retired famous news anchor, hopes nobody at the drug store recognizes her and asks her about him.
For these reasons, Hilderbrand has fans at every stop along the political spectrum, though she herself is liberal. She wrestles with how much of her real worldview to inject into her work, as well as her social media presence ("I find it offensive when there's a mass shooting, and the food blogger is still putting up a recipe for guacamole"), but it doesn't seem coincidental that her new novel, Summer of '69 is, in part, about the civil-rights movement, and that her next book will be about a woman running for president.
And with the success of Big Little Lies — the Emmy-winning, prestige-TV adaptation of a fairly beachy best-selling novel by Liane Moriarty — her space in the culture may be about to shift in other ways. Mad Men producers and writers Andre and Maria Jacquemetton are developing a TV series combining three of her novels (The Identicals, The Matchmaker, and The Blue Bistro) that was recently optioned by Hulu. "After Big Little Lies, I got a lot of calls, and [the Jacquemettons] were the most persistent, and they were the ones who had this idea of doing all the books in an arc — not so much a one-book show, but a show about Nantucket. I love that idea."
The Blue Bistro remains her favorite book she's written. The plot is classic Hilderbrand: It's about a young woman named Adrienne who moves to Nantucket, gets a job at a restaurant, and falls for its owner. There is adultery. There is a love triangle. There is so much description of the restaurant's food that I often found myself drooling. We met before I finished, and Hilderbrand warned me the ending was "really incredible," which made me laugh. The thing is, she was right; I very nearly cried.
Wearing a strappy orange-and-white dress and nude stilettos, Hilderbrand, now 49, is summer: blonde, deeply tanned, warm, and cheerful. Hilderbrand knew she wanted to be a writer from a young age, and after graduating from Johns Hopkins University with a degree in creative writing, she took a job in publishing at St. Martin's Press. She lasted nine months before leaving publishing for teaching jobs in Queens. ("[The New Girl actor] Max Greenfield was my student in eighth grade," she says. "He was so bad. I would call his parents all the time. He was very naughty in a very funny way. I named my first child after him.")
She decided to spend the summer of 1993 on Nantucket. Hilderbrand grew up doing the same on Cape Cod with her father, stepmother, and their blended families, a beloved tradition that met a tragic end when her father died in a plane crash when she was 16. She spent the next few summers miserable, working in a Halloween costume factory, trying to find a way back to the beach. "I thought to myself, okay, I can't get my father back, but I'm going to find a way to get these summers back," she tells me.
On Nantucket, Hilderbrand fell in love — with the island itself, and with her now ex-husband, Chip Cunningham, manager of the swanky Cliffside Beach Club. They married before she turned 26, and she enrolled at the Iowa Writers' Workshop. You may be unsurprised to hear that Hilderbrand did not fit in.
Bored by the climate, the scenery, and (it's implied) the other students, Hilderbrand  was miserable. "You do not have to go to class," she says. "You're supposed to go to your workshop, but you're just there to write." She is a writer who thrives on structure and deadlines. This much, she'll give Iowa credit for. "That is where I learned that you have to discipline yourself," she tells me. "I was not the most talented person at Iowa, not by a long shot. But I could get shit done."
When she published her first book, The Beach Club, in 2000, she was 30 years old. Her first five books were published with St. Martin's Press, and she isn't shy about faulting them for her tepid early sales. "They didn't publish me correctly," she tells me. "I would cry, and call, and they would send me on these ridiculous events." At the time, Hilderbrand was broke, with three young children, and was often asked to pay her own way to book signings — a common practice with all but the buzziest, most successful authors. "It would cost me hundreds of dollars for an event that wasn't advertised, and I'd sell three books." Finally, for her sixth book, Barefoot, Hilderbrand's agent, Michael Carlisle, suggested they approach other publishers. Everyone wanted it, but it was Little, Brown who won out with what Hilderbrand says was a very appealing pledge: "[They] said to me, 'We are going to bring Elin Hilderbrand to the world,'" she laughs. "And I thought, okay … that's hyperbole."
It was not. Hilderbrand credits that publisher, Pietsch, with creating the entire concept of the "beach read" which has made her a household fixture, if not necessarily by name. The beach read was meant to signal a light, fun, breezy read, high on interpersonal drama, low(-ish) on plot. The term, like "chick lit," has its fair share of negative connotations, but it has also proven itself marketing gold for writers like Hilderbrand, Kristin Hannah, Dorothea Benton Frank, Emily Giffin, and others. Hilderbrand doesn't mind the label, though she's friendly with other mega-successful authors who do. "Jennifer [Weiner] for example, gets very, very bent out of shape about being a woman writer, being overlooked, being categorized," she said. "She's very sensitive. It does not bother me."
Barefoot became a best seller, as has every Elin Hilderbrand book since. She has, accordingly, developed a reputation as a reliable workhorse. (She even kept writing through her divorce and breast cancer diagnosis and treatment several years ago.) In the summer of 2013, her publisher called her to ask if she thought she could write a Christmas book in four weeks, because they'd had a spot open up on their winter list. She said no, but she did send a proposal for a winter-themed trilogy she called Winter Street. "They get my proposal, and they say, 'We don't want a trilogy, we only want one book, because you're not proven in the holiday market,'" she tells me. "I was like, okay. I wrote Winter Street, intentionally gave it no ending, and then they called and said, 'Yes, we'd like the other two books.'" Ever since Winter Street, Hilderbrand has published two books a year: one every summer, and another every winter.
The Winter Street series (all best-sellers, so much so that her publisher eventually convinced Hilderbrand to write a fourth) was my own introduction to Hilderbrand, recommended by a fanatical Hilderhead friend of mine. I read them on my couch, one after another, gasping aloud so frequently that my partner grew annoyed, and asked me to relocate. How can I describe to you what they're about without giving anything away? As with most Hilderbrand novels, there is adultery, and there are love triangles. Hilderbrand is especially skilled at creating connection between forgivable fuckups, which she says comes as a result of loving her characters — another takeaway from her time at Iowa. "Frank Conroy, the director of the program when I was there, used to say you cannot treat your characters like cockroaches. You have to love them." She leans in conspiratorially. "He was such a fucking asshole."
Last year, and the year before, Hilderbrand debuted at No. 2 on the Times best-seller list, which grates her a bit. "The first time I was behind John Grisham, and last year I was behind James Patterson and Bill Clinton," she says. "They've been doing it a long time, longer than I have, and have earned every single one of their readers. But it's so annoying."
This — her frankness, her willingness to talk shit — is what makes Hilderbrand such a compelling narrator, and her books so delightful to read, like you're watching an episode of The Real Housewives of Nantucket. It is as though she knows you and trusts you with the town's secrets, and it's this quality, especially, that appeals to her most die-hard fans. "My freakish, freakish fans," she says, affectionately. "I do bachelorette parties. Better than a stripper. On Nantucket, a lot of times people will reach out to me, and I will swing by the bookstore and do pictures. [My boyfriend Tim] hates it, because it's very intrusive, as you might imagine." Each January, 150 or 175 of her fans make a pilgrimage for the "Elin Hilderbrand Weekend" on Nantucket, where readers can do yoga with Elin, drink with Elin, and take pictures with Elin.
I ask Hilderbrand if she ever feels inclined to be "more literary," whatever that means. Does she ever feel stifled by her audience, which, as she puts it, wants the same book over and over, but different? She shrugs. "Once or twice in a book, I would love to do something a bit risky — I might want more sex, or I'd like something grittier, and I'm aware that it's not going to fly, but I don't feel so stifled," she insists. "I'm writing next summer's book right now, and I just put the word 'fuck' in it. I have readers who will legitimately hit me on Facebook like, 'Why must you have profanity?' In this case, it's absolutely required, and fuck you if you don't like it."
Hilderbrand also receives occasional heat for her political stances, which she mostly confines to her Twitter account. (Her Facebook audience, she says, is older and more "red state.") Which battles to fight with whom is a tension Hilderbrand is accustomed to in her personal life as well. "Tim, I don't know that he'd admit it, but I think he voted for Trump," she says. "My ex-husband voted for Trump, and my twin brother voted for Trump. In all three cases, they've been like, 'We had no concept what we were doing,' because even in 2016, I think especially to guys, it looked like the macho thing to do." It's not so much that this doesn't bother Hilderbrand, I don't think; it's that she knows that if anyone can be won over to anyone's side, it's them to hers.
During the Brett Kavanaugh hearings, Hilderbrand approached other famous writers (Jennifer Weiner, Curtis Sittenfeld, Jodi Picoult, and Celeste Ng) about doing a fundraiser. Together they pooled $24,000 for Emily's List, a nonprofit dedicated to electing pro-choice Democratic women to office. Many of her fans were furious, but Hilderbrand considers it her obligation to use her platform to aid causes that matter to her. "Anyone who disagrees with me on Twitter can just unfollow me, or block me," she says. "I don't care."
The same attitude holds for other forums of reader feedback. When I ask if she looks at Goodreads or her Amazon reviews, she is emphatic. "Never. Never, ever. I have no interest," she says. "I'm trying to think about how low — or high — I'd have to be to go on Goodreads to read the comments." As someone who's had to block herself from checking Goodreads via internet plug-in, I would kill for skin that thick.
At her current pace, Hilderbrand could comfortably clear 50 novels by her early 60s. Much to her publicist's dismay, though, she says she's begun thinking about making a graceful exit. "This career has a shelf life," she says. "What I don't want to have happen is have the quality fall off, and people are like, I just didn't love this one as much as I love the other ones." She says she can imagine a world in which she "retires" in the next five years (her publicist gasps), but she can also imagine coming out of retirement, like Michael Jordan. Hilderbrand says she's worried she's running out of material, but lights up when discussing a relationship that fascinates her, like the one between Kellyanne Conway and her husband, George. "I want to know what the fuck is going on in that house," she says. "That is a novel." When I tell her she should write it, that I would eagerly read it, she says she'll "cogitate" on it. "The most interesting thing in the whole world are relationships between human beings," she says. Surely, that's a well that won't run dry.