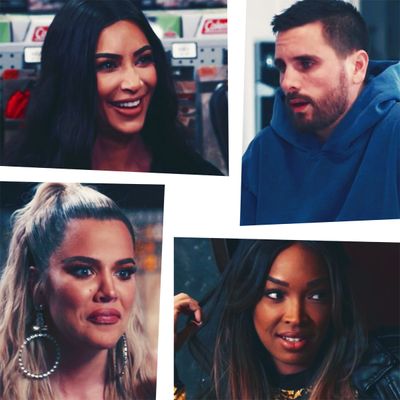 The Kardashian family has taken their fun on the road and, this week, used its platform to trick us into watching scenes set in dreary deserts and the Midwest. Still, we glue our eyes to the television like Khloé Kardashian's manicurist to her client's ever-changing set of nails.
This week, our A-Ppot was Kim Kardashian West getting North's Notes on Camp; our B-plot was Khloé's life in Cleveland; and our C-plot was Scott Disick's clothing line. #LEGGO
Scene 2:
Clad in a one-sleeved blazer, Khloé Kardashian dines alongside Scott Disick and Everybody's Favorite Best Friend (EFBF), Malika. Munching on Mexican cuisine, Khloé tells her companions about a recent interaction she had with her nephew, Mason Disick, Scott Disick's son. Khloé says that Mason was so happy that Khloé was home from Cleveland that he wanted to come over and stay the night. Sadly, Khloé had to refuse because, according to Khloé, Mason had been "throwing up all over the place." Mason claimed he got that all out of his system, but it was still a "no" for Khloé. Then Mason asked if he could tag along with Khloé on her next trip to Cleveland, but again was hit with another rejection. The only good to come out of this, was that it got Khloé thinking about inviting someone else with her on her next trip to Cleveland, and that someone is none other than EFBF, Malika! Without hesitation, EFBF, Malika, agrees! After roping her BFF into a trip to Ohio, Khloé shows the table a video of True crawling. The video was hard to procure, Khloé says, because unlike the rest of her family, True hates being filmed. This scene was filmed on November 28, 2018.
Scene 3:
Scott Disick, welcome's his ex-girlfriend's grandmother into his home. MJ is apparently just popping in to see the father of her great-grandchildren (and soon to be star of E!'s upcoming lifestyle show, Flip It Like Disick. While he's got her as an audience, Scott takes time to tell MJ about his clothing line, Talentless. The name confuses MJ as much as it did the rest of us. To her it seems inherently negative and lacks imagination. For Scott, the brand's name pokes fun at the idea that reality stars have no talent, and oh boy with this luxury sweatpant company he's really proving the haters wrong. Scott gifts MJ, an octogenarian, with bundles of his Yeezy-light hoodies and T-shirts. Despite hating the brand's name, MJ loves Scott's simple, cotton garments. Scott's grateful for her support, and admits that he'd been working on the line for over a year, but didn't really tell anyone because he didn't want to rely on his extended family for the brand's success. Good thing he waited and then took almost a whole episode of his family's show to discuss how he doesn't want to use his family to promote the brand. This scene was filmed on January 15, 2018.
Scene 6:
The dreaded day has come: the pastry parasite of Calabasas has returned. The Food-God-formerly-known-as Jonathan Cheban, cursed my television screen while shopping for camping gear with Kim Kardashian West. The duo ventured out to a Dick's Sporting Goods to grab gear for Kim and North's upcoming camping trip. It's been a lifelong dream of North's to go camping, like for-real camping, outside, in a tent and with her mom. Kim's not shy about admitting that this is the last thing she'd ever want to do, but she'll do anything for her children. So, here she is looking for a tent and buying buckets to double as toilets. While perusing the aisles, Jonathan asks Kim if she's going to stick to a neutral color palette during her camping trip. For the first time, our opinions overlap and I agree with Jonathan that Kim should forsake her commitment to beige. But, Kim tells him that she is looking to find all-neutral camping items and won't bring anything, "like rainbow" colored on the trip. Then, of course, Jonathan takes a swift turn into Opposite of Mariah Land, by opening up a package of freeze-dried ice cream to eat in the aisles. At this point, both he and Kim begin to chow down on their unpaid for … food. This scene was filmed on September 25, 2018.
Scene 8:
Flying the friendly skies from Southern California to Northern Ohio, Khloé tries yet again capture images of her baby girl, True. Semi-jokingly, Khloé tells True that she's not taking her posing directions well, before eventually giving up on the endeavor of taking a photo of her baby on a private jet and turns the camera on herself. While all of this is going down, an unimpressed EFBF, Malika, wonders how this trip to Cleveland will pan out, recalling that she hasn't been since True was born, a trip that she describes as a bittersweet moment. Obviously, True's birth was the sweet, but the bitter was Tristan's very public cheating scandal just days before that happened. This scene was filmed on December 3, 2018. On December 4, Malika and Khloé went to the Cleveland Botanical Gardens and Malika was wearing this look. In another scene from this episode, in which a pre-glam, robe-wearing Khloé is making her bed, Malika was seen in the same outfit, which means they'd been at Tristan's for at least one night. On December 2 Khloé was still in California.
Scene 10:
True to her word, Kimberly takes North camping. Accompanying them are North's pals Ryan and Sophia, along with their moms Tracy Romulus and Larsa Pippen. On the drive to their campsite, Kim speculates that Tracy will be the most helpful with setting things up while Larsa will be … a burden. When they arrive at their campsite Kim starts by setting up their portable toilet, and giving a tutorial on how to use it. Then, the grown-ups start pitching the tent. Hindered by the wind, the excessive number of poles needed to hold the wispy shelter together, and the concern of their children, the women have a difficult time assembling their new home. Kim, in her confessional, calls Larsa "worthless," because she can't even hold a tent pole. Tracy steps up and helps direct everyone to places that will hopefully get this thing built. As they make some progress, Kim sighs that she wishes she had a CBD lozenge to ease her stress. This scene was filmed on October 6, 2018.
Scene 11:
After their tent is pitched, the campers go fishing to hopefully catch their meal for the night. All agree that if it had not been for Tracy, their tent would have gone right back into its box, and they'd have had to find alternative housing. It seems as though, since the adults pitched the tent, they've put the children in charge of fishing for dinner. Ultimately the adults take over when both North and Ryan feel a tug on their reel. Sadly, nothing was caught. In her confessional, Kim reminisces about fishing with her Jenner step-siblings as a child. Kim would fish with the boys while Kourtney and her step-sister Casey made signs and picketed against Kim's actions. They'd chant "down with Kimberly!" for killing the worms needed to hook the fish. Like Scene 10, this scene was filmed on October 6.
Scene 12:
Even though Khloé, True, and even EFBF, Malika came to Cleveland to visit with Tristan, they spend most of their time as a girls-trio. The ladies take True to Cleveland's botanical garden. On the way there, Malika questions Khloé on how she feels spending so much time alone with her baby and no time with Tristan. Khloé feels almost nothing toward it and tells Malika that she's not going to organize her day around Tristan's schedule. She also won't ask him to meet them somewhere once he gets out of practice because he probably has other things to do. Besides, Khloé says, they can hang out in the summer. Malika is becoming increasingly worried about her friend's relationship, but remains mum. At the Botanical Garden, Khloé shows True plants and reptiles. Showing her personality early, True vomits as she's greeted by a chameleon. Perhaps, it reminded her too much of her father. After this, the ladies take a trip on the world's tiniest trolley. Cleveland seems great. This scene was filmed on December 4, 2018.
Scene 13/Scene 14:
Off the boat and back at the campsite, Kim thrills her fellow campers with her rendition of the "he permed me!" horror story scene from Troop Beverly Hills. Everyone loves the performance, but is eager to eat. So, outside of the tent, everyone gathers to start a fire. The children pick up pinecones to add to the fire pit, and Ryan teaches Kim about flint and how to make a fire. As Tracy pours lighter fluid all over the logs and sets it aflame, Kim decides that she should stay away from the fire because the amount of hairspray in her hair means it's very flammable. She soon forgets this apparently, and she sets a pair of tongs on fire, threatening the existence of her weave and her dinner. Eventually, the troop roasts some hot dogs and then heads to bed. The children play on one side of the tent while the adults nearly shiver to death on the other, truly wondering how they'll make it through the night. Larsa even began packing up her belongs and gathering her child so that they could leave and go sleep in a real bed. Kim convinced Larsa to stay. The next morning, the campers practically ran away from their temporary home, opting to get Starbucks on the way back to Calabasas rather than try and cook one more meal in the wilderness. These scenes were filmed on October 6th and October 7, 2018.
Scene 16:
Khloé and EFBF, Malika, have a heart to heart at The Vault in Cleveland. Malika tells Khloé that she wants to make like the saying and "check in on her strong friend," to see how she's doing. She point blank asks if she's still in love with Tristan. Khloé says she is, but she's still not over his cheating and she's not going to act like nothing's wrong in the relationship. Her priority is True, and that's where she wants her energy to be focused, so if being with Tristan takes any of her energy away from True, it'll be over. Khloé's also frustrated that Tristan consistently brings up how many months it's been since he cheated, insisting that Khloé should have forgiven by now. Despite this, Khloé wants to continue to try to press through this very difficult phase and hopefully get to a better place in their relationship. She adds that she wouldn't be coming to Cleveland if she didn't have some hope in their future. Lord, Jesus, heal her! This scene was filmed on or around December 5, 2018.
Dolls, thank you for reading and I hope to see you next week for another #KUWTKE recap of Keeping Up With Ryan Romulus, the Smartest Child in California. #LUGGABLELOO