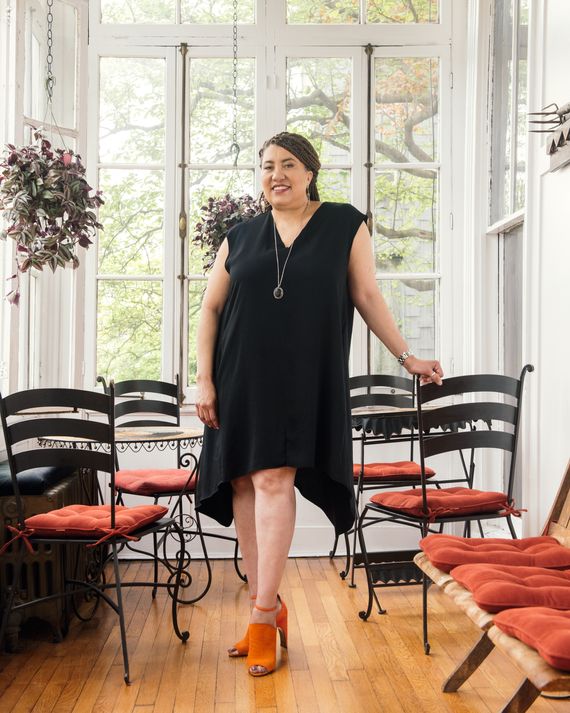 If you've ever found yourself sitting at your cubicle, thinking, Maybe I should leave office life and open a little inn somewhere, Monique Greenwood should be your inspiration. Before she was the star of a reality-TV show on OWN, before she owned five bed-and-breakfasts, Greenwood was the editor-in-chief of Essence magazine. She actually created the life that many an office dweller dreams of.
Today Greenwood's company, Akwaaba Bed & Breakfast Inns, owns and operates guesthouses in Brooklyn; Philadelphia; Cape May, New Jersey; Washington, D.C.; and Bethany, Pennsylvania. But she started small back in 1995. She was still working at Essence when she and her husband decided to buy an inn in their neighborhood of Bed-Stuy, Brooklyn. Their empire grew to be such a success that in 2017, Oprah's TV network debuted a show about the couple, called Checked Inn.
The Cut caught up with Greenwood to talk about dressing for so many different roles and how her second life has evolved her style.
On her daily shoes: I'm on my feet most of the day or driving from one of my inns to another one in a different city, so I rely on comfortable shoes with good arch support. (I know that may sound old-ladyish, but I'm about practicality and making things happen.) A kitten heel or a medium-height wedge works well; so do fashionable sneakers like the blush satin pair I sport or my cute white lace ones.
Shop Fashionable Sneakers
On what she wears to meetings: Because time is always of the essence for me, I gravitate toward worry-free wrap dresses or shifts that require little or no ironing. I feel most confident in black or a deep, bold color. You'll almost never see me in pastels.
On dressing for TV: In my former life before innkeeping, I was editor-in-chief of Essence. I hired my former fashion director at the magazine to style me for Checked Inn, the reality show I had on OWN. She's the one who got me into wearing wrap or sheath dresses when I entertain guests at happy hour. That's my evening look or maybe a fashionable jumpsuit.
Shop Wrap Dresses
On Mondays: My busiest workdays are on the weekends, when the inns are always full with guests in search of a special Akwaaba experience. So Mondays are tough days. I hug the bed pillow for as long as I can, then jump into my uniform, literally. It's a black cotton tee with gold studs that spell out Akwaaba and black leggings.
I start my day inspecting the breakfast table before guests arrive to dine. Then I visit with them over a hot home-cooked meal and help them plan their day (and sometimes their lives!). Throughout the day, I'm working with vendors, lining up contractors to maintain our historic inns, working with our marketing director, and taking outside meetings. By 5 p.m., I'm enjoying happy hour with our guests. The evening ends with emails and paperwork.
On how her style has evolved: I began my professional career as a fashion editor, so I've always enjoyed expressing myself through clothing (there was almost nothing I wouldn't wear back in the day!). Now I'm more excited about dressing the home, but I still want to make sure I look current and comfortable in my own skin.
On whom she dresses for: I dress for me. Fortunately, I work for me, too.
Shop the Story
Greenwood's Pierre Hardy shoes in the photo above are sold out, but these have a similar feel — and a sturdier heel for walking around.
If you buy something through our links, New York may earn an affiliate commission.