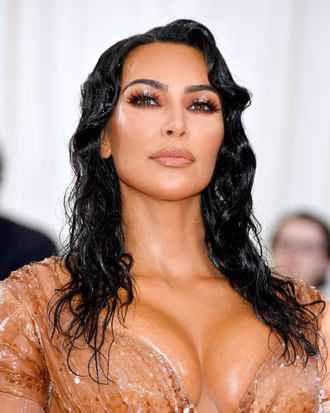 Kim Kardashian West with very damp skin.
Photo: Dia Dipasupil/FilmMagic
The ideal skin of our times is identifiable by texture, and that texture is kind of wet. You could call it dewy or moist. You could call it clammy, but in a healthier way; sweaty, in a glistening way; or soggy, but in a less gross-sounding way. Any way you slice it, everyone wants to look damp and shiny these days, from influencers on Instagram who know their angles to those running the country in impressively dewy skin suits.
But there's more than one kind of damp—which one do you want to be? Here, a handy guide to six different types of wet-looking skin you can wear in 2019.
1. Glass Skin
Glass Skin is a K-beauty term that refers to getting your skin to look nice and translucent, like a smooth, clear piece of glass. Taken literally, this sounds quite frightening and macabre, but you basically just want to hydrate your (hopefully already smooth and flawless) skin to the point that it's so shiny, it almost looks see-through. Like if you squint, you could imagine a beam of light passing directly through the back of your head and coming straight out of your face. To get the look, an appropriate amount of exfoliation, sheet masks, and a K-beauty serum with "glass skin" in the name are your best bet.
2. Buttery Skin
If Glass Skin sounds too transparent, try what makeup artist Isabelle De Vriesis has called "Buttery Skin." It's just as smooth as glass skin, but a little more greasy on top, like a stick of soft butter that's been sitting outside the fridge for the perfect amount of time for your toast. While glass skin is more Look how clear and see-through my damp skin is, buttery skin is more Look how glow-y and supple my damp skin is and focuses more on makeup (wet makeup, to be precise) rather than skin care. To get this look, you're going to want to invest in illuminating primers, liquid and cream highlighters, and luminous liquid foundations.
3. Honey Skin
If you want butter-adjacent vibes without relying on makeup, consider Honey Skin, another damp K-Beauty skin trend. Honey Skin is oilier than glass skin, less greasy-looking than Buttery Skin, and glossier and stickier than both — but don't worry, it still looks kind of wet. As Soko Glam co-founder Charlotte Cho points out, just imagine what honey looks like, then imagine it on your skin. If you want Honey Skin, focus on skin care over makeup, specifically topping toners and essences with richer face oils and emollient creams instead of the lighter serums you'd use for Glass Skin or the heavier liquid makeup you'd use for Buttery Skin.
4. Dewy Dumpling Skin
Dewy Dumpling Skin is what happens when Glass Skin, Buttery Skin, and Honey Skin come together to create a Megazord. Here, the focus is just on being really, really shiny and shimmery via a mixture of both skin care and makeup which will make you look super damp and like you're consistently under natural light. To get this look, you'll want to channel glow expert Nam Vo by becoming "a highlighting whore" across product categories. Start with some of her favorites that have some form of "dew" in the name, like Marc Jacobs Dew Drops and Tatcha Luminous Dewy Skin Mist.
5. Sunny Skin
Sunny Skin is less of an Instagram trend and more a glorious depiction of what can happen if you close your laptop and go outside (take your phone with you, though, just in case.) Anyway, this look is one of the easiest to replicate because it's free and requires zero product (though SPF is recommended). All you have to do is go outside and turn your face to the sun (around 5 p.m. in the summer is preferable). Regardless of what type of skin you have, it'll instantly look some sort of reflective/glow-y/damp, or a even a combination of a few. The only downside is that this look goes away once the sun goes down and/or you go back inside.
6. Skin That Is Actually Just Wet, Like With Water
The wettest of the wet-looking skin trends, this dramatic look has been seen recently on Kim Kardashian West in Vogue, and also on all of the fish in the sea. Like Sunny Skin, Wet Skin is easy to create, but hard to sustain. To get the look, fill a bucket with water and then dump it over your head. You could also try taking a shower or getting in a pool, although — and this is crucial — you're going to want to avoid using a towel when you come out. Another way to do it is to splash your face with sink water, repeatedly, like once every three or four minutes, all day long. An excellent look for summer.