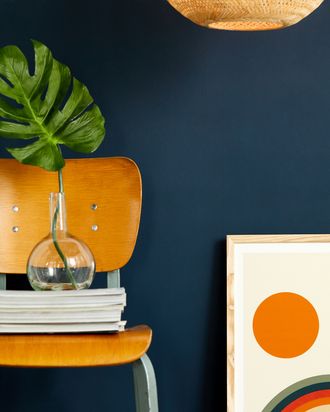 Backdrop paint in Surf Camp.
Photo: Urban Outfitters
In the end, it was the bathroom that broke me. The patched ceiling above my shower was seven different shades of beige. Once I decided it was a problem, it was all I could see. While my friends were Kondoing their closets, I decided to paint.
Although New York City law stipulates that a landlord is supposed to repaint an apartment every three years, mine has only ever offered to drop off several gallons of paint in rental-standard "linen," a matte off-yellow that's supposed to hide dirt and stains but tends to make rooms feel cramped. Painting my already small bathroom a color that would confirm its smallness felt like a step backward. Buying white paint myself seemed easy enough … until I discovered there are about 293 different shades of white at Home Depot alone. How different could each of them really be — and why did having unlimited choices feel as constricting as having no choice at all?
At The Atlantic, Amanda Mull has called the too-many-choices tipping point a matter of "choice fatigue." Now some brands are actually doing something to correct that overflow. "Traditionally, paint has been a uniquely painful purchase that required choosing from 3,000 colors, 3­4 trips to the hardware store, and expensive and messy samples," Caleb Abel of Backdrop Home tells me. He and wife Natalie had painted every New York apartment they'd ever lived in, but they continued to experience the same pain points at every fresh coat.
So they founded Backdrop, a paint company; the couple launched a 50-color collection in November 2018, along with rollers, tape, and the other supplies you'd need to paint your space. Colors include Skywalker, a greenish-blue, and Negroni, a bright orange-red. There are also five white options, each with a lunar influence. Their product functions primarily on a direct-to-consumer model — in lieu of taking home sample pots, they mail you stickers that approximate the paint after it dries — but recently debuted at Urban Outfitters, too. Think Brooklinen or Everlane for paint.
They're not the only company trying to disrupt paint. Interior designer Nicole Gibbons found that clients trusted her color recommendations but were intimidated by painting on her own. Since not everyone can hire a designer, she launched Clare, which offers 55 colors, including Golden Hour (a sunny marigold) and Wing It (a pink inspired by the feminist-minded co-working space).
Both Backdrop and Clare offer stickers rather than paint swatches, so you can figure out what color you want. And as Homepolish designer Liz Lipkin explained to me, that testing stage is crucial: "The same color can look very different from one room to another, so the blue color in your friend's living room may not look the same in yours." But pushing all of your furniture to one side of the room in order to paint a wall before actually painting it can feel counterintuitive to anyone who isn't a professional or who doesn't have a lot of time. Enter the sticker, which is so mess-free I wondered why this hadn't been a thing sooner. (Older brands like Benjamin Moore also now offer sticker swatches for their products.)
The thinking behind both Clare and Backdrop's curated options is also simple: When you remove the seemingly endless array of options, it's easier to trust your gut. "Half of our paint orders come from people who haven't tried our samples, which means they trust the brand and web experience," Natalie explains.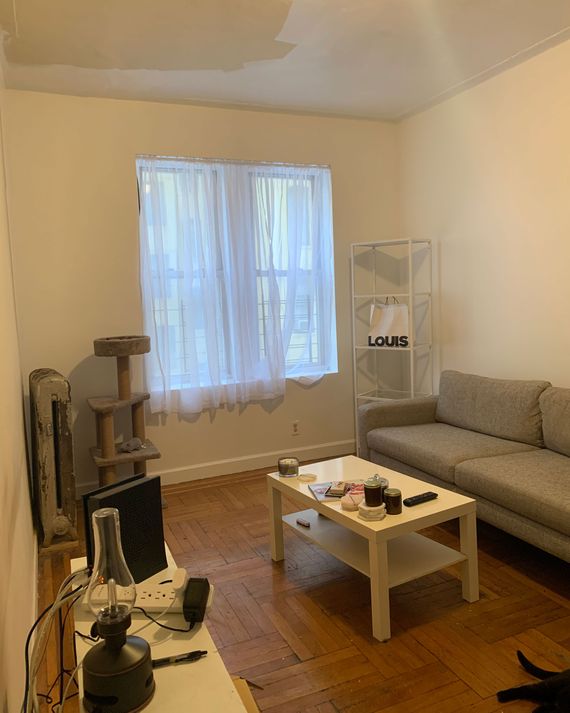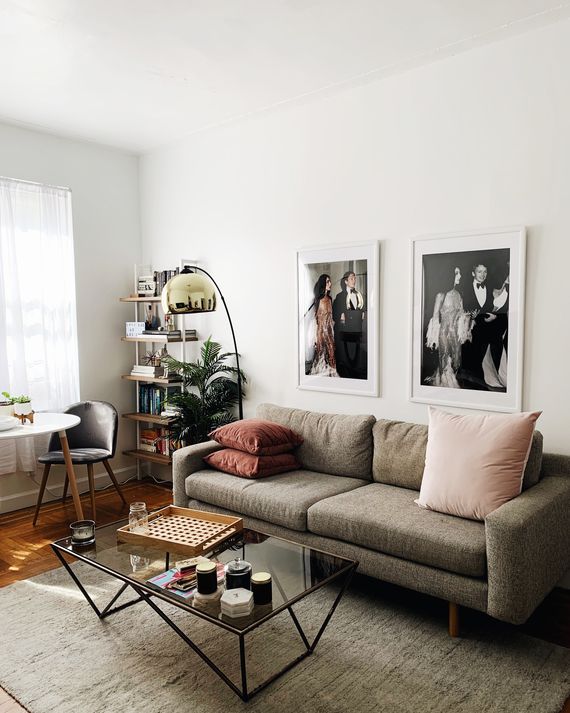 I chose a mix of swatches, with options in white, gray, and even a pink, and lined them up in a corner of my bedroom to watch like a sundial. Still, I wasn't quite ready to pull the trigger. Picking a color felt like only part of the battle — I had no idea how to actually get the paint on the walls. Gibbons says this is a common problem: "There's a lack of reliable resources on how to paint. People end up going to Google and trying to figure out what tools they need to buy and how to get started."
For the record: Google isn't necessarily that helpful. Googling led me to Amazon, where I found a satin-finish option specifically marketed as a bathroom paint. On the downside, I couldn't swatch the paint. But on the upside, it was labeled "white," which seemed appealingly simple. I guessed at how many cans I'd need and let the recommendation algorithms point me in the way of rollers, a tray, and plastic tarp.
But when the cans arrived, they were dented and the labels seemed musty; the paint itself had the consistency of cottage cheese, and no amount of stirring seemed to fix it. I used it anyway, glopping on several coats to make the walls seem uniform, and spent the next few days peeling latex-y paint drippings off the tile.
Caleb told me about a similar experience when buying paint for the Abels's daughter's nursery. "We ordered a vintage rug from Morocco and it came in a week and was easier than buying white paint at the hardware store," he says. Both Backdrop and Clare feature websites with easy-to-navigate interfaces and tools to help calculate how many gallons of product I would need. They also sell simplified tool kits at checkout, as well as canvas drop cloths and extra microfiber roller covers.
Each brand's delivery showed up ready for an Instagram unboxing, though Gibbons says social media can only go so far when it comes to the painting experience. "Your home needs to be both beautiful and functional, equally as loved on your feed as it is in real life," she stresses.
In the end, I opted for the basics: Backdrop's Cool Moon, a colder white, for a bedroom that faces the brick building next door and rarely gets any sun, and Clare's Snow Day for my south-facing living room. (All of this started with my bathroom, but once I opened the Pandora's box of painting, stopping wasn't an option.) Painting took me a series of weekends, given that I was a team of one, and finishing the ceiling proved to be the hardest part — while both Backdrop and Clare offer roller extension rods, they aren't part of the basic supply pack. Instead, I borrowed my super's ladder and climbed the equivalent of dozens of flights of stairs before the project was through. I wound up exhausted, with paint in my hair, on my clothes, and all over my feet for days, which seemed inevitable no matter what brand I used.
Mercifully, I didn't have to prime any walls before I painted them; both Clare and Backdrop offer primer, but the paint itself is self-priming. Backdrop also updated its paint cans into easy-to-pour boxes rather than the classic cylinder. It seemed Backdrop's paint did a better job at providing an even coat in one go, especially over spackle and other damage on the wall, but I wound up liking the slightly reflective sheen left by two coats of Clare  more than I realized I would.
I'm still scraping stray paint drops off the hardwood, but now I get why people paint their apartments, and why two companies would aim to reinvent the industry in much the same way. But as one friend who watched my saga play out on Instagram Stories explained, "You're inspiring me to both paint my own apartment … and pay someone else to do it for me."