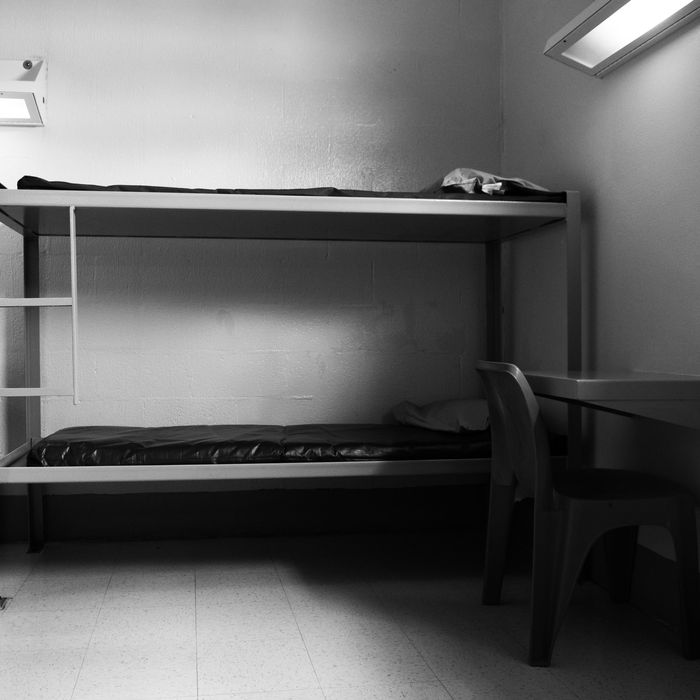 A bunk bed and desks inside a cell at the Caroline Detention Facility in Bowling Green, Virginia.
Photo: SAUL LOEB/AFP/Getty Images
U.S. Immigration and Customs Enforcement has quarantined 5,200 of the approximately 52,000 adults in its custody after the detainees' exposure to mumps and chicken pox.
According to CNN, 39 detention centers nationwide have recorded cases of the diseases. About 4,200 people have been quarantined over mumps concerns, and about 800 over chicken pox concerns; a further 100 may have been exposed to both viruses. The incubation period for mumps ranges from 12 to 25 days, and from 10 to 21 days for chicken pox — detainees will be quarantined for 25 days from the previous incubation period, CNN reports.
ICE has recorded 297 cases of mumps since September 2018, but even since March — when the agency reported 2,287 people in quarantine — the current figure marks a considerable spike. "I think there is heightened interest in this situation because it's the mumps, which is a new occurrence in custody," Nathalie Asher, ICE executive associate director for enforcement and removal operations, told CNN. "From an operational perspective, the impact is significant in the short and long term and will result in an increase in cohorted detainees' length of stay in detention, an inability to effect removal of eligible cohorted detainees, and postponing scheduled consular interviews for quarantined detainees."
Both chicken pox and mumps are highly contagious but preventable with vaccination, and both can have serious consequences if left unchecked: In adults, mumps — characterized by painful swelling of the salivary glands — can escalate to hearing loss, pancreatitis, and even meningitis. Complications from chicken pox, meanwhile, include pneumonia, encephalitis (swelling of the brain), and toxic shock syndrome.
Reporting on the spate of mumps quarantines earlier this month, Quartz suggested that the Trump administration's stringent immigration policies, which have flooded detention centers with migrants, put severe strain on limited resources. A number of children have died in, or shortly after leaving, ICE custody, a phenomenon some have pegged to "unsafe conditions, neglectful medical care, and inadequate supervision." Speaking to Quartz, attorneys with the Southern Poverty Law Center said that facilities without enough doctors and nurses often lagged in providing detainees sufficient medical attention.
An official with ICE told CNN, "This week, the ICE Health Service Corps issued a reminder to senior field leadership reminding their staff to review vaccination records and take appropriate actions."