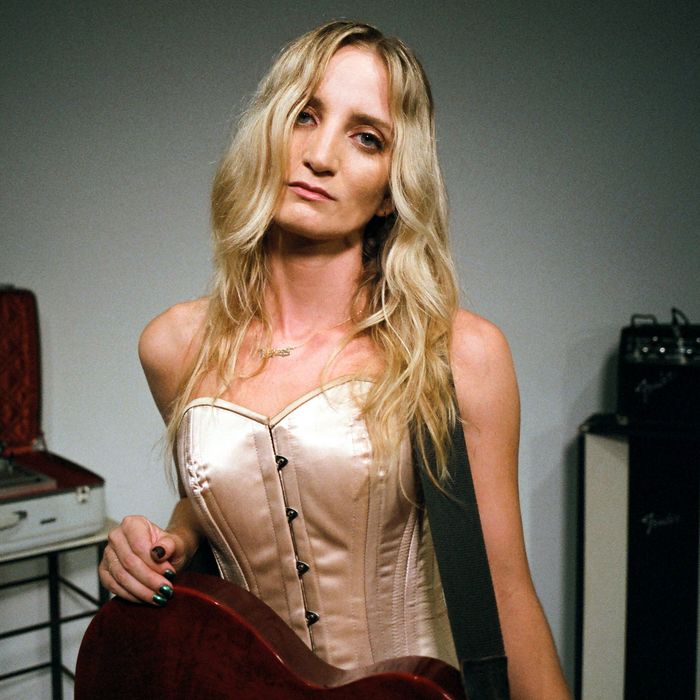 Janet May.
Photo: Pete Voelker
Janet May and I are lying barefoot on the shag-carpeted floor of an insanely well-equipped listening room owned by a guy named Andrew out in Far Rockaway. The speakers, suspended from the ceiling, are comically large, so large that if they were flat on the ground, I could curl up inside one like a cat. I'm regretting my choice of pants — mom jeans with very little stretch — immensely, while May, a singer-songwriter, plays me several tracks off her forthcoming album. If her ensemble, entirely composed of articles of denim, is uncomfortable, she does not show it as we splay out and discuss "Lessons 2 Learn," her debut single. "This song has a march feeling to it," May explains. "It's a battle cry. A call to arms for women, or really anybody, seeking a self-realization space."
The track itself is simple, and the march feel May hopes she imbued it with is immediately palpable. "A woman who loves herself as one / Is the most dangerous of guns / And that ain't so easily done / But I'm aiming high," she sings in a verse, backed only by herself strumming in a steady andante two. May, who is 34, blonde, and wearing a delicate gold necklace she inherited from a relative whom she calls a "fancy lady," tells me she always aims to "be as direct as possible" in her writing. It shows. "Banks control my life, my earnings / I'm handcuffed to my phone," she sings on another track, "Gone With the Rain." "Connected to 6 billion people / We're powerless alone." She tells me the progressive media company NowThis has asked to use her music in its videos.
Andrew's listening room — Andrew, as it turns out, is Andrew VanWyngarden, the front man for MGMT and a friend of a friend of May's — is a bit of a different venue from where May's music can usually be heard. She's constantly hopping from protest to action to show all over the New York City area, singing songs and lending solidarity. Recent appearances include an action outside the Whitney Museum over a board member who is also a tear-gas manufacturer, marching over the Brooklyn Bridge to protest the Williams Pipeline (if built, it would transport fracked gas from Pennsylvania to New Jersey), and a DIY event in Brooklyn raising money for Casa de Luz, an open shelter for LGBTQ asylum seekers in Tijuana that May helped found.
"I go to lots of different groups that organize direct actions," May says of choosing causes. "My interest is largely the movement itself and how it's evolving." May also explains that listening is as, if not more important, than the music she brings to these events. "The idea is to talk about the hard stuff. There are certain roles I can play with my privilege and with the way I look," she says. "So how do those roles translate into the [specific protest] space and where I can lend a hand and help out."
Later, we grab lunch at a local Uzbekistani place, Uma's. Andrew drives us. I very coolly do not tell him that "Kids" was playing the first time I ever had a drink. Over tea and bichaki, May tells me about her years touring as a professional backup singer, particularly the time she spent working with Bombay Bicycle Club. "When I was touring with bands, it was very much 'Woo! Time of my life!,'" May says. It was also while touring that May picked up the guitar. "I had played piano, but guitar I really learned on the road," May says. "People are constantly playing around you so you find yourself asking them to show you a thing or two." May now plays an electric guitar against produced tracks. "I didn't want to be held back by not having a band," she says. "I like this idea of the music being able to go anywhere and the show being able to go anywhere." She adds that, given her prior career, she, of course, still loves bands. She tells me she's excited to see the Strokes headline at Governors Ball later in the spring. (Weeks later, their show will be rained out and thousands of festival guests will have to be evacuated from Randalls Island amid thunder, lightning, and high winds. I think of May.)
Leaving the professional music world amid a successful career was a no-brainer for May, though, after her father was diagnosed with Alzheimer's disease. "If you ask an Italian girl, 'What do you do when your dad needs you?' she's running home. I kind of walked off of a tour bus and an exciting life — tours of Europe and the U.K. and festivals — and tended to needs at home." His illness progressed over several years, and in 2013, May moved home to be with him full time before he died in 2014. "Music was the only way we could connect that he could feel any peace or even personhood towards the end," she explains. "It's also a big part of why, after he passed, I was like, 'Okay, now [I am going to make my album].'"
May wrote the album a year later while living in Los Angeles, where she moved to help herself heal. "I was working with a nonprofit called Art of Elysium, and they are so fucking rad. They book all these artists to go into schools for kids with special needs. I was going with my acoustic guitar, I played at a school for the blind, I was playing in hospitals bedside," she says. "For me, it was about being where music was really needed instead of jumping back on a tour bus." It's that same pull that leads her to bring her music to protests. "Every time I go [to an action] I catch energy off of every person that's there," she says. "And they catch it off me. There's an immediate exchange, and that's what I'm interested in as a musician."
As we part ways, a final question pops into my head. "Hey, so, uh, where do you bank?" I ask, thinking back on her lyrics and the fraught nature of most major banks and the Wells Fargo debit card currently in my wallet. She laughs and tells me she keeps her money with Amalgamated, a bank endorsed by Susan Sarandon. "If it's good enough for Susan …" May says.