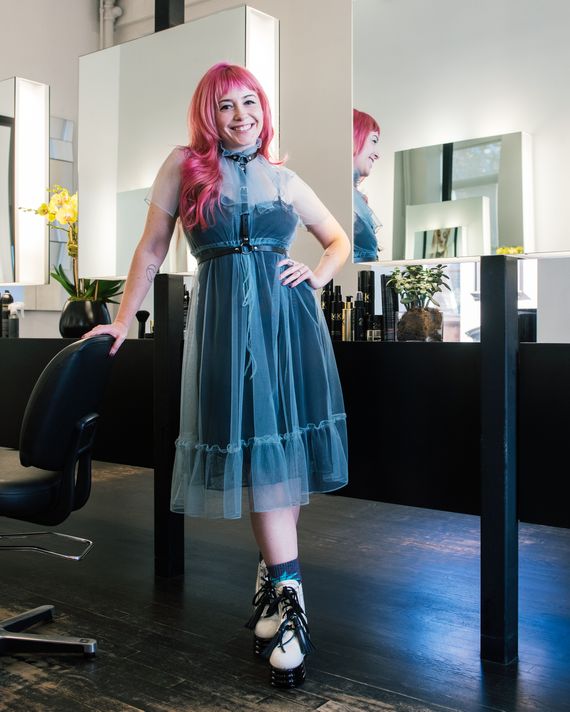 A good colorist knows how to turn your hair the perfect shade of blond but also knows when to stop you before it all falls out. Kirsten Stuke is an expert at toeing that line. As a colorist at Sally Hershberger, Stuke is responsible for Frank Ocean's bleached hair; she also counts celebs like Zoë Kravitz and Lourdes Leon among her clients.
Stuke grew up in New Hampshire, went to school for oil painting, and then, at 23, moved to Philadelphia, where she started working at a salon out of financial necessity. The job turned out to be a great fit for someone who loves color theory. Eventually, she moved to New York City and got a job at Sally Hershberger, where she apprenticed with sought-after celebrity colorist Aura Friedman for two and a half years before striking out on her own.
The Cut caught up with Stuke before a busy day of clients. Read on to hear about her love of Miss Frizzle dresses and platform boots and why she thinks Amazon is the best place for sunglasses.
On being on her feet all day: An old boss of mine instructed me to change the shoes I wear every day. We stand all day long, so it's good to mix it up for the sake of your feet, legs, and back. I still try to do this! I'll alternate between a pair of Sandro creepers and my platform Vagabond boots. The chairs we use at the salon only go down so low and I'm short, so I'll always wear something with height that's comfortable — although I've broken this rule in the name of fashion every once in a while.
On her lack of sneakers: Much to the chagrin of my fiancé, I'm not into them. I once went hiking in a pair of Doc Martens. That said, I do own one pair of Nike Air Max 270s in a lovely beige and gray. They were really popular when I was in Japan, and I'll wear them occasionally.
On what she'd wear to an interview: My line of work is all about color, and I like to show how much I love it. So I'll choose an interesting dress that's still feminine and soft. I don't like to be too aggressive on first impression. I try to dress like how I would normally. I don't know if I could be forced to tame down my look — it'd be extremely depressing!
On her go-to work outfit: When I'm running late, I'll throw on a T-shirt and this pair of utilitarian pants from Peels. They fit like Dickies and are my favorite. I really get into the vibe of cosplaying as an old housepainter. My secret to dressing it all up is courtesy of my vintage chinoiserie-inspired tops: One is golden silk with a brocade pattern, the other a beautiful merlot velvet. I'll throw it over everything and get a million compliments.
Shop Utilitarian Pants
On her average day: The first thing I do is get up and water all my plants. I try to head into work early so I can grab a matcha before work. If it's nice out, I'll take the long way and walk a bit — it helps my brain get going. I'm not a morning person, but I don't want to be a zombie with my clients. I want to have real, meaningful conversations.
Post-work, I try to get in a workout, whether it's yoga or aerial hoop. My occupation is physical, so stretching helps me keep my joints and muscles healthy. Finally, I end the day with World of Warcraft (in which I kill monsters and get loot) with the friends I've been playing with for over 12 years.
On whom she dresses for: I wake up and think, Hmm, what would look cool? What would be cute? It always feels good to get nice feedback from coworkers and clients, though. I definitely dress up a bit if I have a cool client coming in. When you live in New York, you're dressing for the city — you're around thousands of people on the street wherever you go, so you're really dressing for them.
On her style evolution: For almost five years, I was a colorist's assistant, and we always had to wear black. It was extremely limiting, but once I was on my own, I could finally add in brighter pieces. That said, my style is constantly evolving, and I go through phases. Almost anything can inspire me, whether it's a decade, an HBO series, a video game, or a color.
On wearing vintage: I love pieces that are on the costumey side, and Dana Foley NYC is the place to find that sort of thing. My favorite piece is a beautiful vintage green dress that has black buttons up the bodice. It's almost period looking: It has a Renaissance Faire vibe, and I like to call it my Miss Frizzle dress. Why wouldn't I want to dress like a schoolteacher with a lizard for a best friend?
Shop Floral Dresses
On her last three purchases: I bought yellow aviators — I tend to break and lose the same pair over and over again, hence Amazon. I'm also a big fan of chokers and harnesses, so I added this one to my collection. And to go with that harness, a top from Sandy Liang. She's my favorite designer!
Shop Similar Shoes
If you buy something through our links, New York may earn an affiliate commission.