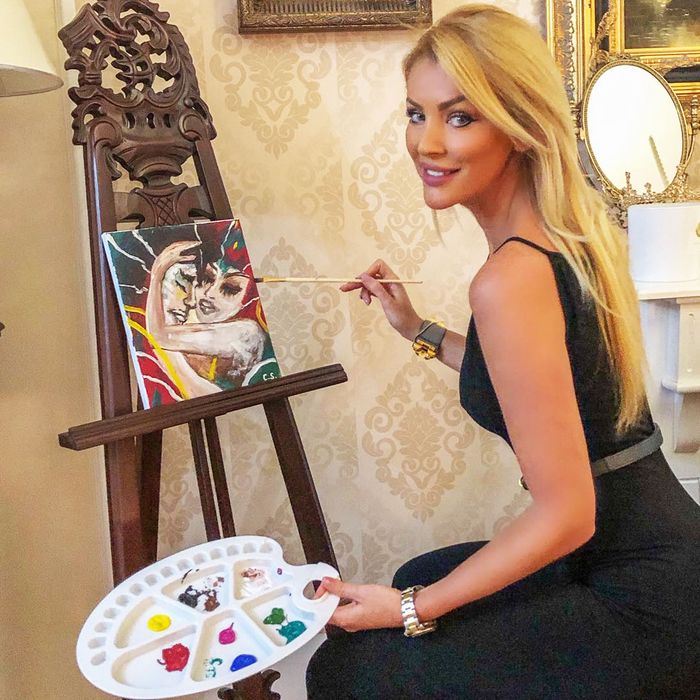 Cristina Szeifert.
Photo: cristinaszeifert/Instagram
Oftentimes, one has to pay a price for becoming an influencer, and that price is getting embroiled in incredibly bizarre and intense drama. Vegan YouTubers face accusations of eating meat, travel Instagrammers face backlash for sensually dangling their significant others over ravines, and we all know what happened with James Charles. And today, we have a new bizarre and intense drama: A Romanian Instagram model is facing accusations of … not knowing how to paint.
If you visit the personal Instagram of Cristina Szeifert, a clinical psychologist who moonlights as a blogger and influencer, you'll be able to glean a few of her beloved hobbies: holding various drinks, posting motivational quotes, and notably, painting. Earlier this week, though, Szeifert's last hobby became the subject of extreme skepticism, when a Reddit user suggested in a thread that Szeifert wasn't actually the artist behind the paintings with which she posted.
The user's evidence? That her paint palette doesn't change from photo to photo — if you look at the photos, the paint stains are identical over the course of several years, implying that new paint has never been added. Additionally, several users took issue with the fact that her clothes are always clean as she works, and that she never puts a cloth down.
In an interview with BuzzFeed News, which first reported on the influencer drama, Szeifert insisted that she personally created "almost every painting" posted on her account, and that she poses with the unchanging palette afterwards as "a symbol of art."
She also told the outlet that she has "a diploma as [an] international artist, and that "painting is and will remain forever my passion."
As the Reddit thread gained traction, Szeifert simultaneously started to address the allegations on her Instagram, posting videos of her painting to her page and her story. In a photo posted earlier today, Szeifert broadcast a resounding message to her critics: "All my paintings are made by my self."
"I don't always use a palette as I don't have one in London," the caption continued. "I love painting and it will always be my passion. I want everyone to cherish creativity and do something constructive and positive for the world instead of spreading hate and negativity."
Just let her follow her passion, be it influencing or painting or both, in peace!