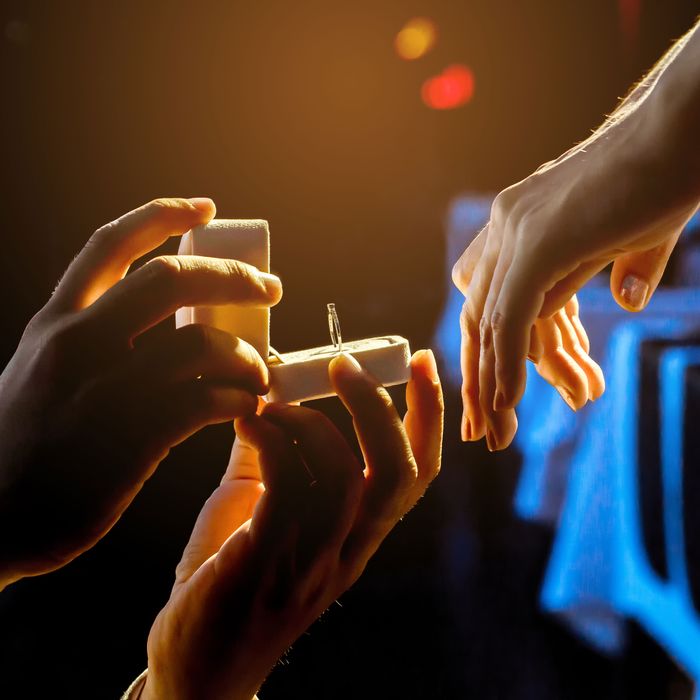 Photo: Jikaboom/Getty Images/iStockphoto
Love is many splendid things, and many of them are marketed on Instagram.
On Wednesday the Atlantic published a piece by Taylor Lorenz about an elaborate influencer wedding engagement that went viral — turns out, the entire shindig was planned, probably to get a brand sponsorship.
Here's how it worked. On Tuesday, fashion influencer Marissa Casey Fuchs shared a video of her boyfriend Gabriel Grossman telling her they were about to set off on an "extraordinary adventure," which a series of subsequent videos revealed to be a scavenger-hunt-style engagement proposal. It became a whole thing. Lots of outlets, like the Daily Mail and People, reported on it.
However, word got out pretty quickly that ahead of the proposal several brand marketers had received a PDF of a pitch deck, which reportedly detailed the engagement "in the context of a potential sponsorship," describing the proposal as "a one-of-kind proposal experience for a one-of-a-kind female ambitionist." (We don't have time to get into what an "ambitionist" is and frankly I'm scared to.)
One of these documents, obtained by the Atlantic, reads:
"This summer, Marissa of @FashionAmbitionist will be pulled into a surprise adventure created by the center of her life, Gabriel. He will remotely ask her to take an unexpected and sentimental journey to him, a journey that will encompassing [sic] many familiar stops along the way that offer their own unique gifts … We're pleased to offer your brand the opportunity to align with this momentous occasion and the beautiful cities she will be visiting along the way."
According to the Atlantic, it's not clear whether the couple got the sponsorships they solicited. Fuchs tagged several brands in her posts, none of which contain ad disclosures.
What to make of this apparent subterfuge? Kelsey Hodgkin, head of strategy at advertising agency Deutsch Los Angeles, which saw part of the document beforehand, pointed out to the Atlantic that this alleged scheme isn't so unbelievable when you consider that influencers and celebrities already profit off weddings, pregnancies, breakups, and other milestones in all kinds of ways. Hodgkin said of the plan, "I think it's completely insane but very of the moment we're living in now. Influencer marketing is a free-for-all at the moment. Everyone is like, how far can I push it?"
The Atlantic also spoke to Jack Wagner, the creator of an online show about influencer culture called "Like & Subscribe." Wagner said, "What's crazy to me is the nature of creating a pitch deck for your engagement. What is the price where you'd brand your engagement and sell it away? It's such a special moment in your life. What is that price that makes it worth it? It's weird that we're at a point right now in culture where that's a question."
I don't know how to answer these questions except to entertain the possibility that this phenomenon isn't "weird" or "new" so much as hypertraditional. Marriage means many things to many people now, but in its most traditional form, it celebrates the merging of finances with a public presentation. And, honestly, who wouldn't want a heavily discounted wedding? Or that top the bride wore to her secret marriage proposal in Europe? I do.