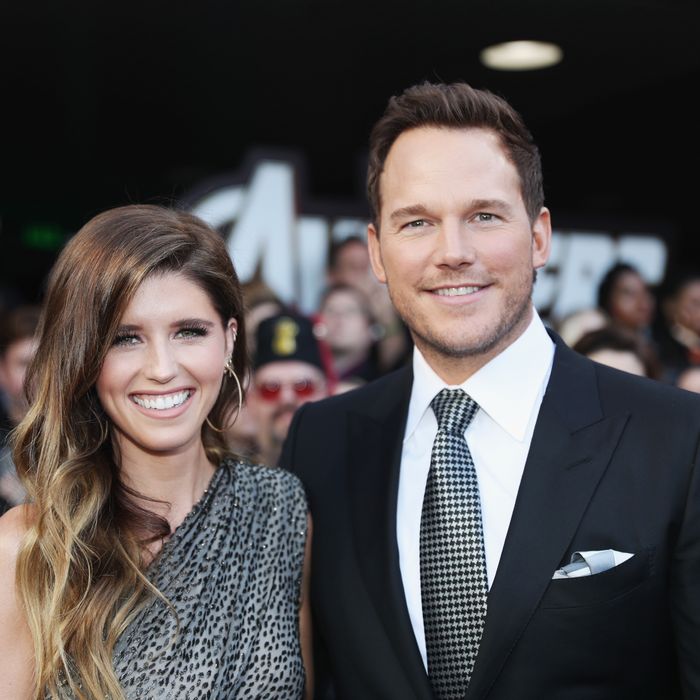 Photo: Rich Polk/Getty Images for Disney
Chris Pratt and Katherine Schwarzenegger — Hollywood royalty and sentient wedding cake toppings even on a bad day — tied the knot this weekend in Montecito, California. The 39-year-old actor and the 29-year-old author (and daughter of Arnold Schwarzenegger and Maria Shriver) announced their engagement in January. They have been dating since last summer.
More details about the ceremony are bound to emerge, but here's what we know so far.
The guest list
A source told People that Katherine's parents and siblings were there and that "the whole family took wedding photos." Pratt's six-year-old son Jack was there. Rob Lowe and his sons? Also there. Lowe is a close friend of the couple and hosted their rehearsal dinner. James Gunn, who directed Pratt in Guardians of the Galaxy, was also in attendance.
The venue
TMZ reported that the wedding was held outdoors at a luxury resort called the San Ysidro Ranch. A source told People, "The venue is beautiful. Lots of flowers and greenery everywhere. It's a very romantic setting for a wedding."
The grand entrance
According to TMZ, Pratt, who was previously married to the actress Anna Faris, arrived in a golf cart with his son. Katherine arrived like the personification of a Jacques Demy film, shrouded in umbrellas. Not for romantic notions, but to shield her from the prying eyes of the paparazzi.
The outfits
On Sunday, Katherine posted the finished look and revealed that both newlyweds were dressed in Armani. Pratt posted an almost identical message.
On Wednesday, Armani posted more wedding and wedding-adjacent images, including sketches of the bridal party's dresses and a photograph of Katherine in a second dress she changed into at night.
The veggies
After the ceremony there were cocktails and after that came a "vibrant" menu of vegetables. Per People's source: "They are using only local food. It's a lot of fresh vegetables. They didn't want the menu to be too heavy, or rich. It's more of a light summer menu. For dessert, there are lighter options as well like raspberries, blueberries, and red currant."
A single red currant, so elegant …
The uptown funk gon' give it to you
The genre of music at the reception was very "white person meets other white person." People reports that a selection of Bruno Mars hits were played as well as Neil Diamond's "Sweet Caroline," Miley Cyrus's "Party in the U.S.A.," and Journey's "Don't Stop Believin'."
Just the classics, and true love is one of them.
This article has been updated.