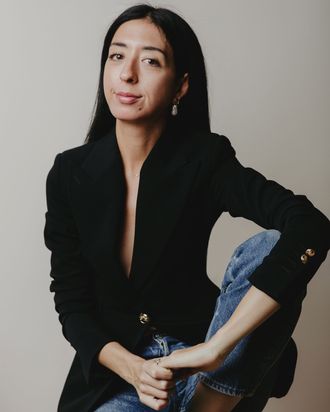 Photo: Courtesy of Danielle Nachmani
Danielle Nachmani's résumé reads like a fashion student's fever dream. She started as an intern at Vogue and T magazine, then dressed Mary-Kate and Ashley Olsen exclusively for two years. Now she styles Laura Harrier and Adam Driver and has worked on campaigns for Solid and Striped and the Row. Her wedding, in which her husband wore a bucket hat and she wore Calvin Klein by appointment, was featured in Vogue. But she hasn't built her name on gimmicks — rather, her work is sophisticated and simple without ever being boring. We spoke with Nachmani about her favorite red-carpet outfit, Manolos, and the importance of taking a bath.
How do you thank someone for a gift?
A handwritten note, although rarely mailed out in a timely fashion.
What would you never wear? 
Patterned tights.
What's your dream vacation?
It changes every year, but right now I have my heart set on the coast of Italy this summer.
What's a good book on your coffee table right now?
This Is Water, by David Foster Wallace.
Last show you binge-watched?
PEN15.
Secret to hosting a good party? 
Being barefoot, if the party is in your home, otherwise being a couple sips in to a dirty Ketle One martini when your guests arrive.
What is a trend that you like right now?
Being environmentally conscious.
One you don't understand?
In terms of fashion trends, I always understand them; I just don't always like them.
Favorite museum/gallery?
Chichu Art Museum, Naoshima.
Shoes you wear most often?
Manolo Blahnik Ballerimus.
Can you share three photos of yourself that define your style? And a brief explanation of why?
This photo was from when I was about 10 years old at school pickup. I find it to be a necessary photo when discussing my style because this was an outfit I chose to wear to school at age 10 — and I would still choose to wear now. In terms of aesthetic, I've never really wavered and always had a strong sense of what I liked.
This photo was from my first toile fitting for my wedding gown at Calvin Klein. This photo represented everything I wanted to be on my wedding day — simple, sexy, and timeless. These are the same words I always turn to when styling a client for the red carpet.
This photo represents the first time I realized red-carpet styling could have a strong, lasting impact. It's one of my favorites, and I feel as though the look truly embodies what I try to achieve with every client I send out on the red carpet, which is a "quiet statement."
What's your favorite … 
Pajamas?
Negative Underwear Whipped Hi-Rise Underwear.
Candle?
Frederic Malle Tubereuse.
Restaurant?
I Sodi.
Socks?
Uniqlo and Comme Si when I'm feeling fancy.
T-shirt?
Petit Bateau crew neck.
What's your favorite place in your office/studio/home?
I love a bath. I do everything in my power to take a bath at least once a day. I rented my new apartment due to the master bath. I think a bath forces you to do nothing but sit with your thoughts, and that really helps me at the end of a long workday.
Shop the Story
Photo: Courtesy of Comme Si
If you buy something through our links, New York may earn an affiliate commission.