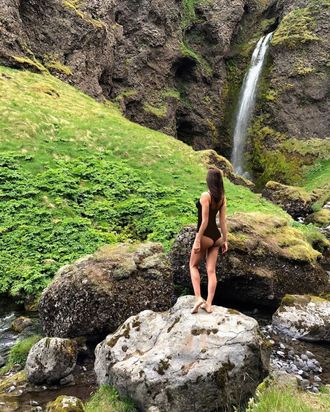 Irina Shayk.
Photo: irinashayk/Instagram
Usually, a post-breakup Instagram is a place of chaos, a wild landscape of thirst traps, new-haircut selfies, pictures on the tops of mountains — images that scream to anyone looking, but especially to one's ex, "I'm fine. I'm fine! I'm SO FINE, see?" Irina Shayk, however, is revolutionizing the post-breakup Instagram game, pivoting from tumultuous breakup energy to serene branded content.
Last week, the world learned that Shayk and her partner, A Star Is Born director Bradley Cooper, were splitting up. Shortly after the news broke, Shayk was spotted dressed as a Breakup Mechanic in a beige Burberry jumpsuit at LAX, leaving the country, her relationship, and her cares behind. She was headed, it now seems, to Iceland, where she has been posting pictures from her shoots with Italian brands Falconeri and Intimissimi and posing in locations that look like the backdrops to online meditation videos. In one picture, she sits on a rock in front of a glacier, wrapped in a cashmere sweater and socks. In another, she stands on a rock in front of a lush green hill and a waterfall.
Instead of a frantic, "I'm fine!" Shayk's posts bring to mind the sound of a babbling brook, birds chirping, a brilliant sunrise observed from over the brim of a warm cup of coffee, and the quiet comfort of getting paid by brands for content. Beautiful …
Rumors about an impending Cooper-Shayk split had been swirling for a while. According to a new report from People, Cooper became "emotionally absent" while filming A Star Is Born. "They tried to save the relationship, but it had changed," a source said.
At least they'll always have Wimbledon.