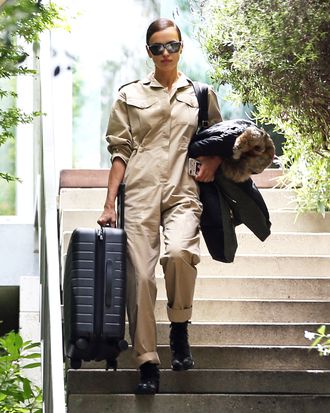 Irina Shayk.
Photo: PPLOS/P&P / MEGA
Model Irina Shayk and Bradley Cooper have reportedly split after four years of dating. Shayk got on a plane this morning, but not before paparazzi caught her in a utilitarian Burberry jumpsuit carrying her Away bag (she uses an Away bag?) out of her Los Angeles home.
A jumpsuit is, of course, the easiest way to look good without putting an outfit together. Dressed in the oversize mechanic-style onesie (which is on sale!), Shayk looks like she's ready to give her personal life a multi-point inspection. Like she's ready to pop open the hood and check her battery, monitor her breaks, and check her fluids. Maybe rotate the tires a bit. Or go to a spa, set some personal boundaries, and get drunk with her friends. Good for her.
Reportedly, Shayk and Cooper, who had a daughter in 2017, hadn't been getting along for a while. Tabloid reporters documented the couple looking miserable in various New York City restaurants, and rumors began swirling about Cooper and his A Star Is Born co-star Lady Gaga, especially after their notably intense Oscars performance. Wherever Shayk's going, she probably needs a break.
That being said, there's no way the woman who is getting on a flight in heels and an impeccably slicked-back bun can fit her whole life into the same mid-sized carry-on favored by consultants flying between Phoenix and Boston. Hopefully she's got some luggage to check, too.