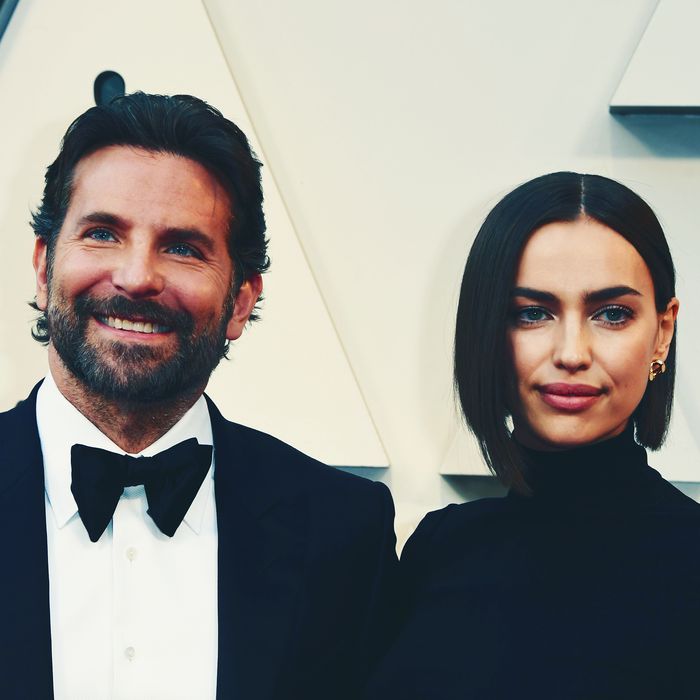 Photo: Mark Ralston/AFP/Getty Images
Actor-director Bradley Cooper and supermodel Irina Shayk's relationship has been showing signs of fray. Now tabloids are speculating upon an imminent breakup.
Cooper, 44, and Shayk, 33, have been dating since 2015 and had a daughter together in 2017. Page Six reported on Monday that the couple is mostly trying to make things work for their daughter's sake. A source told Page Six, "Things are not good. Neither one is happy. The relationship is hanging by a thread."
In October, Page Six reported on the couple's apparently dark moods during a luxurious dinner in Manhattan. A source told the outlet at the time, "They are miserable together. They have been for months. He doesn't drink and is into spirituality. She wants to go out." These two characterizations don't seem necessarily incompatible, or even mutually exclusive, but it's certainly … one explanation.
Stories of Cooper's relationship woes don't get told without a dash of Lady Gaga. Throughout A Star Is Born's press tour, fans looked for signs of the co-stars' hoped-for romantic affection for one another. Such rumors were only piqued by a sexually suggestive Oscars performance. The operative term being "performance."
During an appearance on Jimmy Kimmel Live in February, Gaga said of her putative love connection with Cooper, "People saw love, and guess what, that's what we wanted you to see." She went on to very patiently explain the basic chemistry of duets, "Look, I've had my arms wrapped around Tony Bennett for three years touring the world. When you're singing love songs, that's what you want people to feel."
Let's face it: Relationships are tough, no matter how many stars you've birthed. I'll refer in the end to Cooper's own words: "The wound was just the wound of being a human being."