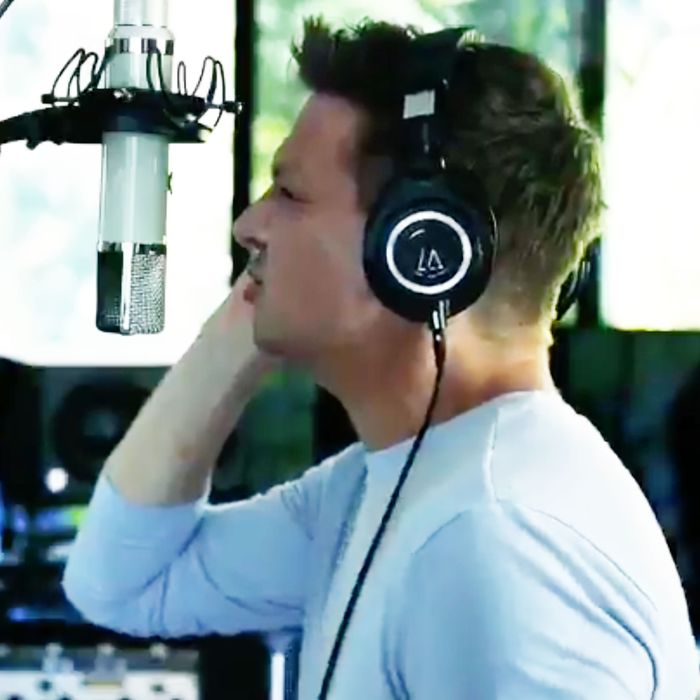 Jeremy Renner.
Photo: @Renner4Real/Twitter
A song of the summer taps into our collective conscience, bringing us together and lifting us up from the drudgery of everyday life. It is a banger that sounds like hope, like possibility. That sounds like …
So prompum dits a bool I gotta teeeeeeeeeeell you
Never be the same
Shannon don't have a name
Those are, as far as I can make out, lyrics from Tag actor Jeremy Renner's upcoming single that he teased on Wednesday in a video on Twitter and Instagram, with the caption "Coming soon …" We don't know yet what the song is called, but we do know, thanks to some helpful captions, that "Jeremy Renner" is indeed the man singing.
According to Renner's website, he's recorded an entire album that he hopes to release soon, and he also "recorded the entire soundtrack for the upcoming film Arctic Justice: Thunder Squad."
It's hard to say now whether Renner's new song about someone named "Shannon" (?) who doesn't have a name, even though their name is Shannon, will be the song of the summer. Perhaps it will, or perhaps it will be overlooked, like another song similarly ahead of its time.
"Jam incipiedo, sedere facebo,"
In dog Latin he quoth, "Euge! sophos! hurray!"
That's not Jeremy Renner scat-singing, it's Sex and the City's Kim Cattrall, from a 2011 YouTube video that Gawker unearthed back in 2015, in which she scat-recites the Rupert Brooke poem "The Little Dog Day."
Both clips share a similar energy. Specifically an energy that makes you say, "What?" and "What are they saying?" and "What is happening" and also "Why?"
Is the world ready to hear it this time?