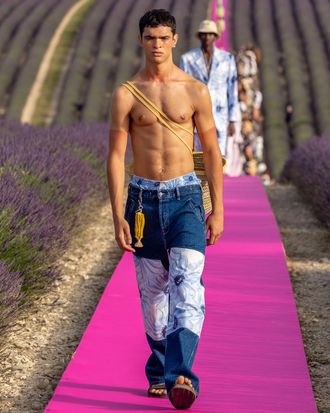 A very good farmer's tan at Jacquemus spring/summer 2020.
Photo: Arnold Jerocki/WireImage
Sunburns are demonized. Everyone is always trying to avoid them and never inviting them to things. But Simon Porte Jacquemus of Jacquemus embraced the shameful skin situation with open arms yesterday at his spring/summer 2020 show, which also celebrated the brand's tenth anniversary.
The picturesque event took place outside (where sunburns are born) in a lavender field in Provence, and it was entitled "Le Coup De Soleil," which is the way less harsh-sounding way you say sunburn in French. While attendees' sunburns probably won't start showing up until sometime today, Jacquemus did send one model sunburn down the fuchsia runway. It took the form of an excellent farmer's tan.
While all the other models wore oversize blazers, ginormous straw hats, and flowy dresses, this one model wore the outline of a shirt (hopefully a Jacquemus shirt) emblazoned upon his skin by the sun. Dermatologists recommend that if you have a sunburn, you should "stay out of direct sunlight and wear a hat," and this man is doing neither. But experts also suggest that you "wear loose clothing," so if you re-create this look at home, take a cue from the runway and definitely pair your farmer's tan with sagged jeans (loose). For more flair, accessorize your shirt outline with straps of some sort, but make sure they only hit on the "shirt" portion of your body, otherwise that's probably going to hurt.
Fashion is cyclical and trends can disappear for decades before they return, so now is the time to proudly wear scorched skin before the window closes. Even then, you're still going to want to wear sunscreen, especially if it's an airplane window.