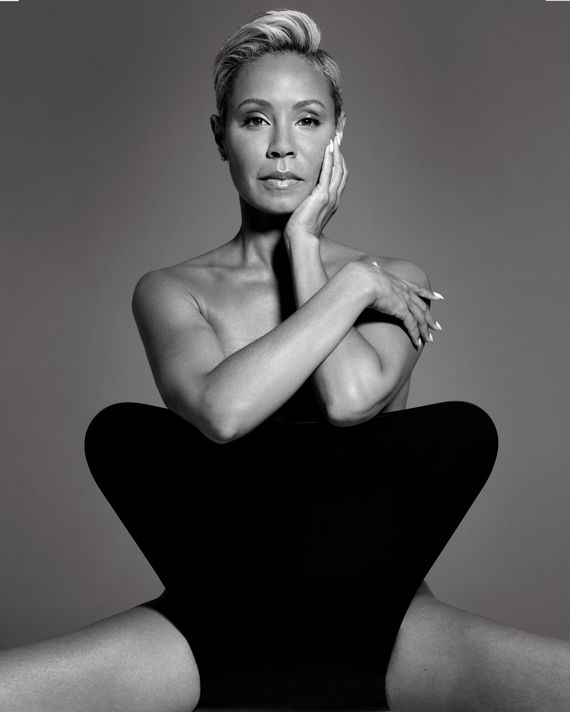 Ciara's publicists suck in their breath and grab each other's forearms in the slightest of panics. Jada Pinkett Smith has just asked the singer a question about "blended families," wondering if things are harmonious now between Ciara; Ciara's husband, Seahawks quarterback Russell Wilson; and rapper-producer Future, Ciara's former fiancé and father of her 5-year-old son, also named Future.
"Is she gonna go there?" Publicist No. 1 whispers to Publicist No. 2, anxiously leaning toward the monitor in video village. We're all watching a taping of Red Table Talk, the Facebook Watch show Pinkett Smith hosts with her 18-year-old daughter, Willow, and her 65-year-old mother, Adrienne Banfield Norris, in which they sit around a … red table in their Calabasas, California, home.
Ciara arranges her face into a big, gleaming smile. She looks down and pushes back her faux-locks. She's deciding how to answer. She and Future had a notoriously sour split in 2014, and Ciara rarely gives updates. Will she reveal some damning, or even virtuous, truth about Future that would get the episode trending on social media? All three hosts wait with their eyes trained on her.
It's less than 15 seconds, the waiting — and when the episode airs, all discomfort is cut-and-spliced away — but right now time feels suspended like globules in a lava lamp. "I don't think she's gonna go there," Publicist No. 1 whispers again. Her tone has now reached mild panic.
Pinkett Smith, 47, has only one rule for guests who "come to the table," as she likes to say: They have to be willing to "go there." There being the deep end of their truth and vulnerability. Her guests have to ignore the busy production team, the cameras, the fact that it's her and her husband Will Smith's actual mansion and Will Smith himself might very well amble past the living room to get to the kitchen or a barking dog might derail an emotional breakthrough. Going there means unearthing some treasure to share with the audience, watching at home via Facebook on smartphones or laptops, that they'll tweet or post about. Because there is also Facebook Watch, the upstart internet-TV network, on which it is very surprising — yet somehow inevitable — to find the biggest A-list stars on a talk show hosted by a bona fide movie star.
Technically, Ciara's team requested an appearance at the table; the singer has a new album, Beauty Marks. Typically, Pinkett Smith doesn't want to have celebrities on just to promote a new project. "There's gotta be a journey," she explains, and she senses Ciara has one to talk about. Gammy, as Pinkett Smith's mother is known, admits that "when we were discussing the show, I wasn't really sure what she would talk about. Music?" But, she says, after listening to Ciara's album, she thought, Oh, girl. You got something to work though.
The women of Red Table Talk each have a distinct listening face. Pinkett Smith's is composed and analytic. She indicates compassion with a micro-squint. Willow's bears the weight of her third eye, her forehead so furrowed with understanding it's as if her brows are racing toward a head-on collision. Gammy sits back, looking lightly curious, her eyes smiling. But when they agree on something someone says, what Pinkett Smith calls "the Universal Truths" of the show, they all join in a chorus of "Yeaaaaahs" and head nods like a congregation receiving the Word. "To love me is to love my son," Ciara says, and Pinkett Smith gives an affirming yesssss, while Gammy responds with a perky yyyyes and Willow yowls a long, rounded yeaaaaaaasss.
Other people have gone there. Ayesha Curry, cookbook author and wife of Golden State Warriors demigod Steph Curry, came to the table and talked about the insecurity she feels because she gets "zero male attention" while her husband has scores of groupies. Comedian Tiffany Haddish revealed that Drake asked her out on a date, then canceled at the last minute. Will Smith appeared for a two-part episode about his 21-year marriage to Pinkett Smith, and he cried, even though he'd promised he wouldn't let her break him. On the show's very first episode, Pinkett Smith sat down with Will's first wife, Sheree Zampino, to go there about the two women's once-rocky, now-healed relationship, one that started out with screaming matches between them on the phone. Willow admitted to a period during her preteens when she self-harmed, an on-air revelation that caught her mother by surprise. Gammy went deep about her abusive first marriage and overcoming her 20-year heroin addiction. (Gammy goes there off-camera, too: Before the show, taking in her granddaughter's tie-dyed stretch pants and cropped T-shirt that read JOIN THE VULVALUTION, she tells her, "Willow, I just love the cardigan part of your outfit.")
Is Ciara going to go there? No. The publicists can breathe. She diplomatically loops the conversation back to her comfort zone: how to raise a child while ignoring the celebrity gossip, how sexy it is that Wilson is such a great father. Everyone takes a moment to beam at one another, a circle of perfect teeth and empathy and understanding. It's reality TV dressed up as a talk show, with all the familiar heartwarming beats of an old-fashioned sitcom.
"I'm not trying to get you to reveal anything you don't want," Pinkett Smith tells me later that day, after the cameras have stopped and Ciara has gone home. "I just want you to share that part of yourself on a deeper level … You can't come with just some ole fluff-fluff."
Red Table Talk has a few competing origin stories. Pinkett Smith used to pull out a dusty red table to have heart-to-hearts with Pauletta Washington, as in "wife of Denzel." Seven years ago, the three hosts taped a long-forgotten prototype episode, when Willow was 11, just for fun. But the clearest version comes from one of the show's executive producers, Ellen Rakieten, who worked for 23 years on The Oprah Winfrey Show. One day, Rakieten was talking to her teenage sons and realized their perspective was thought-provoking. She decided she wanted to make a "multigenerational talk show." Someone put her in touch with Pinkett Smith, who said yes to the idea. And so Red Table Talk launched with the brain trust of the most successful and lucrative daytime formula in history, featuring the most charismatic family in Hollywood, on the world's largest media platform.
The show, which airs on Mondays, is in its second 20-episode season; anywhere between 3 million and 12 million people watch a typical episode. (The company declined to reveal the cost per episode, but it's comparable to other similar unscripted shows, like The View, which averages 3 million viewers a day.) It boasts a 500,000-member Facebook Group, which is probably the best expression of its viewers' demographics, since Facebook won't release that data either: The group is mostly black and female, though Pinkett Smith tells me a third of the show's viewers are male. All three hosts regularly read the comments in the Facebook Group, but only Pinkett Smith responds; sometimes under her own name and sometimes with a fake account.
Red Table Talk is Facebook Watch's biggest success and even earned a Daytime Emmy nomination. (Other shows on the platform include an Elizabeth Olsen–led drama, Sorry for Your Loss; Ball in the Family, a reality show following basketball superdad LaVar Ball and his sons; and the recently announced MTV's Real World: Atlanta.) But there's no greater proof of success than the show's most viral episode, which not only drew 32.6 million views but dominated the gossip pages for weeks. It started as these things often do, with a Kardashian. In late February, rumors emerged that Jordyn Woods, model, beauty entrepreneur, and longtime best friend and roommate of Kylie Jenner, had hooked up with Khloé Kardashian's boyfriend (and father of her daughter, True), NBA player Tristan Thompson. Many, including Woods herself, assumed that crossing the first family of Calabasas would result in financial and social ruin.
A week after the gossip surfaced, news broke that Woods would appear on Red Table Talk in an exclusive. TMZ reported that Woods went to the Smiths, who are old family friends, because she was despondent and had nowhere else to turn to repair her reputation. She appeared, dressed in the black turtleneck of the innocent, hair slicked into the high, pert ponytail of the repentant. She spoke her piece. In the interview, Pinkett Smith painted a portrait of a young woman who would never do such a thing but was just in the wrong place at the wrong time (alone at Thompson's house after a party). Three months later, Woods has moved into her own house and has an upcoming cameo on Grown-ish; there are now, perhaps, two first families of Calabasas.
Pinkett Smith, a Baltimore native, started her career as Lena James on A Different World in 1991 before starring in canonical black films like A Low Down Dirty Shame and Set It Off — and then married Will Smith, the world's biggest movie star, in 1997. She had her first child, Jaden, the next year; after that, her career slowly tapered off.
When Pinkett Smith turned 40, she had what she calls a breakdown. She didn't know what to do with her career, so she decided she'd say yes to everything. She took a role on the Fox show Gotham, the Batman Universe spinoff, playing a villain. She moved to New York, which "gave me a lot of time to myself," she says, as we walk from the set to another wing of the house, where we'll eat lunch. "It was the beginning of a huge transition in my life. I raised my kids, I've helped Will build everything that he's ever wanted. I was like, 'The second half has got to be for me.' "
There have been several moments since then when it seemed like a Jadaissance was nigh. In 2015, she had a much-beloved role as the madam of an all-male-strip-club mansion in Magic Mike XXL. And then came Girls Trip, which was an undeniable box-office hit but ended up as a star-making vehicle for Tiffany Haddish, rather than primarily a return to '90s-level prominence for Pinkett Smith.
Before the age of prestige television, film actresses went to TV when movie roles stopped. So now, with stars flocking to — and made on — television, the next stop for the non–Meryl Streeps might be the sort of shows that stream on even smaller screens. And after all, as Red Table Talk proves, if you want to highlight your charisma, this kind of thing might be a better vehicle than a tentpole franchise. According to Rakieten, the Smith family got offers from networks, but the Facebook deal was the best. Pinkett Smith has freedom: If she doesn't like an episode or can't tape because of scheduling conflicts, it doesn't really matter. The show can run a highlight reel. There are no sponsors to worry about, no pressure to cover certain topics, no pressure at all, really.
"Everybody wants to be the next Oprah," says Rakieten, who should know. History is littered with celebrities who tried — RIP, Queen Latifah (2013–15), Harry Connick Jr. (2016–18), and Kris Jenner (six weeks in 2013). But Pinkett Smith has no designs on that. "Do not call it a talk show!" she says multiple times. She'd prefer "story show," though traditional dictates of the genre classify it as "talk." Her strength as a host, says Rakieten, is her ability to give advice. And often Pinkett Smith is the one to keep the conversation going, to intuit when she should not ask a slightly tougher question that pops up on the teleprompter ("Why did you [Ciara] decide to stay celibate?") and instead ask something less probing ("Was Russell in the delivery room?").
Still, though, Red Table Talk's frisson comes from the unexpectedness of Pinkett Smith in that role. People tend to assume she is hard, tough; she always played that kind of character. Or it could be that the steep grade of her jawline makes her look regal or that her eyes seem to smirk even when she doesn't.
In fact, Pinkett Smith cries quite a bit on the show. Her eyes get shimmery, and she reaches for tissues to dab at tears that never actually fall, as if she had a talk with her tear ducts about how far she'll go on-camera. She's composed but tender — with her family, her guests, and herself. The opportunity, perhaps, is to offer some sort of corrective to the rumors about her life.
Like the persistent notion that she and her husband are Scientologists, for example. In 2017, former Scientologist Leah Remini said plainly, in a Daily Beast interview, "I never saw Will [Smith] there, but I saw Jada at the Celebrity Centre." In response, Pinkett Smith tweeted that she was not a Scientologist. But then Remini was a guest on a very special rumor-busting episode of Red Table Talk, in which the two patched things up. It was good television, even if no one said anything controversial.
"I'm so hungry," says Willow — who started her own prolific music career at 9 — as she flops down in the chair next to me for lunch and folds her legs underneath her. The table is set for 12, but the chef is laying out food for 80 and boxes of Just Water, the exclusive brand of the Smith home. The whole house is decorated with touches of African art and beige leather and smells like gardenia. Pinkett Smith is sitting at the head of the table in her show outfit (leather pants and an olive suede jacket), leaning back in her chair and quietly observing like a don. At 47, her sinewy frame remains practically unchanged from her youth.
Gammy served as a nurse in Baltimore for decades and recently bought a house in L.A. She flies back and forth to pursue her new career at 65, complete with Instagram followers and her own dedicated ab photos in Us Weekly. (It's a multigenerational physique, too.)
The show's topics are inspired by the three hosts' own conversations — what's going on in their house or the lives of their friends or people who work with them on the show. As a rule, they won't ever talk politics or religion, even though a misty sort of spirituality permeates the room like an odorless gas. But they have discussed: white privilege, how Willow learned about sex by walking in on her parents mid-coitus, nonsurgical vaginal rejuvenation that made Pinkett Smith's "yoni" look like a "beautiful little peach," Ellen Pompeo's interracial marriage, how difficult it was for Willow and Jaden — like his sister, a Gen-Z icon — to grow up with celebrity parents. Recently, Pinkett Smith surprised everyone by confessing to her own porn addiction.
"We wanted to destigmatize it," she explains. (Gammy and Willow yyye  and yeaaaas in unison.) "Then I was like, 'Willow, what do you know about porn?' And then that was a whole 'nother thing."
"I'm still trying to figure out this artistic-porn foolishness Willow was talking about," says Gammy.
"Just look up Gaspar Noé," Willow responds.
A few nights before, the whole family attended the Aladdin premiere to support Will, who plays the Genie in the live-action Disney remake. Willow wore an open-back, high-cut blazer-gown hybrid by Seen Users, a Romanian streetwear brand she found on Instagram. "I looked to Will and said, 'Dude, this is probably the first time I realized, like, I'm Mom,' " Pinkett Smith says, micro-squinting in disbelief. "Those days for me — the legs out, back out at the same time, that's over. And it's not that I couldn't do it. But I wouldn't want to. It's a moment between a mother and daughter when you realize, It's okay, she's got the ingenue hot. That space for you is over, boo." (She wore diaphanous "genie blue" pants with a matching crop top that showed two out of six rows of her abs.)
She continues, more emphatically, "Now I got to move to the next. You feel me? That's how I feel like even in my career. It's like nobody is going to — " She starts again. "Angela Bassett was homeboy's mom in Black Panther. A queen bee, you know, and she didn't lose her sexy."
She sits back in her chair as the plates get cleared away and looks aside for a moment. Pinkett Smith is settling into her OG state, she says, rising to lead me out. She'll do a movie if it doesn't require her to be on set for too long, but she's got the show, her family. As we reach the door, she adds one last beat to the conversation we'd had at lunch. "As an older woman, you really have to set out to carve your own lane. I'm carving my own lane," she says, gesturing toward the part of the house where they film. And feeling like she sufficiently went there, she closes the door.
*This article appears in the June 10, 2019, issue of New York Magazine. Subscribe Now!