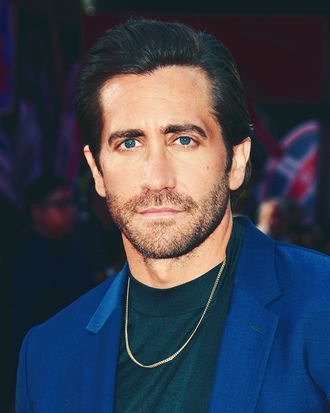 Photo: Kevin Winter/Getty Images
On a press run for Spider-Man: Far From Home, Jake Gyllenhaal has started strutting around town in a simple gold chain. The chain has made appearances on the red carpet for the film premiere, The Graham Norton Show, and BBC Radio 1, paired with a clean black tee.
What motivated him to make such a bold sartorial choice at the age of 38, we cannot know for sure. According to Page Six, however, some don't like his look at all, even going so far as questioning if it's part of some "midlife crisis" (If this is the case, we'd like to be a part of it). One Twitter user referred to him as a "New Jersey class clown"; Jake Gyllenhaal making us laugh in the back row of a school auditorium? A dream come true!
A gold chain can function as a very bougie highlighter: it compliments the gleam in his face. It also highlights the fact that he's rich, but isn't too flashy. As a general rule of thumb, men who wear gold chains smell like good cologne. Jake Gyllenhaal probably smells like good cologne — no, the best cologne. Picture it: it's summertime, and the living is easy. Jake comes to pick you up in his car, which has that delightful new-car smell. You lean into his chest, into that chain, and you inhale. Mmmmmmm.
Thank you, Jake Gyllenhaal, for making an already hot summer even hotter!