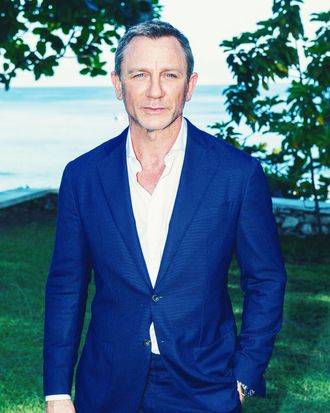 Daniel Craig.
Photo: www.RoyRochlin.com/Getty Images
Three years ago, everyone collectively decided that they didn't want Daniel Craig to play James Bond anymore. This included Daniel Craig, who said following the release of the Bond film Spectre, that he would rather "slash" his wrists with glass than play 007 again. To take over the role, people suggested Gillian Anderson, Idris Elba, Priyanka Chopra, Tom Hiddleston — anyone, really, besides Daniel Craig. The Bond creators, in turn, took this feedback and said, "Great, what about Daniel Craig?"
Now, three years later, the set of the 25th Bond film — currently called Shatterhand, and starring Daniel Craig — has been plagued with rewrites, injuries, and literal explosions. The latest scourge facing the project: Video games.
According to British tabloid The Sun, a "FRESH mutiny" has erupted on set because the crew was forced to work overtime after director Cary Fukunaga was "several hours" late to filming because he was playing video games.
"There is real mutiny right now on the set. It's bad enough that Cary was so late for filming and held everyone up, but then for the crew to be asked to work extra hours to cover it was just the final straw," a source told The Sun.
Earlier this month, three large explosions tore through the Bond set in England following a fireball stunt, seriously injuring one crew member.
A source called the scene "utter chaos," and told The Sun that the explosions blew off part of the stage roof and some of the stage wall panels.
The explosions came just a couple of weeks after it was announced that Craig would be undergoing ankle surgery following an injury he sustained while filming in Jamaica.
And that's not all. The film got off to a rocky start even before shooting, when its original director, Danny Boyle, walked out on the project in August 2018 due to "creative differences" with Craig, and with Bond creators Michael G. Wilson and Barbara Broccoli.
Boyle was replaced by Fukunaga, who previously directed Maniac, and Beast of No Nation. In addition, Fleabag's Phoebe Waller-Bridge was brought in by Craig to do significant rewrites on the script.
Is this the Media God's punishment for ignoring the public's casting pleas? Is it a curse cast by a Bond-hating witch? According to this helpful website, you can use decks of playing cards to test whether you are cursed or not. I don't think I can do this for the set of Bond 25 — Daniel Craig or Cary Fukunaga probably have to — but if the cards show that the set is cursed, this website says they can probably break it with a "simple curse-breaking spell," or with other cleansing rituals. I hope they do it, and I hope it helps.
Bond 25 is set to be released in April 2020.
This post has been updated.