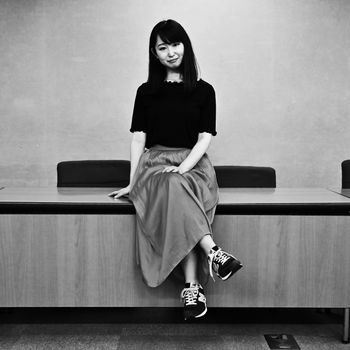 Yumi Ishikawa.
Photo: CHARLY TRIBALLEAU/AFP/Getty Images
In Japan, women say that employers discriminate against them if they don't wear high heels in the workplace — a sartorial choice they say could even dissuade a potential boss from hiring them in the first place. Today, per the Guardian, they're fighting back.
On Monday, a group of women in Japan submitted a petition to to the Ministry of Health, Labor, and Welfare, urging leaders to enact laws that explicitly forbid employers from requiring that women wear high heels at work. "It's the first step forward," actor-writer Yumi Ishikawa, who launched the country's anti-high heels movement, told reporters after meeting with labor ministry officials. (The petition that Ishikawa submitted to government officials, which is hosted on change.org, has been signed by more than 19,000 people.)
In late February, Ishikawa inadvertently started the #KuToo campaign — a play on the Japanese words for "shoes" and "pain" — after she complained about a hotel's requirement that women wear high heels in a tweet, which then ended up going viral. "As I realized that so many people face the same problem, I decided to launch the campaign," Ishikawa told the Guardian of #KuToo, which was inspired by the #MeToo movement against sexual misconduct.
Japan's movement isn't without precedent. In 2016, London-based worker Nicola Thorp claimed to have been sent home without pay for wearing flat shoes, and launched a similar campaign; after 150,000 people signed her online petition, a parliamentary committee investigated company dress-code mandates. And, in 2017, British Columbia made it illegal to force women to wear high heels in the workplace.
Though Japanese ministry officials were not available to comment on the petition to the Guardian, Ishikawa says she left the meeting feeling optimistic. Speaking to reporters on Monday, she said she spoke with a female government official who was "sympathetic to our petition … and told us that this is the first time voices of this kind had reached the ministry."