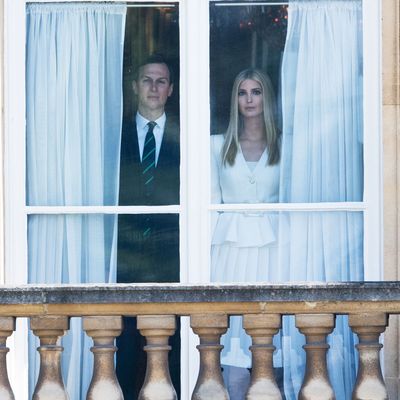 Oh.
Photo: Samir Hussein/WireImage/Getty Images
On Monday, Ivanka Trump and Jared Kushner flew over a crop circle of a penis and landed in the U.K. for President Trump's official state visit. That afternoon, they went to Buckingham Palace with the president for a lunch with Queen Elizabeth, and a few hours later, the two haunted dolls were photographed staring stiffly out of a palace window, separated from the world and this dimension by a pane of glass and the empty space where their souls used to be.
As they are devoid of any recognizable emotion, it is difficult to imagine what message these two beings are trying to convey. Is it plea for help? A warning? Or is it a threat, an assurance that someday we too will be nothing more than human-size dolls who exist solely to entertain and be manipulated by the rich and the powerful. Perhaps … we already are.
Besides that, seems like the president's visit is going better than last year's.