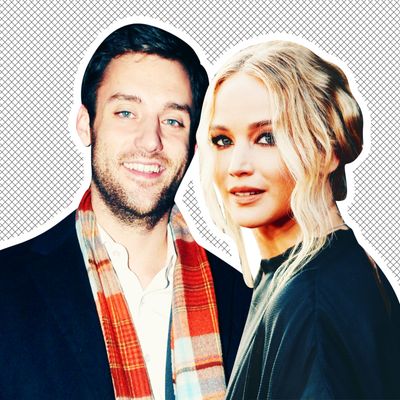 Cooke Maroney and Jennifer Lawrence.
Photo: Getty Images
Actress and Kardashian konnoisseur Jennifer Lawrence has kept fairly quiet about her new fiancé, tall and "nice-slash-fun" art director Cooke Maroney. But in an interview for Catt Sadler's Naked podcast this week, Lawrence — after first removing her bra — opened up to the former E! News host about what her year away from acting was like, how quickly she knew Maroney was "the one," and how she has only had one meltdown about her wedding so far.
"It was just, it was so organic," Lawrence told Sadler (who had also removed her bra). "I don't know, I haven't talked about it yet in an interview setting. I definitely wasn't at a place where I was like, 'I'm ready to get married.' I just met Cooke and I wanted to marry him. We wanted to marry each other. We wanted to commit fully. He's my best friend so I want to legally bind him to me forever. And fortunately the paperwork exists for such a thing. It's the greatest. You find your favorite person in the planet and you're like, you can't leave. So I wanted to take that offer."
She also said that she "found herself" during her year off from acting ("I think everyone was tired of me") and that Maroney helped her overcome her paranoia of going out in public.
"I used to have a stigma about, you know, I'd get nervous before going to restaurants, or I felt like I couldn't go to dive bars," she explained. She got over that fear, because, "Honestly, I was dating someone and I didn't want to tell him about [it]. You know, I wanted to be normal and cool, so I just kind of hid that part of me and everything ended up being fine. And I was like, Oh, I can do this. It was cool."
As for the pair's wedding, which we know a total of three things about, Lawrence has said that she hasn't been too neurotic about it because she's "too lazy." Her only "bridezilla moment" happened the day before, she conceded, because she initially thought she didn't want a bachelorette party, and then she decided she did, but her friends weren't available at the last minute, so she cried to Maroney about it.
"I didn't realize that I wanted it until yesterday, until I realized I couldn't have it, which is typical."
Bachelorette parties aside, Maroney and Lawrence seem very happy together. And to think, just a couple of short years ago she was wearing newsboy caps with Darren Aronofsky …