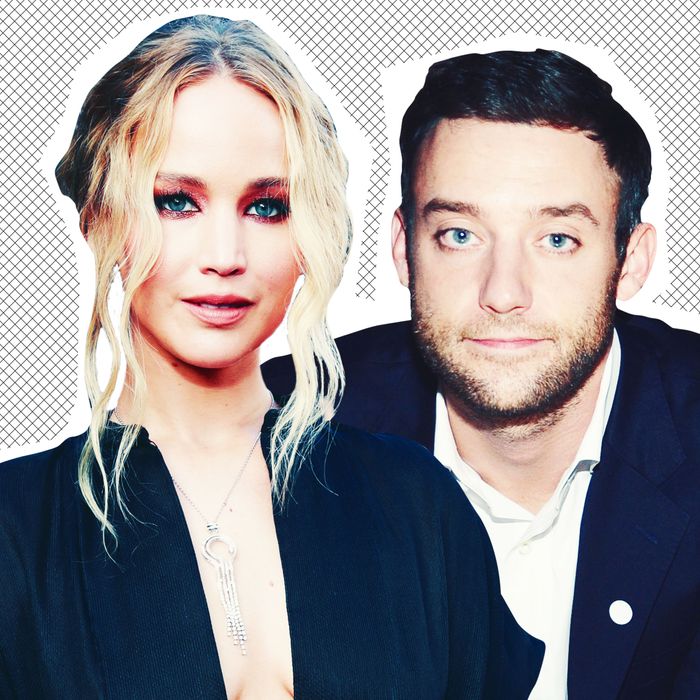 We know next to nothing about Jennifer Lawrence and Cooke Maroney's apparently very nice relationship, but we do know nearly a dozen things about Cooke Maroney and, now, thanks to a tabloid source, that their wedding will be chill.
A source told Entertainment Tonight on Monday that the 28-year-old Oscar-winning actress and the tall appreciator of modernism, who became engaged in February, "are both very low-key and down to earth and want nothing more than to avoid a 'stuffy, pretentious' atmosphere … Their vision is traditional with a relaxed and causal ceremony." This assertion is somewhat undermined by the article's next sentence, which assures us that Amy Schumer and Emma Stone will "definitely" be there. Then again, Jennifer Lawrence will also be there, so "low-key" is a relative term.
But if you were thinking they'd wed Sophie Turner and Joe Jonas style beneath a Vegas steeple, don't hold your breath. The source asserts that the couple "recently signed onto an amazing luxury apartment in New York City. They have been so busy planning their wedding — their first choice of locations is New York, but it's not finalized yet. They have been incredibly secretive because privacy is a big priority for them."
The source also said that both Lawrence and Cooke want children and that their families get along: "They both want children and have been discussing starting a family. Their families truly believe they are meant to be; his family loves her family and vice versa, so their parents are excited. Their parents get along so well and are all looking forward to big family get-togethers."
A secret wedding in New York City with Jennifer Lawrence's family and famous friends is like the tour de force of secret weddings. Best of luck to the happy couple.