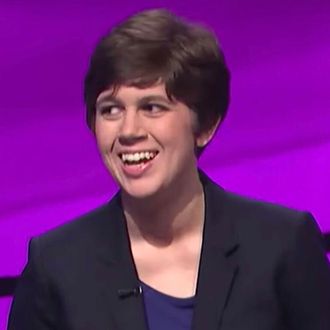 Emma Boettcher.
Photo: ABC
Just before breaking an all-time record, Jeopardy! whiz James Holzhauer was defeated by a 27-year-old college librarian who wrote her master's on the game, marking the end of a true era.
On Monday night, Emma Boettcher took down the reigning champion, a 34-year-old professional sports gambler who will go down in records as a near-unbeatable player, per Page Six. During his 32-game-long rule, Holzhauer answered 97 percent of his questions correctly. But, after Boettcher bet the $7,600 she had earned on a Daily Double in a category about capitals beginning with "A," she inched ahead of him — and then, ended up unseating him with a score of $46,801 to $24,799 during Final Jeopardy. (The last clue was, "The line 'A great reckoning in a little room' in As You Like It is usually taken to refer to this author's premature death." The answer, which they all got correct, was "Who is Christopher 'Kit' Marlowe?")
Holzhauer, a risk taker who was just $58,484 away from beating Ken Jennings's 2004 record of $2,520,700 after 74 games, lamented to the New York Times, "Nobody likes to lose." But, he conceded: "I lost to a really top-level competitor. She played a perfect game. And that was what it took to beat me."
Boettcher, meanwhile, was obviously celebrating after the game. Though she had been trying out for Jeopardy! since she was in high school, she knew she was up against a whiz. Speaking of Holzhauer's legacy, she told the Times, "I had already steeled myself to expect the unexpected, just roll with whatever was happening, take one clue at a time." And then, she won.
"Oh gosh! What a payday," host Alex Trebek exclaimed after the game. "What a game! Oh my gosh!"
While Holzhauer's defeat is sad and all, don't feel too bad for him: He's going home with (pre-taxes) $2,464,216.