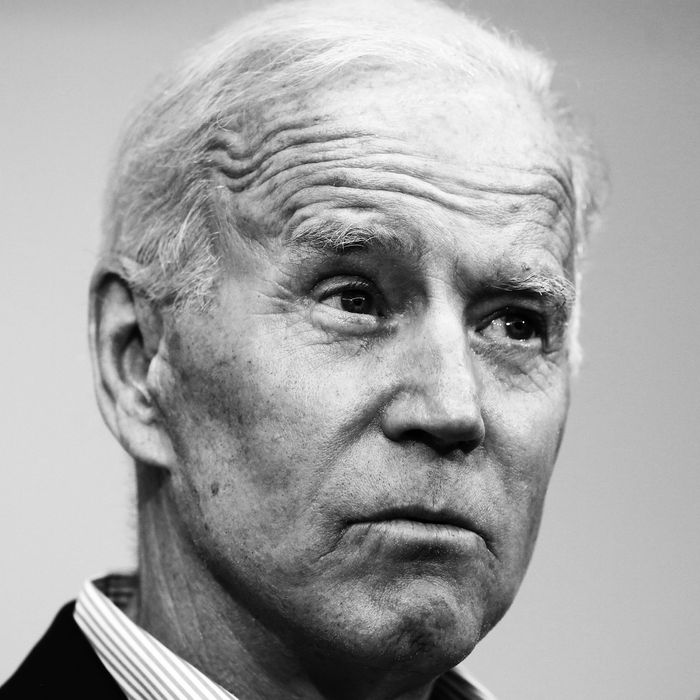 Joe Biden.
Photo: Joshua Lott/Getty Images
In a 2006 interview with Texas Monthly resurfaced by CNN on Thursday, former vice-president and current creepy uncle of a Democratic presidential candidate Joe Biden described himself as the "odd man out" of his party when it comes to the issue of abortion, saying that he did "not view abortion as a choice and a right."
In the video, Biden noted that he doesn't support federal funding for abortion care, and he is in favor of putting certain limits on later abortion, putting him at odds with pro-choicers; at the same time, he has voted for "no restrictions on a woman's right to have an abortion under Roe v. Wade." "And so," he said, "I made everybody angry."
He went on to say, "I do not view abortion as a choice and a right. I think it's always a tragedy, and I think that it should be rare and safe, and I think we should be focusing on how to limit the number of abortions."
Biden further told the interviewer that the American people have been put in the position of choosing between "either 'eliminate abortions under all circumstance' or quote 'abortion on demand,'" and that having an abortion is always a "tragic" and "difficult" decision.
When asked about the video by CNN, Biden's campaign spokesperson Andrew Bates stated, "Vice President Biden supports a woman's right to choose and he believes that we are in a moment of unprecedented assault on choice in this country. As president, he would fight to preserve Roe v. Wade and he has called for it to be codified into law. Vice President Biden would nominate judges who would stand firm on upholding all of our constitutional rights, including a woman's right to choose."
The resurfaced video comes after weeks of significant waffling by Biden on his position on the Hyde Amendment, a restrictive, decades-old ban on using federal funds for abortion services. In early June, his campaign reaffirmed his support for the policy, which he has backed since it was first introduced decades ago — but amid considerable backlash from reproductive-rights activists and organizations like the ACLU, his position miraculously changed last week.
"If I believe health care is a right, as I do, I can no longer support an amendment that makes that right dependent on someone's ZIP code," he tweeted — a statement that notably does not contain the words "abortion," "Hyde Amendment," or "reproductive rights."
Maybe Biden's thinking has evolved. Or maybe he is a political opportunist who feels the same way he did in the '70s, and the '80s, and in 2006, and last Wednesday — that abortion is not a "choice" or a "right," but something men like him deign to grant certain women, in certain circumstances, at their discretion.