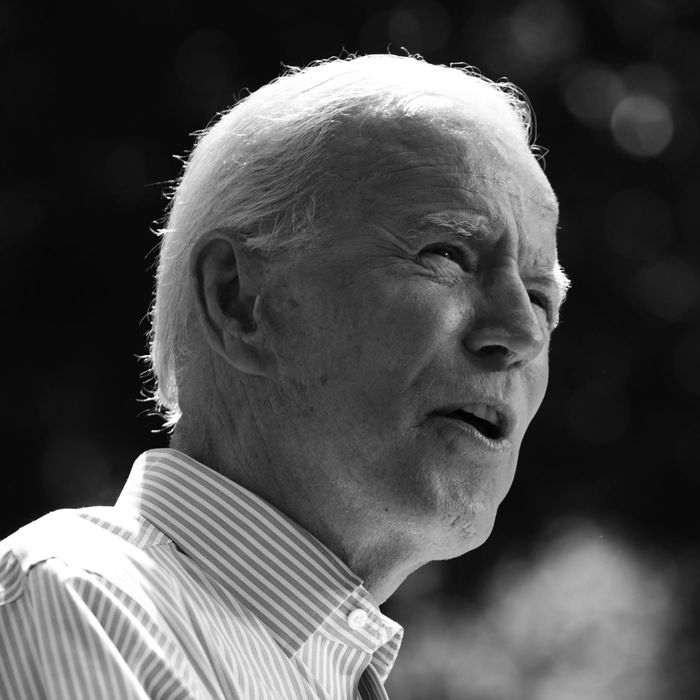 Joe Biden.
Photo: DOMINICK REUTER/AFP/Getty Images
Each of the women senators seeking the 2020 Democratic presidential nomination — Elizabeth Warren, Kamala Harris, Kirsten Gillibrand, and Amy Klobuchar — have co-sponsored legislation to overturn the Hyde Amendment, an unpopular, highly restrictive, four-decades-old ban on using federal funds for abortion services. But on Wednesday, Joe Biden's campaign came out in support of keeping the ban in place — just one day after the 76-year-old former vice-president pledged to protect reproductive rights. By the end of the week, after facing intense backlash for his support of the policy, Biden suddenly reversed his stance.
So, what exactly is the Hyde Amendment? And where exactly does Biden actually stand on abortion? Let's break it all down.
What is the Hyde Amendment?
The landmark Supreme Court Roe v. Wade ruling in 1973 legalized abortion in the United States. But in response, just three years later, Congress passed legislation (introduced by the late anti-abortion Republican representative Henry Hyde of Illinois) to prevent federal insurance funds from being used on abortions: the Hyde Amendment. It went into effect in the 1977 fiscal year for Medicaid funds, and outlawed any federal money from being used to cover costs associated with the procedure (unless a woman's life would be endangered if she carried the pregnancy to term).
As the American Civil Liberties Union explains, the amendment has been reenacted each year since 1976. Eventually, exceptions for instances of rape and incest were added under President Bill Clinton.
What impact has it had on women's health?
A really bad one, to put it lightly. Per the ACLU, the year the Hyde Amendment went into place, the number of abortions paid for with federal Medicaid funds dropped drastically — from 300,000 per year to only a "few thousand." Furthermore, Planned Parenthood explains that, as of 2017, 15.6 million women between the ages of 19 and 64 had Medicaid coverage — and that Medicaid covers one out of every five women of reproductive age in the United States. Beyond that, women of color make up the majority of women enrolled in Medicaid (due to racial and sexist inequality in the U.S.).
And so, the Hyde Amendment has made it so that women who want to end a pregnancy but rely on Medicaid — disproportionately, women of color — have to choose between paying out of pocket for abortion services, or carrying a pregnancy to term, unless they meet the three narrow exceptions. Essentially, it's made it so that women who can afford the procedure may have access to abortion while lower-income women do not.
And Biden supports this?
Biden had long been in favor of the Hyde Amendment – until Thursday evening, that is. While serving as a senator for Delaware in the '70s and '80s, Biden voted consistently to keep it in place, and even fought efforts to add the rape and incest exceptions to the legislation.
Just last week, as NBC News reports, Biden seemed to have changed course. In a video shared on Twitter by the ACLU, he said he was in favor of abolishing Hyde, affirming, "It can't stay." Days later, though, his campaign walked that back, telling HuffPost that the candidate had "misheard" the question, and that his position on the policy "has not at this point … changed." Biden's campaign did say he'd be open to repealing Hyde if recent efforts to restrict abortion access in the country succeed.
But then, by Thursday evening, Biden reversed his stance. Suddenly, after days of intense backlash, he said at a gala that he does not support Hyde. However, he added that he makes "no apologies for the last position."
How does all of this fit in with the rest of his views on reproductive rights?
Early in his career, Biden was vehemently anti-abortion. As Rebecca Traister wrote for the Cut, he once referred to Roe v. Wade as something that "went too far" and stated that he did not believe "a woman has the sole right to say what should happen to her body." He also proposed the "Biden Amendment" in 1981 to block federal aid from biomedical research for abortion, and in 1982 was one of two Democrats on the Senate Judiciary Committee who voted in favor of an amendment to effectively allow states to overturn Roe. NBC News notes that he also voted several times to block federal workers from using health insurance on abortion services, unless the woman's life is in jeopardy.
However, Biden's views on abortion have seemingly evolved since then. NBC News reports that, in his 2007 book Promises to Keep, Biden — a devout Catholic — referred to his record on abortion as "middle of the road" and wrote that he doesn't believe he has "a right to impose my view on the rest of society." He also now "firmly believes that Roe v. Wade is the law of the land and should not be overturned," a spokesperson for his campaign said.
This week, Biden himself once again referred to Roe as the "law of the land" and said that, as president, he would push for legislation to legalize abortion should the ruling be overturned by the Supreme Court. However, reproductive-rights groups are not pleased with the news that Biden still supports the Hyde Amendment. Kelley Robinson, executive director of the Planned Parenthood Action Fund, told the Cut, "Supporting Hyde isn't good policy or politics. We strongly encourage Joe Biden to speak to the people whose lives are impacted by this discriminatory policy and reevaluate his position."
So, what was the backlash he received to his (now former) support of Hyde?
In addition to the criticism from reproductive rights activists, a number of Democratic presidential candidates also spoke out against the legislation after Biden's campaign announced his support. They decried the policy on social media — and vowed to fight it if elected:
This post has been updated.