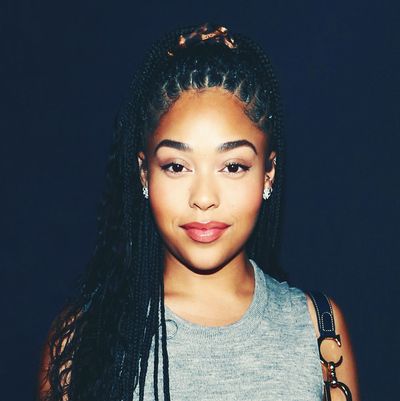 Jordyn Woods.
Photo: Tommaso Boddi/Getty Images
The first trailer for the Keeping Up With the Kardashians two-part finale came out on Monday, promising a documentarian look at the Tristan Thompson cheating scandal that unfolded earlier this year. Kylie Jenner's former BFF, 21-year-old actor and model Jordyn Woods — who is said to have betrayed Khloé Kardashian by hooking up with her then-boyfriend Thompson — spoke to Entertainment Tonight ahead of the finale.
"Everyone has their truth and their story, so you just go with it. Everyone has the right to speak their truth," Woods told ET. "Life moves on. Money doesn't stop. The world doesn't stop. And hopefully, everyone is just, you know, going forward" — after we rehash this drama on television, of course. Asked how she thinks she'll be depicted in the episode, Woods said, "Hopefully, like myself, and the real me will shine."
Kardashian and Thompson, who have a daughter together, ended their relationship in February, just before allegations emerged that Thompson had cheated with Woods at a party. In an interview with Jada Pinkett Smith's Red Table Talk later that month, Woods said she and Thompson kissed at a party at his house but went no further than that. "I was not tipsy, I was drunk," Woods said at the time. "But I was not beyond the point of recollection. I know where I was. But on the way out, he did kiss me."
On Sunday, Khloé suggested in a tweet that she'll be seeking some privacy as these final episodes air.
Over the weekend, People reported that even though, according to a source, "Khloé never wants to see Jordyn again," Kylie is more open to reconciling with Woods. "It's Kylie's choice to have some contact with Jordyn," said the source. "Kylie has the most amazing memories of her friendship with Jordyn. She is still very surprised at what happened. Kylie always considered Jordyn to be very loyal and respectful."