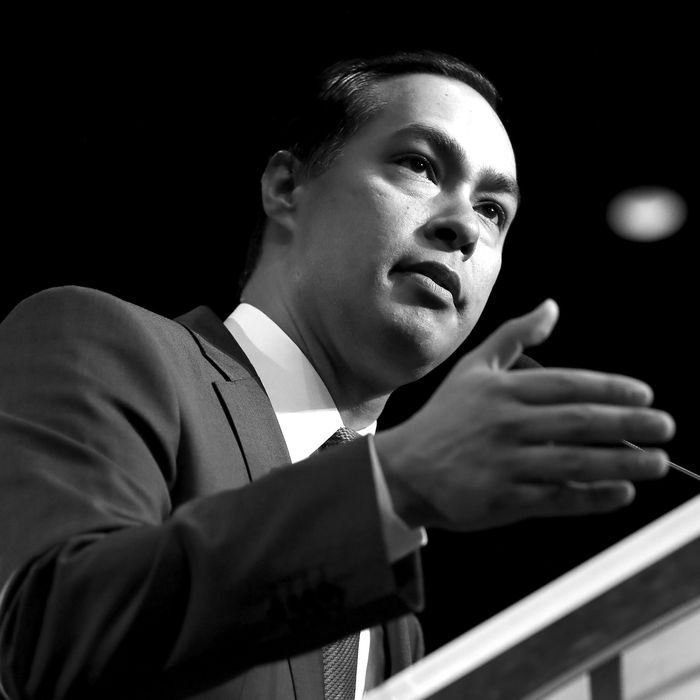 Photo: Win McNamee/Getty Images
Wednesday's Democratic debate may have been the first time many voters heard Julián Castro speak, but on an occasionally frustrating night, he gave them something to remember. He stood out on an overcrowded stage with refreshingly strong answers on immigration and abortion rights, and at the end of the two-hour debate, people still seemed eager to hear more from him.
The 44-year-old former mayor of San Antonio was the first candidate to mention trans people in an answer affirming his support for abortion rights, and distinguished himself on the subject of immigration not only by expressing a granular understanding of immigration law but by explaining his position in bracingly moral terms. He called for the decriminalization of border crossings and demanded a version of the Marshall Plan for El Salvador, Honduras, and Guatemala, which would commit U.S. economic aid to both countries. After the first half of the debate, he ranked third for airtime; people were paying attention.
Castro was confident, succinct, almost angry at times. "It should piss us all off," he said, when asked about this week's widely distributed photo of Óscar Alberto Martínez Ramírez and his 23-month-old daughter Valeria, who drowned while crossing the Rio Grande on Sunday. He added later, "We should not criminalize desperation." Castro subsequently got into one of the night's most dramatic disputes, as he challenged fellow Texas Democrat Beto O'Rourke on O'Rourke's comparatively lackluster immigration platform; Castro criticized O'Rourke specifically for failing to endorse his call to eliminate Section 1325, a subsection of U.S. Code Section 8. As Dara Lind has reported for Vox, the provision makes illegal border entry a misdemeanor.
Castro has polled near the bottom of the primary field since he launched his campaign for president. And that's unfortunate: Everything he said on Wednesday is in line completely with a comprehensive immigration platform that he released back in April and that merited far more public attention than it received. His call to allow migrants to cross the border without the threat of prosecution recognizes them as human beings in possession of their own innate dignity, not threats to the homeland; it would also make it more difficult for future administrations to repeat the xenophobic horrors of the Trump administration. The notion that the U.S. should commit to economic assistance to countries like Guatemala and Honduras is notable because of the recognition it implies — that the U.S. government's Latin American interventions make it morally complicit in the unrest that drives migrants like Óscar Alberto Martínez Ramírez to seek a new life in an unfamiliar place. "In Latin America, we have a checkered past, and one that has bred a lot of resentment. I'm not naïve, I don't think it can happen overnight, but I do believe we can go in a different direction," he told Vox.
The ambitious humanity of Castro's immigration platform is matched by the strength of his policing-reform proposals, which would restrict the legal use of lethal force by police, demilitarize police forces, and "create a public national database of officers who have been decertified," according to the Texas Tribune. He's also one of the only two candidates onstage who's implemented a universal pre-K system — the other is Bill de Blasio — and made his first campaign trip to Puerto Rico, which is inhabited by people who also do not receive the public attention they deserve.
Castro's campaign may look like it's struggling now, but he's a serious-minded candidate, and if he keeps turning in performances that resemble his remarks on Wednesday, he's going to start making a real impression.