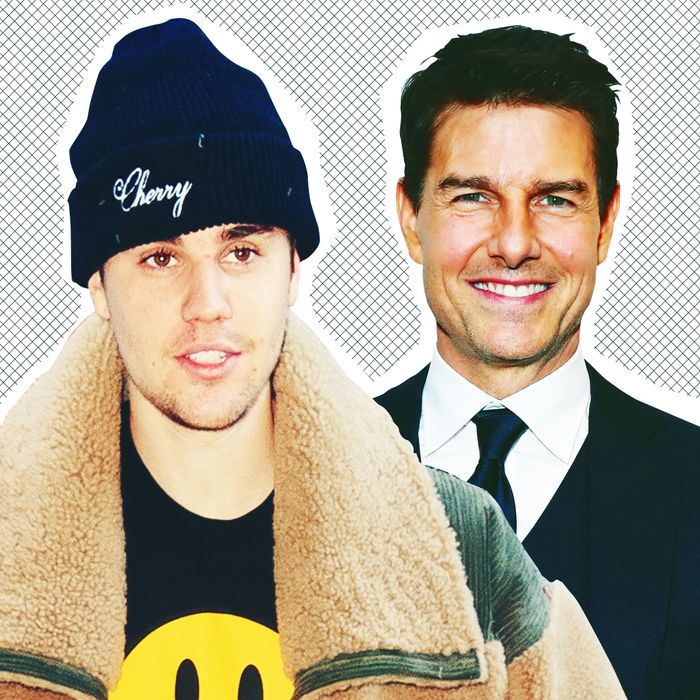 Justin Bieber and Tom Cruise (pre-fight).
Photo: Getty Images
I guess we'll, uh, just dive right into this one: On Sunday, pop star and deodorant developer Justin Bieber challenged Mission: Impossible star and Scientology boy Tom Cruise to an MMA fight in "the octagon" (the Ultimate Fighting Championship ring). It is unclear why, or what is happening, or where I am, or who am I?
"I wanna challenge Tom Cruise to fight in the octagon. Tom if you dont [sic] take this fight your [sic] scared and you will never live it down," Bieber tweeted, adding, "Who is willing to put on the fight?" and tagging Dana White, the president of UFC.
Because the fabric of reality has been well and truly torn for some time now, UFC fighter Conor McGregor retweeted Bieber's challenge and offered up his company, McGregor Sports and Entertainment, to host the bout. "Does Cruise have the sprouts to fight, like he does in the movies? Stay tuned to find out!" the UFC champ tweeted.
To up the ante, McGregor also challenged Mark Wahlberg to a fight, writing, "Back when mark wahlberg was marky mark, I'd've still slapped the ears off him and took my ufc shares back."
(NB: What is happening!!!!!!!!!!)
Though Cruise has yet to respond to Bieber's challenge — maybe because it is absurd, and came out of nowhere, and what would the point of it be, and, again, what is happening — the people of Twitter dot com had thoughts. Well, mostly one thought, which is that should this fight come to pass (and, presumably, usher in the Apocalypse), Bieber would not stand a chance against Cruise, who spends most of his time onscreen either punching or sprinting at a dead run for hours on end.
Will Cruise respond? Will Bieber drop the new music he teased shortly before his challenge? Will language cease to have meaning? We will update this post with any developments.