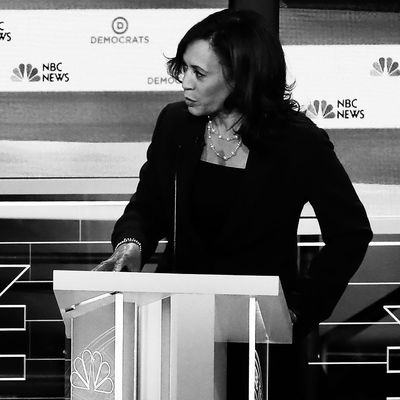 Photo: Drew Angerer/Getty Images
During Thursday night's Democratic primary debate, Senator Kamala Harris took former vice-president Joe Biden to task for his history of opposing school desegregation.
"As the only black person on this stage, I would like to speak to the issue of race," Harris said, as her opponents argued over each other about police violence and racial politics.
After agreeing that "this is still an issue that is not being talked about truthfully and honestly," she directed her comments toward Biden.
"I do not believe you are a racist. And I agree with you when you commit yourself to the importance of finding common ground. But it was hurtful to hear you talk about the reputations of two United States senators who built their reputations and career on the segregation of race in this country," she said, referencing Biden's comments earlier this month, in which he praised former segregationist senators James O. Eastland and Herman Talmadge for their "civility."
She went on to point out Biden's own troublesome history of opposing busing, a practice intended to promote integration in public schools by transporting children to schools in different districts. Biden vehemently opposed the measure when he was a young senator in the 1970s and pushed forward legislation to prevent its implementation.
"There was little girl in California who was part of the second class to integrate her public schools, and she was bused to school every day," Harris said. "And that little girl was me."
It was the most powerful moment in what had so far been a loud but largely bland debate.
"I am still thinking about six minutes ago," writer Rebecca Traister wrote in a tweet. "Harris directly confronting Biden on busing/segregationists was historic, powerful, and unimaginable on a presidential stage until very recently, which is itself symptomatic of a world Biden is struggling to defend."
"Senator Harris did what is hard for many of us people of color in politics, calling out our white colleagues when they've done/said problematic things on race. It's HARD, and I'm glad she did it," tweeted political strategist Atima Omara.
Biden, who had avoided Harris's gaze during most of her comments, was visibly frustrated by them, and said she had mischaracterized his position, and that he "did not praise racists."
In a subtle dig at Harris's own controversial record as a prosecutor in California, he noted that he "became a public defender, not a prosecutor."
Asked by Harris whether he agreed he was wrong to oppose busing, Biden insisted, "I did not oppose busing in America. What I opposed was busing ordered by the Department of Education ― that's what I opposed."
When he said implementing busing programs was a state's responsibility, not the federal government's, Harris replied forcefully, "There are moments in history when states fail to preserve the civil rights of all people."