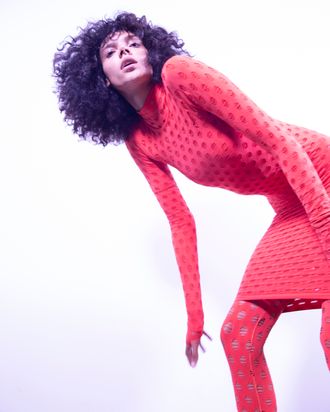 The Yeezy connection in Maisie Schloss's debut collection isn't immediately clear. When you hear Yeezy, you think monochrome and Kardashian Klones. But Schloss's first collection for her line, Maisie Wilen, is full of color and patterns, with nary a jazz shoe in sight (although she does share Kanye's penchant for spandex and matching sets). Schloss spent three years under Kanye West's tutelage at Yeezy, working her way up from an assistant to womenswear designer. Now, she's striking out on her own with Kanye's backing as the first recipient of his new fashion incubator program.
West will provide mentorship and financial aid to Schloss's line, meaning she can use a lot of the same resources she had access to while working for Yeezy. It's a bit of a fairy-tale story for a young designer, working for a superstar's label and becoming his mentee. Schloss credits that to her hard work in the office, adding that she and West have similar creative energy. "At Yeezy, it's a less-structured environment so I would really take advantage of seeing as many aspects of the brand and being as involved in as much as possible," she said. In an email, West said, "Maisie has always had a strong perspective and we're truly pleased with her first collection."
The lookbook for Maisie Wilen resort 2020 collection dropped on Wednesday in Los Angeles. The debut includes printed catsuits, neon-green minidresses, and a gorgeous, cobalt-blue snakeskin skirt with a matching jacket. Some pieces look ready for a party, like the tight turtlenecks filled with holes (and matching leggings).
A true graduate of the Yeezy school of fashion, Schloss says she was inspired by rhythmic gymnastics and robots for the first collection. "I was very aesthetically drawn to both of them, but also I thought they paralleled my working process. I'm very systematic and organized with how I work and am designing, but everything I make has an organic feel to it," she said. She thinks her client will have a playful and eclectic sense of style, and "really admire a novelty piece." Keep an eye out for Kanye's protégé.