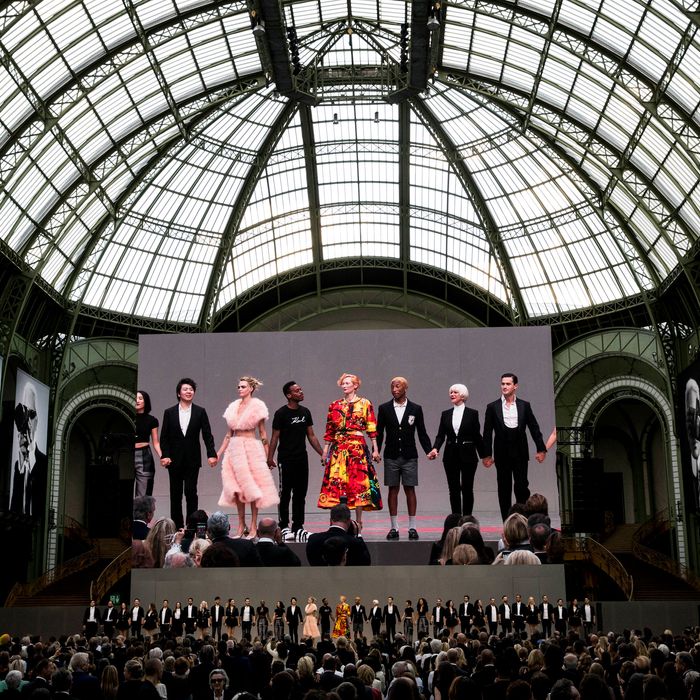 The tribute's finale.
Photo: Courtesy of Chanel
Yesterday, at the start of the memorial tribute in Paris to Karl Lagerfeld, his friend Anna Wintour seemed to acknowledge that the designer didn't want any kind of service. "He hoped to disappear," she said. "Well, that cannot happen."
It cannot happen, as Wintour well knows, because lives like Lagerfeld's are too big and fascinating not to memorialize. He left traces of himself everywhere. In the work he created for Chanel, Fendi, and his own label. In hundreds, if not thousands, of images and videotaped interviews, not to mention runway shows. When the 2,500 guests entered the Grand Palais, who greeted them but Karl — in several dozen poster- and billboard-sized portraits made of him over the 65 years of his career and arranged in a double row around the massive Belle Epoque landmark.
And the impression I had at the end of the 90-minute tribute, which was imaginatively staged by the director Robert Carsen, with performances by, among others, Tilda Swinton, Helen Mirren, Pharrell Williams, and an Argentine troupe of tango dancers — well, my impression was that even the Grand Palais couldn't contain Lagerfeld's soaring spirit. And only a few of the several dozen speakers — all videotaped, thankfully — could explain the genius and personality of Lagerfeld as well as he did himself over the years. He was always something of a solo act: the designer who, unlike the majority of his peers, didn't want to have his own couture house, the man who preferred to live alone (in later years with his cat, the famous Choupette), yet who in a way presided over a very large and individualistic family. "He was the head of the tribe," as the photographer Jean-Baptiste Mondino put it afterward.
Among those in the audience were Ralph and Ricky Lauren, Valentino and his business partner Giancarlo Giammetti, Alber Elbaz, Dries van Noten, Alessandro Michele, Stella McCartney, Rosita Missoni, Kenzo Takada, First Lady Brigitte Macron, Inez de la Fressange, Claudia Schiffer, Carla Bruni-Sarkozy, the runway legend Marpessa Hennink, Princess Caroline of Hanover, the decorator Susan Gutfreund (who used to bring cookies and other homemade treats to the Chanel studio during fashion week), Amanda Harlech, Alain Wertheimer and his brothers of Chanel, Francois-Henri Pinault of the Kering luxury group, Bernard Arnault (with his wife, Helene, and two of his older children, Delphine and Antoine) of LVMH, and the decorator Jacques Grange. A number of those individuals also spoke.
The best tributes came from those who knew Lagerfeld best. They described how he was never one to look backward and praised his wicked sense of humor. One wished for more moments like the sly look Princess Caroline of Monaco gave the camera when describing the conversations the two of them used to have. Silvia Venturini Fendi told the tale of his chronic lateness, including how he was famously three hours late to sign his contract for Fendi, back in 1965.
Certainly Carsen had an awesome task — how to convey the sensibility of a designer without actually showing too much fashion (I can just hear Lagerfeld groaning, How boring!) And how to fairly represent the three different brands connected with him, as well as his photography and book publishing interest, with Steidl in Germany.
Carsen says he knew Lagerfeld slightly. They met four or five times, and five years ago, Carsen based a character on Lagerfeld in his production of Jean-Philippe Rameau's satiric opera Platee. But clearly the director did his homework. He alighted on some of Lagerfeld's favorite literary and musical artists. Indeed, he reminded people of how passionate Lagerfeld was about music, all kinds, but perhaps especially tango. The German Cornejo dance group performed Por una Cabeza, by Carlos Gardel, (perhaps best known today from the tango scene in the movie Scent of a Woman), on a stage with an immense digital background, so the dancers' movements could also be captured from above. It was thrilling.
The legendary French actress Fanny Ardant, dressed in a white Chanel jacket and a long black skirt, read a poem from another Lagerfeld favorite, Stéphane Mallarmé, who at one time was the editor of a fashion magazine. There were also two evocative readings by Tilda Swinton, from Virginia Woolf's "Orlando" (with the actress wearing a sort of tweedy version of masculine trunk hose and a short jacket) and "Tarantella," by Edith Sitwell. Dame Helen Mirren, looking chic in a black pantsuit and heels, read snippets from The World According to Karl: the Wit and Wisdom of Karl Lagerfeld, while the violinist Charles Siem played Paganini.
There were also performances by Pharrell Williams, who often came to Lagerfeld's shows, the American dancer Lil Buck, and Lang Lang. The model and actress Cara Delevingne, dressed in fluffy pink Chanel, read a poem by Colette about a cat.
Somehow, it all tied together and nicely inferred the range of Lagerfeld's tastes. Carsen did a lot with small gestures, like including a video that captured the squeak-squeak of the designer's black marker as he made a sketch, a sound that many people in his various studios remembered. And the director even managed to unearth a video clip of Lagerfeld dancing with his good friend, Sandra Brant. He was a fantastic dancer.
Interspersed with the clips and the live performances were the talking-head bits. Carsen did all the interviews himself and the most interesting, by far, were those with people who saw Lagerfeld day to day, like Jacqueline Mercier, the head of the haute couture atelier at Chanel, Gerhard Steidl (who noted that Lagerfeld would text impatiently if he didn't have an immediate response from the publisher), and Wertheimer, who as a rule never speaks publicly about Chanel or, indeed, one of the greatest hires in the history of fashion. On Thursday, he said of his first meeting with Lagerfeld, in the early 1980s, "I was won over by the fact that we could talk together." He liked how Lagerfeld's mind worked.
A lot of the interviews, though, didn't have much value, like the one with Jeff Koons. And there were too many interviews with LVMH designers and executives. Apart from Arnault and Sidney Toledano, who for years ran Dior, I can't remember a thing anyone said. Though the tribute mercifully skipped most of his childhood, I would have loved to hear Joan Juliet Buck tell stories of their adventures in 1970s Paris. That chapter seemed missing from the story. I also wished for tales from some of his great contemporaries, like John Fairchild or Patrick McCarthy, who passed away just four months ago.
But that's really a small quibble. The tribute left you feeling with a high, as if you had just left a funny conversation with the master himself. Carsen caught the rarefied side of Lagerfeld and the deeply down-to-earth side, ending the program with outtakes from a video Lagerfeld was attempting to shoot for a French television channel. But he kept flubbing his line. Instead of speaking in French, he kept saying it in German, laughing and stomping his foot at the same time.
It was a lovely sound to leave on.