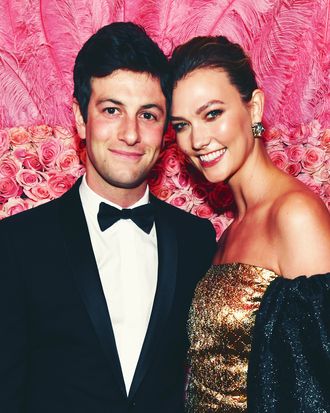 Karlie Kloss and Joshua Kushner.
Photo: (C)Kevin Mazur/Getty Images for The Met Museum/
The wedding-industrial complex is crazy for this one.
Over the weekend, married couple Karlie Kloss (mogul model) and Joshua Kushner (brother of haunted doll) threw a big party to celebrate getting married … eight months after their first very nice wedding (the bride wore Dior). Wherever the line is between a fancy wedding and a celebration of a fancy wedding needs to be located ASAP and wrapped in caution tape.
The couple, who married in a ceremony in upstate New York last year, hosted their second wedding party in scenic Wyoming at the Bush Creek Ranch. Influential guests included Orlando Bloom, Katy Perry, TV personality Derek Blasberg, and magazine editor Dasha Zhukova, according to "Page Six." Blasberg posted several wedding pics on Instagram, captioning them "May your marriage be as intense and long lasting as my hangover from this weekend." Karlie, Josh, only you can break the curse of Derek Blasberg's hangover, please help.
This second wedding hoopla is on its way to becoming something of a norm among celebrity couples. For instance, Joe Jonas and Sophie Turner got married in Vegas a month ago but are planning to throw a bigger celebration soon, possibly next weekend. What's weird about this phenomenon is that it seems to be rooted in what normal people do (get married at city hall then have a party when they can afford one), but when celebrities do it, it comes off as a way to spend more money on the appearance of normalcy and slow-release Instagram clout.
Do I yearn for the days when "second wedding" connoted divorce? Yes.