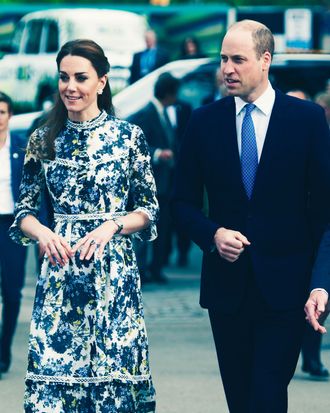 Kate Middleton and Prince William.
Photo: Geoff Pugh/Getty Images
A few months ago, reports emerged that Kate Middleton may have had a mysterious falling out with Rose Hanbury, who was dubbed as Kate's "rural rival" among the "Turnip Toff" crowd of Norfolk, U.K. The cause of any alleged feud was unknown, but soon after, rumors began circulating that perhaps Prince William had an affair with Rose, whose formal title is the Marchioness of Cholmondeley. (If you cannot pronounce that, you are not alone.)
There had been no official comment from the palace or Marchioness about the rumors, save for reports that Prince William's lawyers were threatening legal action. But now, at least it seems, things in Cambridge land are well and good, as US Weekly has a cover story about how the rumors made Prince William and Kate's marriage stronger.
The cover story, published (in part) online Wednesday, depicts the Duchess of Cambridge as being calm during a storm. The rumors were "hurtful" and "didn't go down well with Kate," Us Weekly notes. But while the publication states that Kate reportedly isn't thrilled that "one day her children will be able to read about them online," the crux of the report is extremely positive.
A source told Us Weekly that Kate and Prince William were "determined to pull through it and are doing a great job at getting their marriage back on track again." Another insider added, "It's not unusual to have a few hiccups in a marriage, especially after eight years, and Kate and William are no different. They're still going strong. Regardless of their ups and downs, they love each other dearly and their kids are the most important thing in their lives."
Beyond that, the story doesn't include any new information, though we guess it's nice that "insiders" around Kate and Prince William could take lemons (bad rumors about their marriage) and make lemonade (positive magazine cover stories about their marriage).