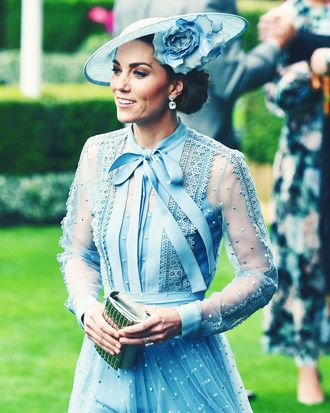 Kate Middleton in Elie Saab.
Photo: Tim Rooke/Shutterstock
Continuing with this week's theme of fancy British hats, several members of the royal family stepped out on Tuesday for opening day of the Royal Ascot, a fancy horse race that Town & Country once described as "a cross between a royal wedding and the Kentucky Derby, except boozier." Get the gist?
Per usual, the royals went all out in their attire for the event, which includes a strict dress code. Men have to wear "summer tuxedos"; women, dresses and elaborate hats. This year, Kate Middleton looked straight out of an Impressionist painting (of society people hanging out doing fancy society things) in a blue Elie Saab dress and a flower hat by Philip Treacy. And Prince William? Why, he was wearing a summer tux and top hat and toting an umbrella.
I mean, just look at them with Mike and Zara Tindall. It's amazing.
Of course, it wouldn't be a fancy royal horse race without the fanciest royal horse fan of all: Queen Elizabeth. The monarch was present at the event, per usual. Did you know that people actually bet on the color of hat she wears to the opening day of Royal Ascot each year? I love that, too.
Here she is with Princess Beatrice, also in blue. (I guess the unofficial theme this year is blue …)
In case you're wondering, last year's notable attendees Prince Harry and Meghan Markle didn't end up stopping by — but that's to be expected, as they have little Archie Harrison Mountbatten-Windsor at home. We can only hope all royal babies have tiny top hats.