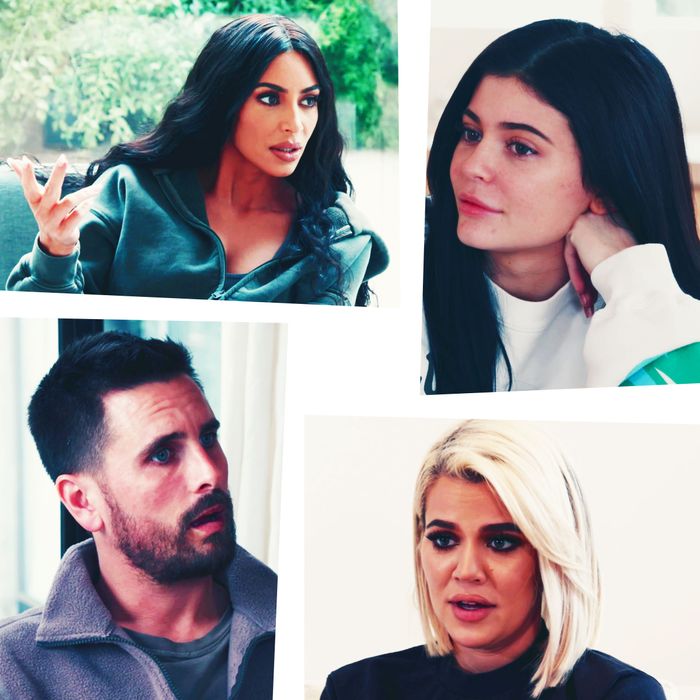 Sunday night on Keeping Up With the Kardashians, we got a glimpse into the immediate aftermath of some juicy KarJenner drama and got a lesson in contracts and consent. More on that later, because now we've got to break down this show.
Our A-Plot was the much-anticipated cheating scandal involving Jordyn Woods, Tristan Thompson, and Khloé Kardashian; our B-Plot was Khloé's health; and our C-Plot was Kanye West's Sunday Service. As you can imagine, we'll be focusing mainly on the A-Plot this week. #LEGGO
Scene 1, Cold Open:
The show starts with a heavy dose of See, she really was close to us! There's Jordyn, walking with Kendall and Kylie Jenner as Khloé explains her upcoming home renovations. What excites the group is Khloé's new full-service glass-walled gym. It's accessible from the outside, so trainers don't have to set foot in her private quarters. Jordyn tells Khloé she's going to have to pop over to work out, and Khloé welcomes her anytime.
All of this renovation talk makes Kylie want to do something new to her home, too. Little does she know that in a matter of days she'll have ample real estate to work with, once Jordyn is forced to move out. This scene was filmed on February 6, 2019. 
Scene 3:
Dealing with some stomach and nausea issues, Khloé visits with Kris and Kylie at Kylie's home. Although Khloé is used to migraines, the nausea she has had for months is concerning. Kris is especially worried because lately Khloé has been doubled over in stomach pain every time they've been together. Kylie makes Khloé take a pregnancy test, and — either to extend her sisterly love or adhere to her contract with Clearblue — she takes one as well. Ever the hard worker, Kylie even has Kris take a pregnancy test for good measure. All are relieved to find that none of them are pregnant, but Khloé was partly hoping her stomach pain could have been easily explained away. We find out later that her migraines and stomach pain are most likely due to stress. This scene was filmed on February 7, 2019.
Scene 11:
Before we get into this, I want to sincerely congratulate every last one of us for making it this far into the season. Teased months ago with Khloé's feral cries of "LIAR!!!!!," we have sat in wait while Kris called her youngest child a bitch, Kourtney played with the idea of getting back together with Scott, Kanye tried and failed to fill the void Rob has left, and other such nonsense. But by the grace of God, we made it.
Let's begin.
We open on a voice-over from Larsa Pippen, Instagram dweller and Kardashian super-friend. She tells Kim, who is getting glammed up for some interviews, that a gossip-blogger friend of hers has a hot story about Jordyn and Tristan having a tryst. Kimberly cannot believe it. Last time Tristan had a cheating scandal, days ahead of True Thompson's birth, Kim was the sister stuck in the interview chair making calls to various family members to get all the facts. And here she is again.
Kim, Kourtney, and Khloé end up on a three-way phone call, and Khloé says she has been in contact with Jordyn. She says Jordyn is alleging that she can't figure out or remember what happened, but Khloé knows Jordyn isn't giving her all the info. At this point, Khloé tells them that 20 minutes ago, Jordyn said she'd call Khloé back with more details in five minutes. But Jordyn still hasn't called.
While the sisters are talking, we see footage of Jordyn having fun with the family in days past — clips that were possibly intended for better times but are now being used in memoriam for Jordyn's relationship with the KarJenners and their fans. While Jordyn was relatively tight-lipped in her appearance on Jada Pinkett Smith's Red Table Talk, the Kardashians speak freely to drive their point home: Jordyn's a home-wrecker. There's probably a legal reason for this disparity. Jordyn most likely signed an NDA years ago and now she can't tell the entire truth without facing legal action. The Kardashians, on the other hand, are free to speak as they please because they started filming the season prior to this incident.
It seems Jordyn signed a waiver allowing her image to be used in any way on the show in perpetuity. Tristan, however, did not. If you'll remember, his face was blurred out in an earlier episode this season, implying that he had signed a contract that limited the use of his image on the show. This could be because he's around the filming much less now, or he simply didn't remember to sign his waivers (he seems to have an issue remembering the important things in his life, after all). This is key because, no matter what the truth is, the Kardashians' platform and meticulous use of contracts allow them room to vilify Jordyn in whatever way they see fit.
Back to the show.
Kim remains in her interview chair while Kourtney, who is also at the studio, gets into glam. Khloé ends the call with her sisters so she can speak to Jordyn, who has finally called back. Afterward, Khloé gets back on the phone with her sisters, this time including Kendall and Kylie, who is very confused.
Khloé tells them what Jordyn said: Apparently, she told Khloé she was sitting on Tristan's lap with her legs dangling between his. She admits to making out with him as well, according to Khloé. This is news to Kylie, who had spoken to Jordyn briefly but mainly to tell her that she needed to call Khloé and be as honest as possible so some solution could be found. Everyone expresses their shock, confusion, and disgust. Khloé adds that Jordyn is blaming Tristan, which Khloé thinks is dumb. This scene was filmed on February 19, 2019.
Scene 12:
Kim and Kris continue to talk about the drama between Jordyn, Tristan, and Khloé while lounging in a plush seating area in Kim's bathroom. Kris wants to give Jordyn the benefit of the doubt, but one thing is nagging her: Before she knew anything about the scandal, she'd texted Jordyn to ask where Kylie was and Jordyn still hasn't texted her back. It's the first time Jordyn has failed to return one of Kris's texts, and even though she's hoping the news isn't true, Kris thinks Jordyn may be guilty or else she'd be blowing up her phone asking how to fix this mess. Kim calls her mother "naïve." She also tells her that Tristan admitted everything via text, which is news to Kris. Now Kris feels like this is the ultimate betrayal because she considered Jordyn a sixth daughter. As sad as Kris is about this situation, she insists that her main focus is on keeping Khloé calm. This scene was also filmed on February 19, 2019. 
Scene 13:
At Kourtney's house, Khloé explains how she's feeling to Scott and Kourtney. Emotionally depleted, Khloé mulls over everything Tristan admitted, and she worries about his mental health. Apparently, he told or insinuated to her that this has driven him to seriously consider suicide; concerned, Khloé has one of Tristan's closest friends check up on him. Scott is amazed that she is even considering Tristan's emotions with this. She gets word that, although Tristan wouldn't let the friend into his house, he's "good." Kourtney tells Khloé it's okay for her to let out a string of nasty words, because this is a nasty situation. It's a great idea, but Khloé says she's not feeling much of anything except heartbroken. She adds that this has been not only humiliating but a blow to her soul. This scene was filmed on February 20, 2019. 
Scene 14:
Making the rounds, Khloé lands at Kim's house for a conversation with Kim and Kylie. Each sister seems appropriately shell-shocked. Khloé is still disgusted and can't believe Jordyn didn't think of Khloé, True, Kylie, or even herself. We all know Tristan is a dirty pig, but they've never seen this behavior from Jordyn, which makes it more confusing.
Kylie spoke to Jordyn at length and says Jordyn was crying the entire time, but Kylie says she told Jordyn she was now "scared" of her. If Jordyn could do something like this to her family and wake up with a smile the next day, what else is she capable of? Plus, in the past, Jordyn used to always text Khloé if she saw Tristan out, but the night in question was different. Jordyn is now downplaying everything that happened, claiming it wasn't sexual or intimate, which is the opposite of what she initially told Khloé.
For Kim and the rest of the family, the major issue is that Jordyn hasn't said she's sorry. Kim says she would be on Khloé's doorstep, begging for forgiveness and admitting how much she'd fucked up. Kim adds that Jordyn should have known better, considering that not only has Kylie allowed Jordyn to live with her but she and Khloé have given Jordyn financial opportunities that helped her support her entire family. Jordyn has ruined these relationships forever, and Kylie admits she's unsure if she'll keep Jordyn in her life.
Kris gives Khloé a call to talk about the situation. Apparently, Kris spoke with Jordyn on the phone and she was sobbing and apologizing profusely. Kris feels for her, but she says she told Jordyn that Khloé is her main priority and that until Jordyn makes it right with Khloé, the rest of the family won't have anything to do with her. Worried about their future with Jordyn, the sisters let out a chorus of "I love you"s to one another. This scene was filmed on February 20, 2019.
Scenes 15, 16:
Kris pops by Khloé's rental home to check on her daughter. Khloé's still despondent and is worried about a ribbon cutting she has to do that night; she doesn't want to go out or have to answer any questions about the current drama. She double-checks with Kris and her assistant to make sure she has a strict 30-minute time limit and devises a plan to cut the ribbon as slowly as possible so she doesn't have to be bothered with anyone.
She decided to honor her commitment because she doesn't want Jordyn or Tristan to mess with her coin in any way. And, as Kim said, she needs to provide for her family! If Khloé misses one evening of work, True's headband collection could be in jeopardy. We can't let that poor child go without.
After chatting with Khloé, Kris heads to the glam room to have a chat with Everybody's Favorite Best Friend, Malika. EFBF Malika is Khloé's date for the event, and as the friend who created the EFBF path that Jordyn once followed, she's making it very clear that she'd never cross such a line. EFBF explains that both she and Khloé treated Jordyn like a little sister — she could come to them with any issue and they'd be there. Malika also says everyone used to joke about Kylie and Jordyn being the younger versions of Khloé and Malika. Now, as there always should have been, only one Malika is left standing. Well, technically, two.
That night, Khloé solemnly hits the PrettyLittleThing red carpet and, alongside a seriously happy Ashley Graham, cuts the ribbon to officially open the brand's Hollywood store. In a sick twist of fate or managerial skills, just hours after this ribbon cutting aired, Jordyn took to Instagram to announce a collaboration with PLT's BooHoo clothing company. What's worse: stealing someone's man or stealing someone's endorsement? These scenes were filmed on February 20, 2019. 
Whew! That's a lot of scandal for the beginning of the week, dolls, and there's still more to come. Check back next week for another #KUWTKE recap of Keeping Up With Jordyn Was Like Family. #JORDYNSCALLING