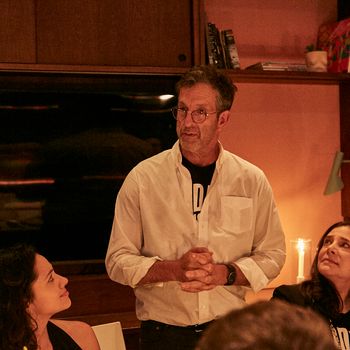 Kenneth Cole.
Photo: Courtesy of Kenneth Cole
This June, it feels like more corporations than ever have jumped on the rainbow bandwagon, attaching themselves to Pride just in time for the 50th anniversary of Stonewall. But Kenneth Cole has been celebrating the LGBTQ+ community for over a quarter century with its "Tied With Pride" campaign. Last night on the corner of Bowery and Bond, the brand held a Pride celebration in its glossy industrial flagship.
Guests could peruse the Pride collection or make their own tie-dye tote bags while they sipped a special Pride cocktail. Since Kenneth Cole partnered with the Broadway musical The Prom for the collaboration, it wasn't the usual fashion crowd: The cast of the show was there to support Caitlin Kinnunen and Isabelle McCalla, who performed a duet.
The biggest surprise was an appearance from Nelson Mandela's grandson Ndaba Mandela. "South Africa was also one of the countries that has suffered from the savage epidemic known as HIV/AIDS," Mandela reminded the partygoers, drawing a connection between communities in sub-Saharan Africa and LGBTQ+ communities in the U.S. and highlighting the fact that Kenneth Cole is making a donation to the United Nations Free & Equal campaign.
After the soiree, the designer held a small dinner at The Standard, East Village, where he could speak intimately with the guests and reflect on the roots of Pride as a riot. "Fifty years ago, passionate individuals stood strong at Stonewall and were relentless in their pursuit to be heard," Cole said to the table. Without Marsha P. Johnson and Sylvia Rivera, these kinds of Pride celebrations would not even exist.