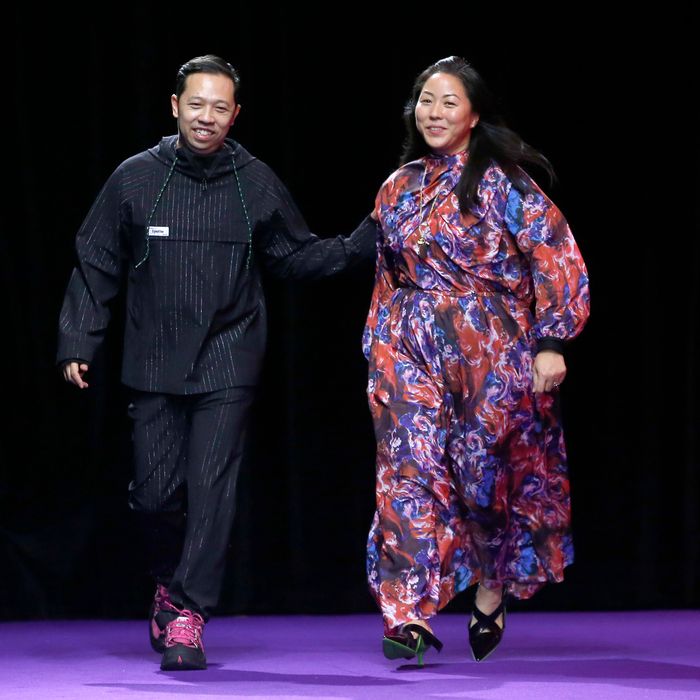 Photo: Thierry Chesnot/Getty Images
On Friday morning, the French luxury conglomerate LVMH announced that Kenzo artistic directors Carol Lim and Humberto Leon are to "quit" the brand after eight years. The designers said in a statement that they'll be focusing their attention on their original brand, Opening Ceremony.
Fashion-world observers were surprised not only by the news, but also by the language of the announcement. Designers tend to gracefully "step down" or amicably "part ways" with brands, even if the split is neither graceful nor amicable. It's rare — if not unprecedented — for LVMH to use the word "quit."
"In all my years of following LVMH, I've never seen that word used in this context before," wrote Times fashion critic Vanessa Friedman on Twitter.
It's possible that the wording was an unfortunate translation from the French se quitter. (The press release was written in both French and English.) But it seems unlikely that LVMH wouldn't have vetted the release beforehand. Either way, Lim and Leon will show their last Kenzo collection in Paris on June 23, and their last day at the brand is July 1.
Lim and Leon joined Kenzo in 2011 as the first Asian-American artistic directors at LVMH. This was almost a decade after they'd opened their Opening Ceremony store in Soho, which became not only a New York destination, but also a global brand. At Kenzo, their streetwear-influenced style appealed to a younger, broader audience.
"Humberto and Carol consistently brought diversity and inclusion to the forefront at Kenzo, using their collections, fashion shows, advertising, and special projects to engage and galvanize a new generation of creatives," Kenzo Chief Executive Sylvie Colin told Business of Fashion.
In a statement, Lim and Leon wrote, "We are thankful to our wonderful Kenzo team and the LVMH group for the opportunity to take forward Mr. Takada's groundbreaking legacy … We have reacquired all shares of Opening Ceremony from our strategic partner Berkshire Partners, who held a minority stake, and with full control of the company we are focused on growing our company even further."