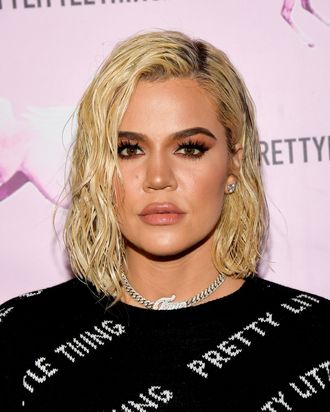 Photo: Matt Winkelmeyer/Getty Images
I am of the opinion that the Kardashian family, which occupies a social class all its own, is extremely out of touch. In return, I don't "keep up" with them and can't often distinguish them from one another based on their antics, but apparently Khloé is the one who really likes to go to prom?
E! News reported this weekend that on Friday night, while the rest of us were having a great time (I was at home, inadvertently burning myself with tiny spatters of cooking oil), the 34-year-old Keeping Up With the Kardashians star was attending the prom of her "superfan," an actual high schooler if you can believe it, named Narbeh. He attends Hoover High School in Glendale, California.
Narbeh posted pictures from the night, including one identifying Khloé as "my date to prom," in case there was any question. He explained the night was so special to him because "Being w Khloé made me feel like i was with just one of my cousins." I genuinely feel I have little expertise to offer, since I've never been to prom, but it's my understanding based on popular media that you go with a partner, or a crush, or a nerdy guy who is far from what you'd imagined for yourself but really is the sort of guy you should be with (a scenario I am grateful to have never enacted) — not with a relative or someone you wish were one. But I guess that isn't what's weird about this story (which could also be a sweet, uplifting story, completely dependent upon your personal experience of high school).
On Saturday, Khloé posted about what a blast she'd had at her first prom.
Anyway, what happened happened and it had to have been incredibly awkward. You can have all the money and fame in the world, but never going to prom is free.