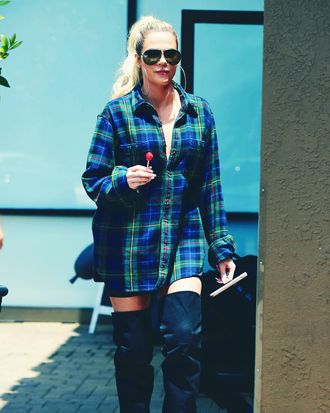 Photo: Hollywood To You/Star Max/GC Images
As we know all too well by now, the Kardashians tend to celebrate in strange ways. (You may recall Kim's recent CBD-themed baby shower.) But for Khloé's 35th birthday bash, the theme was relatively tame: all pink everything.
On the surface, this seems perfectly rational. Social media — Instagram in particular — has loved pink for the better part of the last decade. It's clean, easy, and on-brand for the family. Cups denoted that Khloé "never stopped being a hoe." A Grey Goose–hibiscus tea mixed drink dubbed "Khlo Money Moves" was available at the bar. There was a mechanical bull! It was not an unusual Kardashian affair.
However, pink grilled cheese was served. How cute and fun, you might think, before seeing the actual images of said grilled cheese.
The pink grilled cheese screams to be put out of its misery. The pink grilled cheese gets bullied by other grilled cheeses, for being a phony! The tiny triangle slivers, documented on Kim's Instagram story, appear to be filled with toothpaste, or lox? The sandwiches appear to lack any of the traditional crunch of a grilled cheese. It's difficult to imagine that someone would choose one of these sandwich halves over one of the beautiful pink pastries at the event.
I for one, am wondering if these were catered professionally, or if they were made as a cute contribution from the Kardashian children, who are all under the age of 10 or so. The latter is the only thing that makes sense in my mind.