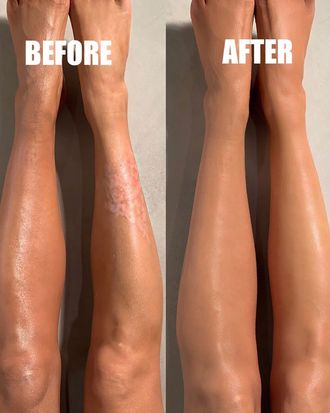 Kim Kardashian West's legs before and after leg makeup.
Photo: kimkardashian/Instagram
Kim Kardashian West's beauty line, KKW Beauty, is back with a new launch: the KKW Beauty Body Collection. It drops on Friday, the first day of summer and Lana Del Rey's birthday, and consists of three different products: Skin Perfecting Body Foundation, Skin Perfecting Body Shimmer, and Loose Shimmer Powder for Face and Body. The first two products have already been demoed on a variety of legs (including KKW's legs) on her personal accounts, and they're now my favorite TV protagonists to watch.
Before you ask why in the world legs need makeup now, KKW addressed why she has personally been wearing leg makeup for years. "I use this when I want to enhance my skin tone or cover my psoriasis. I bruise easily and have veins and this has been my secret for over a decade," she said on Instagram.
The secret's out and the before-and-after stills (above) are impressive, but it's Leg Makeup Live you need to watch. The application videos are this summer's Song of the Summer of stress-relief videos. Watching the creamy formula glide up and down a leg as the tone evens out requires way less of an attention span than watching a full face tutorial, and is less graphic than violent pimple-popping videos or dandruff-scraping videos. These have the potential to be up there with soap-cutting and animal-brushing.
Leg makeup isn't anything new, of course. Kardashian West admits she created this collection because the body-makeup brand she typically used only came in two shades and was discontinued (her body foundation comes in seven shades). But this new combination of Instagram, a wide, densely-packed-bristle body brush, and long, sweeping motions just mellows you out.
If you want your legs to look as damp and moist as your face will this summer, KKW's got you covered there, too. Buttery legs are a few swipes of leg highlighter away and just as soothing to watch.
We have yet to see if application of the loose powder is as calming as the foundation and highlighter, but we should know by Friday when the entire collection launches on kkwbeauty.com. Please document any and all product applications and tag me; thank you in advance.