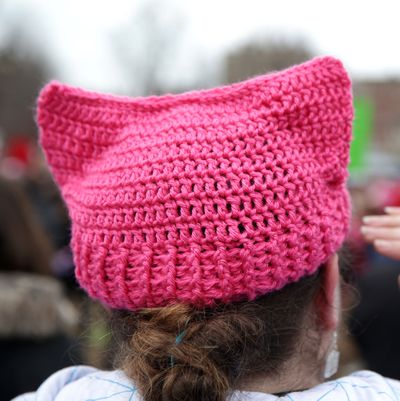 Photo: Jonathan Wiggs/The Boston Globe via Getty Images
The popular knitting site Ravelry — which has more than 8 million users and is something like a combination Facebook, Google, Amazon, and public library for knitting and other textile crafts — announced on Sunday that it was "banning support of Donald Trump and his administration." In its words, "We cannot provide a space that is inclusive of all and also allow support for open white supremacy." Support of the Trump administration, the site writes, "is undeniably support for white supremacy."
It's not about Democrats versus Republicans, per the blog post, and it's "definitely not banning conservative politics." It's that "hate groups and intolerance are different from other types of political positions."
Past support of Trump won't get you kicked off the site, which has a staff of five, and where people regularly buy and sell patterns, but new forum comments, patterns, and projects deemed "unacceptable" (via flagging) will be switched to "invisible" to the general community. (And no one's data will be removed.)
A quick search reveals a pattern for a Donald Trump "Tea Rump" kettle warmer to still be available, as well as a "Tiny Donald J. Trump" peg doll, although neither is explicit in its support or defense. A Trump "Voodoo Pincushion" is also available, as is a toilet-paper cozy.
Ravelry is also the home of the famous "PussyHat Project," made and worn by thousands during the 2018 Women's March. The announcement also comes on the heels of the knitting community making an effort to eradicate racism and support knitters of color.
I guess this isn't the moment to reveal my big "Donald Trump Shawl," but maybe I will share that on Instagram instead.