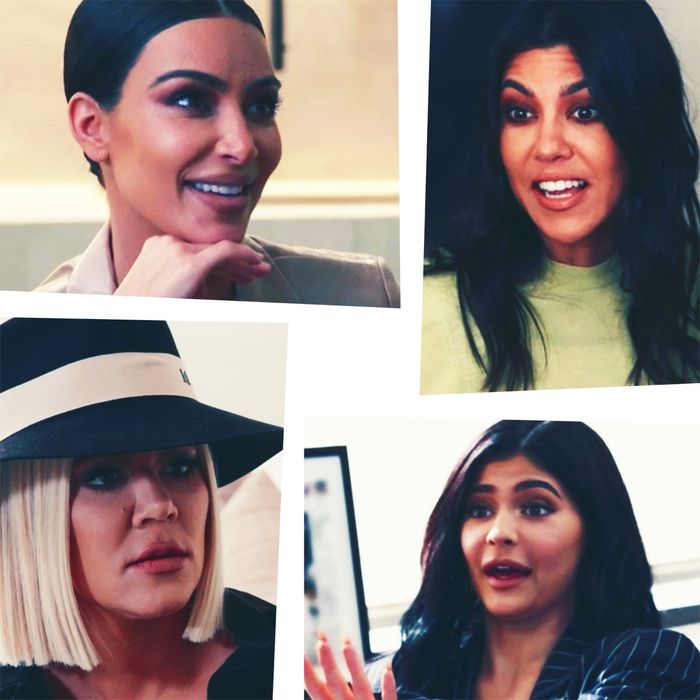 We've reached the final stretch of this season of Keeping Up With the Kardashians, and as with most strenuous athletic events, the moment when you can just see the finish line up ahead is usually the most tiring. As we wait for The Great Jordyn, Tristan, and Khloe Drama, we have to sit through a full episode of mind-numbingly contrived story lines.
In this week's episode, our A plot was Kourtney and Kendall's fight; our B plot was Kim's psoriasis; and our C plot was Kris and Kylie's fight. #LEGGO.
Scene 2:
Instilling the virtues of colorless surroundings in her children, Kim Kardashian praises her two youngest kids, Saint and Chicago, who are dressed in head-to-toe gray, matching Kim's sweats, for being a part of her "gray family." The children sit in their uniforms as Kim smooches them and asks Saint what she'll call him when his baby brother arrives. Currently, Kim calls Saint her favorite boy, but once another boy joins the family, that'd just be rude. Kim and Saint settle on his new affectionate term: my favorite big boy. After this important decision is made, Khloe Kardashian, the aunt to Kim's favorite big boy, arrives. Kim wastes no time telling Khloe how bad her psoriasis has gotten. She's had the autoimmune disorder for about eight years, but recently it's spread up her body and has even made its way to her ears. Kim worries about what she'll do if it reaches her face. Though she's self-conscious, Kim tries on a minidress to see if it's possible to cover up her psoriasis with her soon-to-be-released KKW cosmetics body makeup. Kim sits down on a towel and begins to paint her legs. Before finishing even one shin, Kim is over it. She doesn't have the energy. Khloe wipes her leg down with a wet cloth. This scene was filmed on March 29, 2019.
Scene 4:
Kendall Jenner visits an incredibly tan and bored Khloe at home. Fresh off a ski trip to Mammoth with Kourtney Kardashian and some friends, Kendall isn't looking forward to spending any more time with Kourt. According to Kendall, Kourtney's mission on the trip was to embarrass her at all costs, which Kendall thinks made Kourtney feel cooler to Kendall's much younger friends. Kendall is especially pissed at Kourtney for putting her muddy feet on Kendall's car dashboard and the backs of her car seats after she repeatedly asked Kourtney not to. Kourtney apparently laughed and told Kendall that it was just a car, and then Kendall's friends joined in on the teasing. Khloe offers her support and assures Kendall that Kourtney was in fact bullying her. This scene was filmed on or around January 25, 2019.
Scene 5:
There's no path Kimberly West won't travel if it could potentially lead to a psoriasis cure. So, this week, she's meeting with a medical medium, Anthony William. It seems that Anthony diagnoses medical issues by connecting with the spirit world. According to the "About" section of his website, "When Anthony was four years old, he shocked his family when he announced at the dinner table that his symptom-free grandmother had lung cancer. Medical testing soon confirmed the diagnosis." Kim wanted Anthony to read her because many family members and friends told her about him, and if she hears a name more than once, she has to meet them. Kourtney joined Kim, presumably to confirm if this man's practices were legit.
Anthony has Kim stand up and moves his hands around her body, inches away from the skin so there's no physical contact. Through this very quick reading, Anthony intuits that the cause of Kim's psoriasis is her liver, but she can rest easy knowing that her brain is healthy. He tells Kim to drink celery juice every day, an unsurprising prescription considering that in addition to medical medium–ing, Anthony also sells celery-juicing products and guidebooks. Soon after Kim is prescribed celery juice, Kanye West enters. It doesn't take much for Kim to persuade Kanye to get a reading. In an unexpected turn of events, Kanye West is the only person in the room who thinks this man is bizarre. After Anthony moves his hands around Kayne and claims that his heart will fail him later in life, Kanye jokes that he could move his hands around like Anthony and call it a job, too. This scene was filmed on or around January 31, 2019.
Scene 8:
After talking to Kendall about her currently fraught relationship with Kourtney, Khloe decides to speak with Kourtney about the matter as well. Khloe tells Kourtney Kendall's account of the car incident, and Kourtney is blown away. As Kourtney remembers it, she was just trying to situate herself in the cramped backseat. At no point was she deliberately putting her feet up to dirty Kendall's car. Riled up, Kourtney tells Khloe that she's the one who should be mad at Kendall for acting like a tyrant at the grocery store. While shopping for food, Kendall apparently wanted to stick to a strict list, getting upset if anyone tried to deviate from it. At one point, one of Kendall's friends wanted to get potatoes to go with the chicken they were making. Kendall didn't think they needed potatoes, so she told him to put them back. Now Khloe is inching towards Kourtney's side, because she too thinks that stiffing your friends on potatoes is rude.
Once at Khloe's house, Kourtney, still complaining about Kendall, tells Khloe that Kendall was obsessed with her car key as well. When they hit the slopes, Kendall asked Kourtney to put her car key in a zipped pocket, because Kendall didn't have one. Then Kendall told Kourtney to be careful not to fall so she wouldn't damage the key. Kourtney was offended that Kendall seemed to care more about a car key than her safety. Khloe's really confused now, because it appears that Kendall left a lot out of the story. To lighten the mood, Khloe's child, True, is brought to her. Het cuteness makes the sisters forget all about potatoes and car keys. This scene was filmed on January 9, 2019.
Scene 10:
Being used as a human telephone, Khloe has another conversation with Kendall about Kourtney. Relaying what Kourtney said about Kendall, her shopping list, and the muddy car seats, Khloe seems fatigued by the drama she has immersed herself in. Though this is the same day as Scene 2, when Kendall initially tells Khloe about her problems with Kourtney, Kendall digs up her acting chops to act incensed at the new allegations against her. Kendall tells Khloe that she never was worried about controlling a "fucking [grocery] list." Kendall claims that she was only picky about buying too much food, since the group would only be in Mammoth for two days. She also thinks that Kourtney exaggerated the story to put Kendall down just to make herself seem cool. Kendall says that Kourtney is insecure, and her lies show it. Like Scene 2, this scene was filmed on or around January 25, 2019.
Scene 13:
Kourtney and Kim are at Khloe's to chat about Kim and her psoriasis. Sadly, Kim's celery-juice prescription from the medical medium did nothing but taste bad. So she's had to move on to other alternative treatments. The psoriasis is continuing to spread and now it's creeping up into her groin area, she says. Kim's been so insecure about it that she's canceled photo shoots. Kim tries out a new psoriasis machine that appears to be some sort of light treatment to diminish the appearance of flare-ups. The tool looks like a medical sex toy, and Kim spends an especially long time using it on her nether region. Her goal is to get rid of the external signs of her psoriasis so that she doesn't have to give up her public life and just be a lawyer. This scene was filmed on January 9, 2018.
Scene 14:
Tired of being the messenger, Khloe Kardashian brings Kendall and Kourtney together so that they can hash out their problems with one another. Dressed in gymwear and a bold hat, Khloe has each of her sisters explain her side. Kourtney doesn't think there's much to discuss. She thinks that Kendall just doesn't realize that she's funnier and cooler and therefore Kendall's friends like her more. Kendall doesn't agree, because Kourtney was also talking shit about Kendall to their friends. Kourtney thinks Kendall is being sensitive and accuses Khloe of blowing this all out of proportion. Khloe says that she's just trying to mediate between her socially awkward sisters. Now Khloe's mad, and Kendall gets mad, too. Like Kourtney, she thinks Khloe made the whole situation worse. Like 75 percent of the show, this scene was filmed on March 29, 2019.
Scene 16:
At a KKW photo shoot with the model Winnie Harlow, Kim Kardashian finds peace with her psoriasis. Winnie has vitiligo, a skin condition that causes pigment loss in the skin, and her confidence inspires Kim to be more secure in her own skin. Kim is collaborating with Winnie for a KKW launch thanks to North, who saw a photo of Winnie and was struck by her beauty. Working with Winnie, Kim sees that every type of skin can be beautiful. This scene was filmed on April 8, 2019.
Scene 17:
In one of the more contrived conflicts of the season, Kylie Jenner edges her mother out of her Kylie Cosmetics office space. While remodeling her headquarters, Kylie and Kris have been forced to share an office. It hasn't been going well, so Kylie took it upon herself to replace Kris's things with a play area for her dogs. To make space, Kylie moved Kris's desk to the hallway. Upon hearing this, Kris calls Kylie a "bitch." Kylie seems unfazed, even when Kris storms out, calling her youngest child a "motherfucking piece of shit." What a beautiful way to get ratings on a Sunday evening. This scene was filmed on March 14, 2019.
Scene 18:
After their confrontation with Khloe, Kendall and Kourtney stage a physical fight to scare Khloe into thinking she's ruined their relationship. When Khloe comes to break the sisters up, they start to toss potatoes at Khloe. Kendall and Kourtney tell Khloe that they have chatted and resolved their issues, no thanks to her. They tell Khloe not to meddle in the future and all will be well. Khloe can't even pretend to be bothered by her sisters' one-act play, as it's almost time to clock out of a full day's work. At this point, Khloe's filmed at least three scenes and she needs a rest. Like the rest of the show, this scene was also filmed on March 29, 2019.
Scene 19:
After Kylie kicks her out, Kris is forced to use her condo as an office. Moping about the space, Kris is startled to get a visit from Kylie, who, in an effort to apologize to her mom, arrives with two dozen doughnuts. She apologizes for being rude and says she misses Kris in the office, so she wants to invite her mom back to work. This time, however, they'll have separate offices. Kris accepts, and the mother and billionaire agree that they're better together than apart. If you're wondering, no, Kris did not apologize for cursing out her child. This scene was filmed on March 14, 2019.
That's all for this week, dolls! Make sure to get enough rest and hydration as we prepare for next week's episode all about Jordyn. #POTATOES.