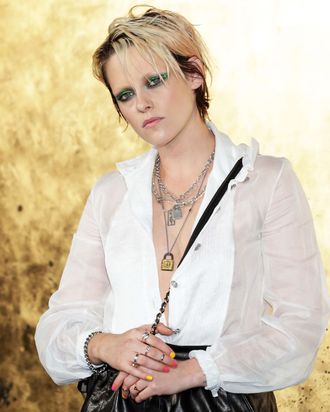 Kristen Stewart.
Photo: Han Myung-Gu/WireImage
Looking back through archives of Kristen Stewart's notable makeup looks, it's pretty evident that this actor loves to play up her eyes — as well she should. And lately, she's gotten a lot bolder with her beauty looks.
Perhaps it was all triggered by the happy accident that befell her eyebrows before the Met Gala, when makeup artist Jillian Dempsey bleached them for too long, turning them a cool banana yellow. Stewart must have liked going blonde up there, because last week, when makeup artist Beau Nelson was with her in Chanel's Metiers d'Art show in Seoul, she asked that he re-bleach them.
Nelson has been working with Stewart for 12 years, and he says changing it up is par for the course with her.
"We always try to find new and interesting ways to play with her look," he says. "Chanel's yet-to-be released fall collection provided a backdrop of mysterious grays to play with, including the greenish grays we used in eyes under the neon green." (Alas, the neon green in question is not Chanel's.)
He also points out that he created two looks that day: a straight-up smoky eye with black liner, and one with neon green painted over it.
"The green came really just because it was something we haven't done," said Nelson, who kept Stewart's lips bare with Chanel's Coco Rouge Balm.  "I usually come with a few ideas when I'm working with her because I know she's open and likes to push in new beauty directions. She's not afraid to break things or do things in unexpected ways."
Nelson is quick to point out that these aren't necessarily looks for everyone — the bleached brow, in particular — but he says it's Stewart's attitude and strength that allow her to wear these looks with confidence.
"That, to me, is key in pulling off any look," says Nelson, adding. "After 12 years there's always a bit of a search to think 'What can we do next?'"
So, will we ever see her brunette brows again? Not in the near future, anyway.
"She wants to keep them light for a while," affirmed Nelson via email.