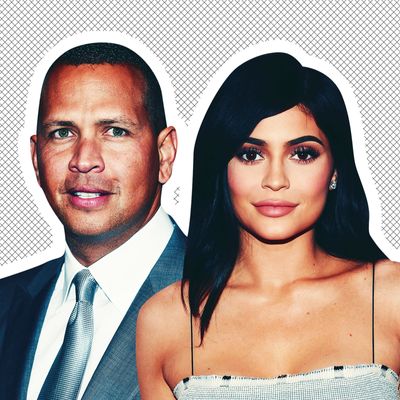 A-Rod and Kylie Jenner.
Photo: Getty Images
A-Rod is counting his blessings today, as he narrowly dodged what could've been a life-ruining feud with a KarJenner last night — harrowing.
In an interview with Sports Illustrated, published on Monday, the future Mr. J.Lo gushed about his time at this year's Met Gala, where he says he shared a "great table" with Idris Elba, Kendall Jenner, Donatella Versace, and, notably, Kylie Jenner. When asked what Kylie spent the gala talking about, A-Rod simply replied: "Instagram and her lipstick, and how rich she is."
This resulted in a glut of headlines — i.e., "Kylie Jenner Bragged About Being A Billionaire At Met Gala, Says Alex Rodriguez" and "Alex Rodriguez Says Kylie Jenner Told People At The Met Gala 'How Rich She Is' And OMG" — and the news went viral on Twitter. And then … A-Rod's quip got back to Kylie.
"Umm no i didn't," Kylie tweeted on Tuesday night, in response to People's coverage of the Met Gala conversation. "We only spoke about Game of Thrones."
Within an hour and a half, A-Rod had responded to Kylie's tweet in an overly fawning way. (Reader: He was scared, and understandably so.)
"OMG that's right @KylieJenner!!" he replied to Jenner on Tuesday evening. "It was me talking about you and your makeup line and how much my girls love you. #GOT #respect #alllove."
Okay, while it's certainly possible that his daughters do, in fact, love Kylie, we all agree that she definitely talked about being rich, right?